Ahead of a roundtable set to be held in early May at the NSW Parliament, President of The Democracy & Culture Foundation, Achilles Tsaltas met on Thursday with state officials to discuss ways and policies that will further promote citizen engagement in the political process.
At the luncheon hosted by the Speaker of the NSW Legislative Assembly Jonathan O'Dea and the President of the Legislative Council Matthew Mason Cox were also Executive Director of Commonwealth Bank and President of the Kytherian Association of Australia Emmanuel Alfieris, Founder of newDemocracy Luca Belgiorno-Nettis AM as well as Executive Director of Business Sydney and Deputy Chair of the UNSW Hellenic Foundation Paul Nicolaou.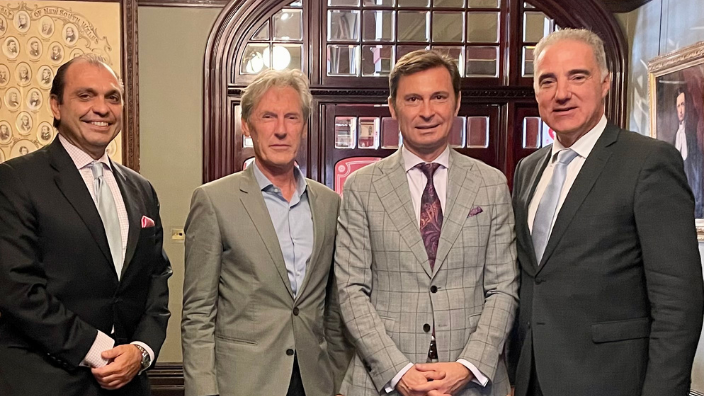 "I'm glad one of the five roundtables will be in Sydney. The other four are in Seoul, Tel Aviv, Berlin and New York," Australian born Achilles Tsaltas told The Greek Herald.
"We will discuss the power of the people and what we mean by this is how deliberative or participatory democracy through citizen assemblies, panels and citizen engagement can become integrated in the political fabric of our society."
"Twenty experts will give us their views on policy recommendations and various initiatives on citizen engagement.
"At the same time, we'll have 30 randomly selected citizens that will also participate in the roundtable and after its conclusion they will stress test what the experts have said so that their recommendations have a more bottom-up approach rather than a top-down approach.
"It goes to the core of what we do. We need to listen to the citizens."
In September 2022, Mr Tsaltas will take the outcomes to the 10th Athens Democracy Forum, an international conference founded in 2019 by the Democracy and Culture Foundation which explores the evolving state of democracy.
"We've been through two years of a health pandemic but there are many other pandemics that the world is facing," Mr Tsaltas said.
"Like the pandemic of inequality, technological change, migration, climate. These are forces that are changing our world so we need to fix democracy or help it evolve. If citizens become a bit more engaged in the political process, then our governance can only benefit from it."
'We need to hear the voices of youth'
Asked about the role of youth political participation and decision-making Mr Tsaltas referred to the Foundation's recently launched 'Teens for Democracy' initiative and said that "we need to hear the voices of youth in order to bridge the intergenerational gap that exists in our world."
"A lot of the problems that our world is facing, concerns the younger generations and will impact the younger generations in a more profound way. We need their point of view but also, we need their freshness of thinking because we've gotten to where we are today with the current systems.
"I think we need some fresh thinking that is free of institutional constraints."
On Friday Mr Tsaltas also met with the Consul General of Greece in Sydney and recently with Greek Minister of Foreign Affairs Nikos Dendias and Deputy Minister of Foreign Affairs Andreas Katsaniotis.
"Diaspora Greeks have an important role to play in the evolution of democracy and Greece seems to be more open to their input," he said.