Shamishi is a Cypriot pastry filled with a semolina custard. The vegan dessert can be eaten all year round.
Niki Louca from My Greek Kitchen shares her favourite recipe with The Greek Herald. You can follow her on Instagram @mygreekkitchen for more!
Note: The following recipe makes about 100 shamishi – will vary depending on the size.
Ingredients and Method:
Dough:
5 cups strong bread flour.
2 2/3 – 3 cups water.
½ cup vegetable oil.
Extra oil for frying – can use veg oil or light olive oil.
Prepare dough the day before. Mix all ingredients adding water last. Add 2 cups of water and slowly add the last 2/3 – 1 cup. You should end up with a very soft dough that doesn't stick to your hands. You may use a stand mixer to do this. Knead for a minimum of 7-8 minutes if using a mixer or about 10 minutes if doing by hand. Put in an oiled bowl and drizzle some olive oil on top of dough to stop dough from drying out. Set aside in a cook place over night.
Custard:
2 cups fine semolina.
2 cups granulated sugar.
5 cups water.
1 – 1 ½ tbsp rose water.
In a heavy saucepan add your water and sugar. Stir with a whisk and slowly add the semolina in a constant flow. Keep stirring. This may take some time and May look like nothing is happening. Then very quickly it will start to thicken and it can catch at the bottom of the saucepan. It is crucial to not walk away from the saucepan and to keep stirring and whole time. You will know it ready when the custard no longer flows in a stream when you lift the whisk. Once done, pour into a shallow dish and allow to cool completely. This can also be done the day before and refrigerated.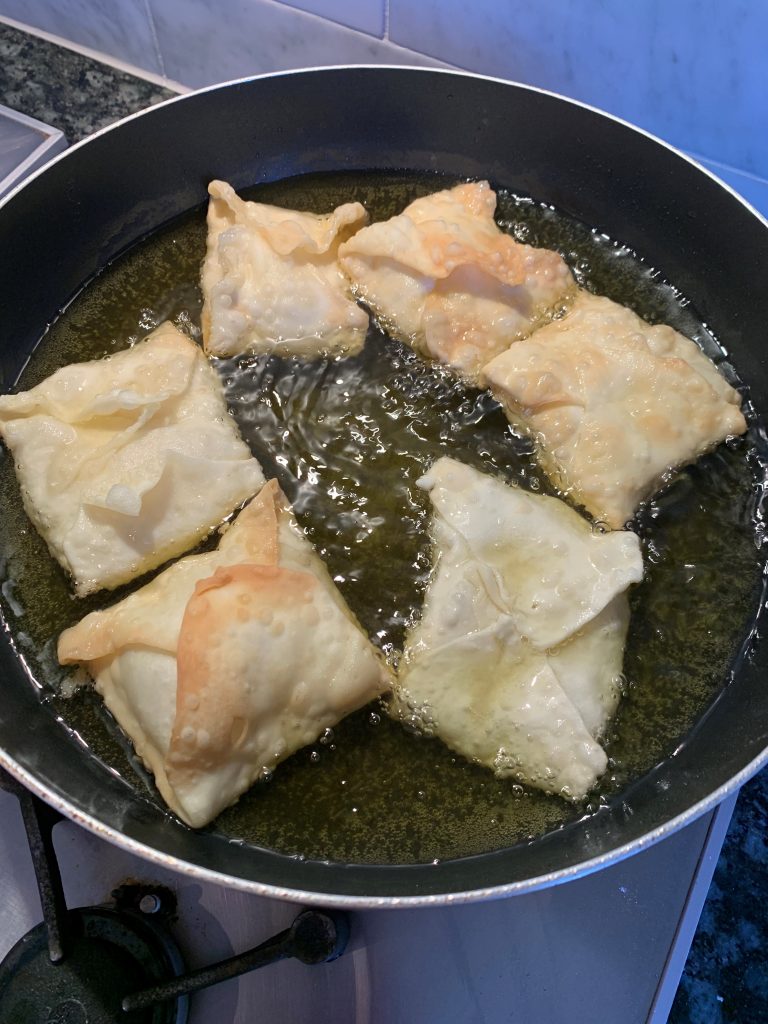 Assembly:
The easiest way is to use a pasta machine to roll out the pastry. Start by having the machine on number one setting. That is the thickest setting.
Cut your pastry into smaller pieces and roll out with a rolling pin. Put each piece of pastry through the number one setting.
Once you've done that, change the pasta machine setting to number three. Put the pastry again through the number three setting.
Once that is done, change the pasta machine, setting to number five. Repeat again until all the dough is done.
You should now have long strips of thin pastry. Cut each strip to approximately 12 centimetres long.
Put one full tablespoon of the custard in the middle of each square. Bring each corner of the square into the middle, so it covers the custard. Overlap the pastry slightly so it creates a little parcel. You may brush edges with a little oil to seal it. The custard must not be exposed.
Once done, put them in a tray that has a little oil on the base so that they don't stick.
In the meantime, heat up oil in a large frying pan of approximately 8 to 10 centimetres deep. Fry 4-5 shamishi at a time. Do not overcrowd the frying pan. Make sure your oil is hot and it is on medium to high temperature. Turn the parcels to make sure that they are fried on both sides.
Once cooked, put on a platter and generally sprinkle icing sugar on top. Repeat with remaining pastry until all finished. Any leftover dough may be frozen for future use.
Niki Louca runs cooking classes in Melbourne. For more or to book classes visit My Greek Kitchen at www.mygreekkitchen.com.au or Instagram @mygreekkitchen. You can email Niki at: niki@mygreekkitchen.com.au.