The coronation of Charles III and his wife, Camilla, as King and Queen of the United Kingdom and the Commonwealth is scheduled to take place today at Westminster Abbey in London. Charles acceded to the throne on 8 September 2022, upon the death of his mother, Elizabeth II.
Greek Orthodox chanting by the Byzantine Chant Ensemble will feature in the coronation of King Charles III as a homage to the King's late father Prince Philip.
"Apart from anything else, Greece is in my blood, and I have long had a fascination for her ancient culture and history," Charles told Kathimerini during his visit to the country in 2018. "I have been so fortunate to have visited some of Greece's many beautiful and unique places."
The Greek connection:
Prince Philip was born on the island of Corfu, Greece, in 1921 with the title of Prince of Greece and Denmark. Philip's parents were Prince Andrew of Greece and Princess Alice of Battenberg, who founded a nursing order of Greek Orthodox nuns in 1949 and trained on the island of Tinos.
Philip's father, Prince Andrew of Greece, was the fourth son of George I of the Hellenes, formerly Prince Wilhelm of Denmark, who was elected King of Greece following a protocol signed in 1863 by England, France and Russia. George I was assassinated in Thessaloniki in 1913.
Prince Andrew's brother, Constantine I, became King of Greece after the death of George I in 1913-1917 and again from 1920-1922. According to Britannica, "his neutralist, but essentially pro-German, attitude during World War I caused the Western Allies and his Greek opponents to depose him in 1917."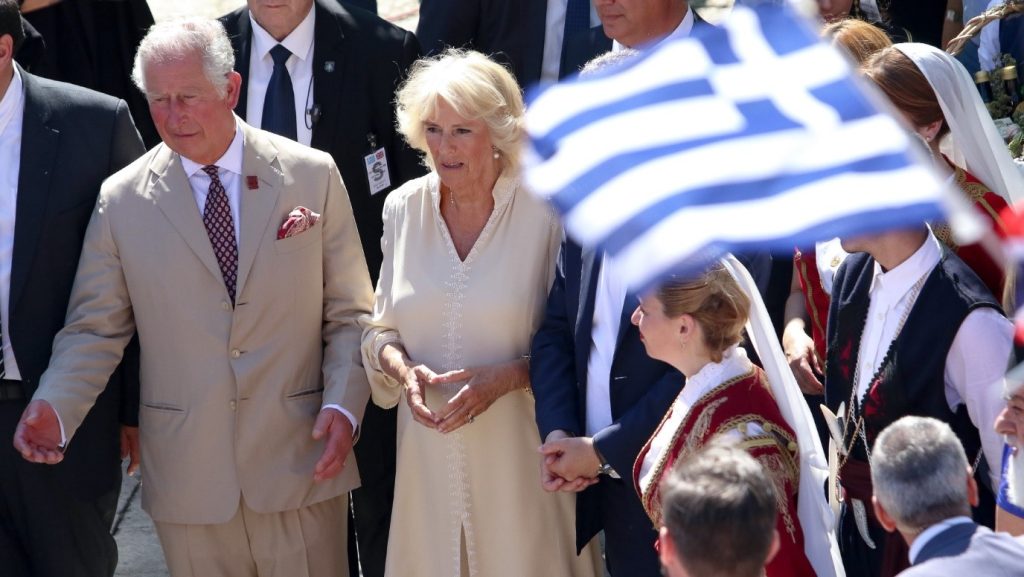 He was reinstated in 1920 after the death of his son King Alexander, but after having lent himself to the policy of territorial expansion into Anatolia, resulting in the Greco-Turkish war between 1919-1922, he again lost his throne in 1922.
King Constantine I lived in exile in Italy for four months until his death in 1923. Constantine I's son, George II succeeded him as King of Greece and repatriated the remains of his family members who died in exile, including Constantine, who was buried at the royal burial ground at Tatoi Palace, near Athens, where he remains today.
Prince Philip, who was just an 18-month-old at the time, was exiled, and his father, Prince Andrew, was charged with treason, imprisoned and sentenced to death before fleeing to Paris.
Philip had once said: "I certainly never felt nostalgic about Greece. A grandfather assassinated and a father condemned to death does not endear me to the perpetrators."
Greece abolished the monarchy and became a republic in 1973.
Despite this turbulent history, the bond between the Greek and British royal family is strong, and there are a number of members of both families who are named godparents of the other. The late Queen Elizabeth II had been godmother to Princess Theodora of Greece and Denmark, whose baptism was held on October 20, 1983 in London.
King Charles III is the godfather to Princess Maria-Olympia of Greece and Denmark, the eldest child of Crown Prince Pavlos and Crown Princess Marie-Chantal. Prince William is the godfather to their second child, Prince Constantine Alexios.
In October 2022, King Charles met with Ecumenical Patriarch Bartholomew in Buckingham Palace, and met with Greek Prime Minister Kyriakos Mitsotakis in November.
Following the tragic Tempe train crash in Greece in March, King Charles wrote a letter to Greece's President Katerina Sakellaropoulou.
"My wife and I have been most shocked and profoundly saddened by the news of the dreadful accident involving two trains in Northern Greece and would like to express our deepest possible condolences to the families of all those who have so tragically lost their lives," the letter read.
"During our visits to Greece we have always been struck by the kindness and generosity of the Greek people and our thoughts, prayers and heartfelt sympathy are with all those who have been affected by this appalling tragedy."
In 2018, King Charles expressed his sentiments toward Greece during a speech in Athens: "We are all Greeks. Our laws, our literature, our religion, our arts have their root in Greece."