By John Voutos
Silence of the Girls (2018) by Pat Barker:
Pat Barker gives a new voice to the forgotten women of Homer's Iliad (c. 762 B.C.) in this feminist retelling of the story of Briseis, or Ἱπποδάμεια. Briseis was a princess enslaved and sold to Achilles in the lead-up to the fall of Troy in the Trojan War. Silence of the Girls paints the stark reality that 11th-century carnage brought most women. Pat Barker is the English Booker Prize-winning author behind such works as The Ghost Road (1995). Silence of the Girls was shortlisted for the 2019 Women's Prize for Fiction.
Ariadne (2021) by Jennifer Saint:
Jennifer Saint's decorative Ariadne retells the story of the Princess of Crete, Ariadne, and sister Phaedra, daughters of King Minos, in the story of the Minotaur. Ariadne is 304 pages of sisterhood, secret, and tragedy – in ancient Greek style – in Saint's fresh debut to our bookshops. Saint gives a renewed perspective on the sacrifice Ariadne made to help Theseus, Prince of Athens, slay the Minotaur; and whether it was all worth it. Similar to Pat Barker's Silence of the Girls (2018)and Madeline Miller's Circe (2018), Saint's Ariadne is another great addition to the historical fiction genre.
Troy: The Siege of Troy Retold (2020) by Stephen Fry:
Stephen Fry's Troy (2020) revisits the story of Troy, including the kidnapping of Helen of Troy, in the third instalment to his ancient Greek collection. Following the success of Mythos (2017)and Heroes (2017), Britain's favourite game-show host brings the battle of Troy to life in this story of hatred, love and loss, revenge and regret, desire and despair.
Lucky's (2020) by Andrew Pippos:
Andrew Pippos finds his own Greek father in Vasilis 'Lucky' Mallios, the restaurant chain owner explored in his debut novel Lucky's (2020). Pippos grew up in Sydney as the son of café owners himself and now works as a lecturer at the University of Technology, Sydney. Lucky's follows a familiar Greek-Australian experience with family, migration, and tribulation at its core. Lucky's launched to critical acclaim, including being shortlisted for the MUD Literary Prize 2021 and being shortlisted for the Matt Richell Award for New Writer of the Year 2021. We're keeping an eye out for Pippos' new non-fiction project.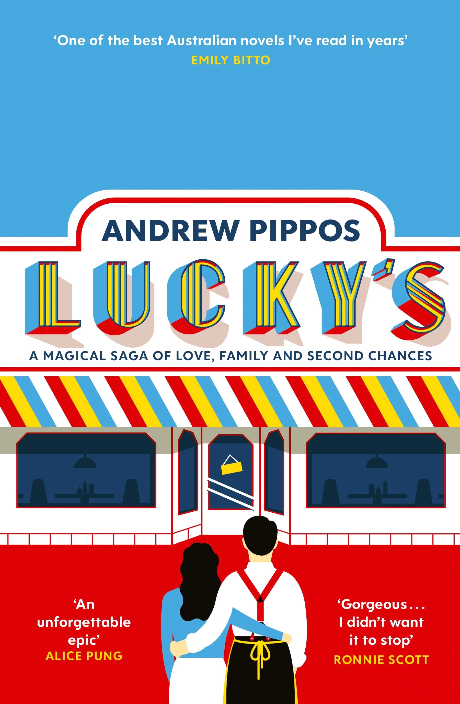 Wild Colonial Greeks (2020) by Peter Prineas:
Peter Prineas' Wild Colonial Greeks (2020) explores the history of Greek Australians in colonial-era Australia in the early-1900s. It shows how Greeks were viewed by the mainstream press and chronicles their journey in a foreign land. Wild Colonial Greeks includes the stories of Spiridion Candiottis, a goldfields doctor, and Andreas Lagogiannis,a hotelier. This book takes a magnifying glass to the early beginnings of the Greek-Australian diaspora.