By Ilektra Takuridu
Vasilis N. Triantafillidis, mostly known by his stage name Harry Klynn, was a famous Greek comedian. He was born on May 7th, 1940, in Thessaloniki to Pontic Greek Refugees. As a young kid, he experienced extreme poverty, and started working from the age of only five, at the same time, he was still attending school. His life completely changed when he participated in a talent show hosted by Giorgos Oikonomidis. On this show, he won the first prize for his talent. After his win, he moved from Thessaloniki to Athens to further develop his career. After Klynns performance in the talent show, Oikonomidis began mentoring him in the early years of his career.
In 1964 he travelled to Montreal for a few appearances. This period of his life lasted ten years, where he worked in the USA and Canada, in centers of the Greek Diaspora and in theatres as a stand-up comedian (a new genre at the time, which later introduced it to Greece). In Chicago, he married his wife, Hariklia, and there he had his first of 3 children, Nikos. He returned to Greece with his family in 1974, and he started working in Athens. In one of his interviews, he explained why he adopted the nickname Harry Klynn (Clean), as he said the nickname was a contrast to Dirty Harry movies with the famous American actor Clint Eastwood.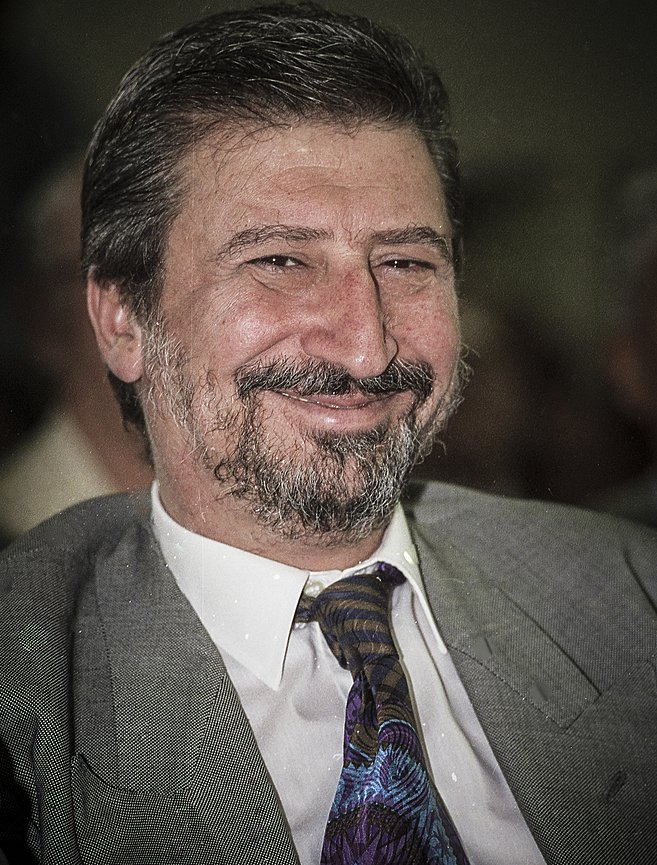 Harry Klynn was one of the top comedians in Greece in the 1980s. Most of his satire comedy portrayed the stereotypical arrogant, cocky and smartypants Greek man, which was extremely popular amongst the public. Other popular characters he played were; a typical taxi driver who knows more than a scientist, a cunning gypsy who could even sell a block of ice to a polar bear and a government office worker, who he showed as being the laziest and most arrogant person in Greece. At the height of his career, he also made many famous films, the most popular of these include Alaloum (1982), Eis mnimin Harry Klynn… kai klama (1984) and Made in Greece (1987).
In addition to comedy and film, Harry also had a talent for visual art, and in 1998 he launched his first painting exhibition. From 2006 he lived permanently in his hometown in Kalamaria (a district in Thessaloniki) and wrote books, played in plays and painted. He published 13 novels, 5 of which were nominated for the most prestigious Greek literary award. Whilst living in Kalamaria, Harry Klynn also attempted a career in Politics and ran for Major of the opposition in Kalamaria.
Klynns health began to deteriorate and further problems began to worsen after his son Nikos died of cancer at the age of 49 in 2016. Not many years after, on 21 of May in 2018, Harry Klynn himself passed away in Kalamaria, Greece. He suffered for a long time from many problems, and he had been using a wheelchair for the last few years of his life. He died suddenly and abruptly from a seizure, it was a tragic and sad death for such a joyful person. In Greek culture, he will always be remembered as a multitalented comedian who was always on point with his satire of the political, cultural and social changes in the country.