In August 1940, World War II was about to turn one year old. Greece, which was ruled dictatorially by Ioannis Metaxas, may have taken a neutral stance, but it was clear that it was on the side of England. Fascist Italy, an ally of Nazi Germany, with its powerful fleet was claiming supremacy in the Mediterranean from Great Britain.
The order to torpedo the "Elli", a light cruise ship, was given by the Italian commander of the Dodecanese, Cesare Maria de Vecchi, a leading member of the Fascist Party of Italy.
The Italian submarine "Delfino" commanded by Lieutenant Giuseppe Aicardi started from the naval base in Partheni of Leros on the night of August 14 , with a mission to hit enemy ships in Tinos, Syros and then blockade of Diorga .
In the morning hours of August 15, the Italian submarine was found outside the port of Tinos diving, in order to torpedo the passenger ships "Elsi" and "Esperos", which carried pilgrims. From the periscope, Icardi saw a warship arrive at the port and did not let the opportunity go to waste. It was the cruiser "Elli", which sailed to Tinos for the festive events of Megalohari.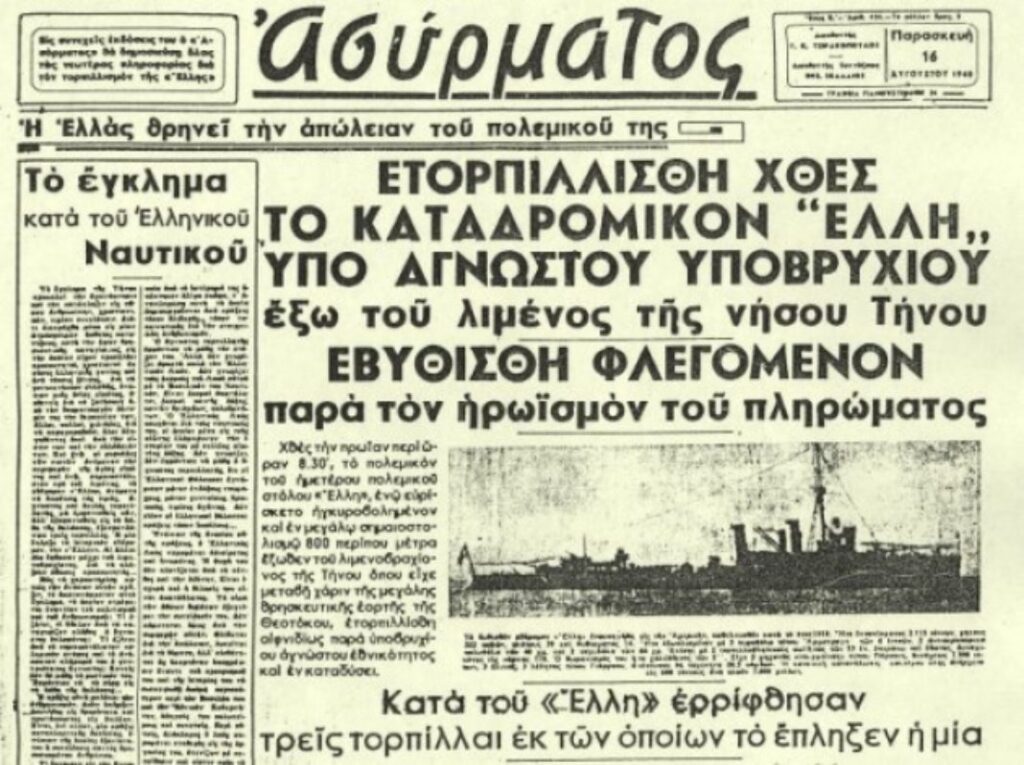 At 8.25 a.m, shortly before the procession of the icon of the Virgin Mary and while there was a lot of people on the beach, the Delfino hit the Greek warship with three torpedoes.
Only one torpedo hit a target, but it hit the Greek ship in the engine room and oil tanks. An hour later, the Elli sank, despite the efforts of the crew to keep it alive.
The Delfino attack killed a non-commissioned officer and eight Elli sailors, while the wounded amounted to 24. A woman, who was on the beach, died of a heart attack after the explosion of the second torpedo on the quay.
After the execution of its mission, the Delfino left without revealing its identity. After a few hours it sailed to Syros, but was left immediately idle, as there was no ship in the port of the island.
The Delfino hurried back to Leros by order of the Italian authorities, canceling its mission in Corinth.
The operation does not seem to have been aware of the political authorities in Rome (except perhaps Mussolini). The Minister of Foreign Affairs, Galeazzo Ciano, wrote in his memoirs that the sinking of the Greek ship is due to the audacity of De Vecchi.
The investigation carried out by Navy divers showed that the torpedoes were Italian and therefore the attack was carried out by an Italian submarine. The Metaxa government kept the result of the investigation completely secret, so as not to provoke Italy and disrupt the neutrality of Greece. Finally, it was made public on October 30, 1940, two days after the Italian attack on Greece.
In 1950, as part of the war reparations, Italy granted Greece the light cruiser "Eugenio Di Savoia", which was renamed "Elli" in June, 1951, and had a raised Greek flag.