If you had told me the solution to partying during Australia's lockdown laws was a 5-foot-by-2.4-foot-by-6.2-foot box turned nightclub, I wouldn't have believed you.
But it's undeniable that Greek Australian twin brothers Harry Nathan Labrakis and Evangelos "Boonie" Labrakis are changing the party game, creating the world's smallest mobile nightclub, entitled: The "Doof Shed".
"Originally the intention was to provide one on one performances during covid, so I designed the shed to be one and a half metres long so that I could do one on one performances just to keep the spirit of dance music culture alive," Harry said to The Greek Herald.
"I know Harry is all about the one on one stuff but for me it's all about the doof. So Harry was all this one on one business, but I managed to fit seven people in there," Evangelos chuckled.
The creation of the nightclub ultimately came, the twins explain, due to their "crazy love" for dance music.
"When we were 15 years old, we were DJing weddings, Greek weddings, just so that we could save money to buy better gear," Evangelos said to The Greek Herald.
"We were just crazy about wanting to be DJ's and just to be able to mix anything. We even cross-wired two stereo's to be able to make sounds overlap each other. We ended up buying a couple of discmans and trying to overlay them.
"We're just crazy about dance music."
To create the Doof Shed, the twins repurposed a corrugated metal shed with the help of their father and painted the name with bright neon graffiti.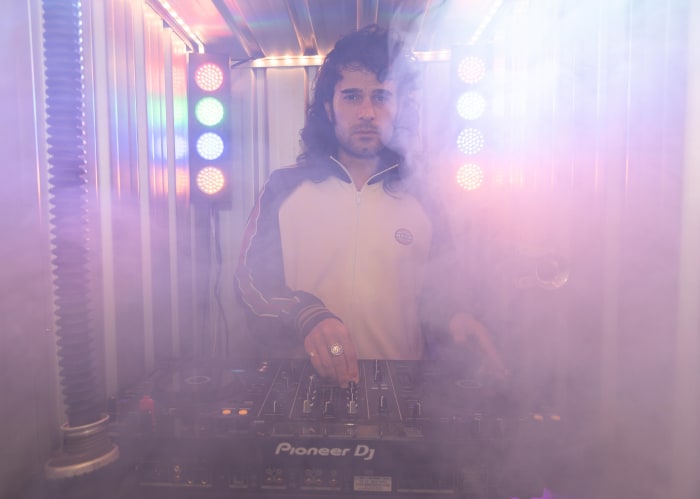 The shed features a Pioneer DJ setup, focal sound system, intelligent lighting and a smoke machine. The nightclub offers a unique experience that comes during a time of struggle for Sydney's club scene, which suffered greatly because of the pandemic. 
It is even set up with a "Full Send" button to activate the full-on nightclub experience: smoke machine, strobe, flashing lights and lasers. 
The Labrakis twins managed to break the previous Guinness World Record for the smallest nightclub, previously held by the 2.01 metre-high Club 28 (UK). However, while the intention was never to get a Guinness World Record, the boys discovered along the way that it had high potential for growth.
"That was not the intention at all," Harry said, when asked about the World Record.
"The intention was to give back to a dance music community that has given us so much growing up and has taught us so much."
"We somehow slipped into the Guinness thing by sheer chance to be honest. It wasn't until a few of our friends were like, 'Oh, man, this is a really small, bloody nightclub. Surely there's some sort of thing to compare it to.'"
Harry Labrakis knows quite a lot about the Australian music scene, being an electronic music DJ who records his own material under the name Harry Nathan. According to Triple J, he offers a fresh take on lofi house & laidback disco, residing between the lines of reality and fantasy, both sonically and visually in his storytelling. Indie Shuffle also called his song "Harriet Tubman?" the best lo-fi house track of 2020.
Similarly, 'Boonie' is getting more active in the music-mixing community, making techno music via car engine recordings.
For the club's grand opening, the twins created a ballot system and gave people an opportunity to experience the club in all it's fashionable glory. All proceeds from the event went to mental health charities to aid those affected by the pandemic.
With new lockdowns in Sydney, people may just be ringing up the Labrakis boys and begging for a new taste of nightlife.
"We feel like there's always a bit of fun to be had," Harry concluded.

"No matter where you're at. If you have that kind of mindset and a positive mindset, then you can get through anything."