By Billy Patramanis.
Dimitris (Mimis) Fotopoulos was born on the 20th April, 1913 in the Greek village of Zatouna. Although Fotopoulos is most notable for his comedy films, he was also a writer, poet and academic.
Fotopoulos always had a passion for theatre and studied at the Dramatic School of National Theatre. Fotopoulos also studied at the University of Athens in the Philosophical School, studying maths for two years, leaving in 1933.
Fotopoulos began his creative arts work in poetry, writing 'Bouloukia' in 1940. Fotopoulos also wrote 'Imitonia' in 1960 and 'Sklira Trioleta.'
In 1948, Fotopoulos would begin his acting career, first appearing in 'The Nazis Strike Again,' followed by three more films, most notably 'Madame Sousou.'
Fotopoulos' acting career would span 39 years, ending in 1987. Fotopoulos is one the most famous Greek comedic actors of all time, starring in classics such as 'O Grousouzis' (1952), 'You've Got to Keep Cool' (1951) and 'The Counterfeit Coin" (1955). All up, he is said to have appeared in around 100 films.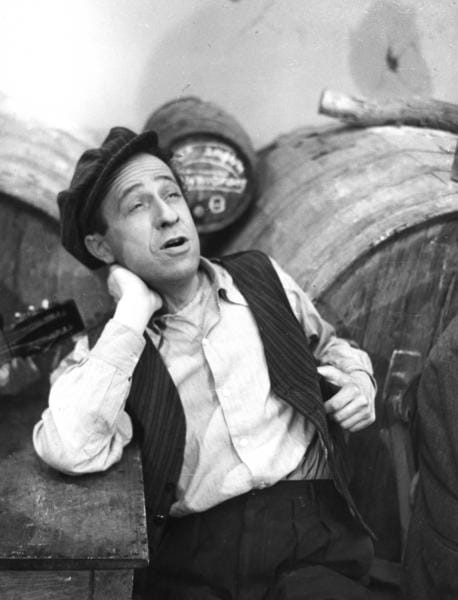 As well as forging a successful path in acting, Fotopoulos continued his work in writing. Fotopoulos published two autobiographies, '25 Years of Theatre' in 1958 and 'The River of My Life' in 1965.
Fotopoulos also wrote two successful theatrical plays, 'Ena Koritsi Sto Parathyro' in 1966, and 'Pelopidas O Kalos Politis' in 1976.
Unfortunately, in 1986, Fotopoulos died in Athens from a heart attack. He was aged 73.
Despite his death, Mimis Fotopoulos' legacy remains as he built a successful career for himself as a Greek actor, and will always be remembered for his work in the creative arts.