By John Voutos.
In 1896, Spyros Louis wins the first marathon race of the inaugural revival of the Olympic Games. The Greek Herald takes a look at what led to and followed Louis' extraordinary win.
Early years and lead-up to the Olympic Games:
Spyros Louis was born on January 12, 1873 in Marousi, Greece. He was born into a poor family of farmers who delivered drinking water to Athens.
He was a farmer finishing his military service when his commanding officer and Olympic race organiser, Colonel Papadiamantopoulos, encouraged him to sign up for the race last-minute. Louis placed fifth in one of the Greek trial races but, nonetheless, proceeded to qualify for the main event.
On April 9, 1896, the day before the race, Louis arrived in Marathon, north-east of Greece, to party with his peers. "What did we know about abstaining during training?" he would later say. 
The 1896 Olympic Games:
April 10, 1896 – the day of the race. Louis woke up and downed milk and two beers before running warm-up laps around Marathon square. Louis then arrives at the Panathenaic Stadium and lines up beside 17 others, including 13 Greeks and Australia's Edwin Flack, the winner of both the 300m and the 1,500m held earlier in the Games, to begin the race.
Wearing shoes that had been donated by his fellow villagers, Louis set off. Louis paused at least twice along the route for support from his future father-in-law and… some wine. "I slurped it down and felt much stronger," he said.
Frenchman Albin Lermusiaux initially took the lead and was still ahead at the halfway mark until stopping for a rubdown. Flack claimed the lead from Lermusiaux until he too flagged, passing the lead onto Louis.
A messenger returned this news to the stadium hailing, "Hellene! Hellene!" ("A Greek! A Greek!"), to which soon-to-be-King Crown Prince Constantine and Prince George of Greece and Denmark decided to join Louis on his final lap.
At last, Louis appears exasperated, worn, and purple-faced. Louis had won the 40-kilometre race in 2 hours, 58 minutes, and 50 seconds. At just 23-years of age, Louis had won the race by more than seven minutes.
The crowd was feverish. King George I of Greece gave Louis a standing ovation. Louis walked away that night with accolades, jewellery, a life-long free shave at a barber shop and, at request to an offer from the King, a donkey-drawn carriage.
Aftermath:
The day after his victory, Louis returned to the stadium to accept his prize. Louis was escaping rumours of his eligibility for the race and allegations of cheating when he returned back to his humble life in Maroussi as a shepherd and watercarrier with his wife Eleni. He never raced again.
The race became a highlight of the Games and Louis was heralded as the hero of the Olympic Games. The tale of his win has been chronicled and passed on through generations: a small-town 'peasant' defying the odds by winning Greece's first-ever marathon sprint with nothing more than a glass of cognac.
Louis went on to say that his victory felt "unimaginable" and "like a dream."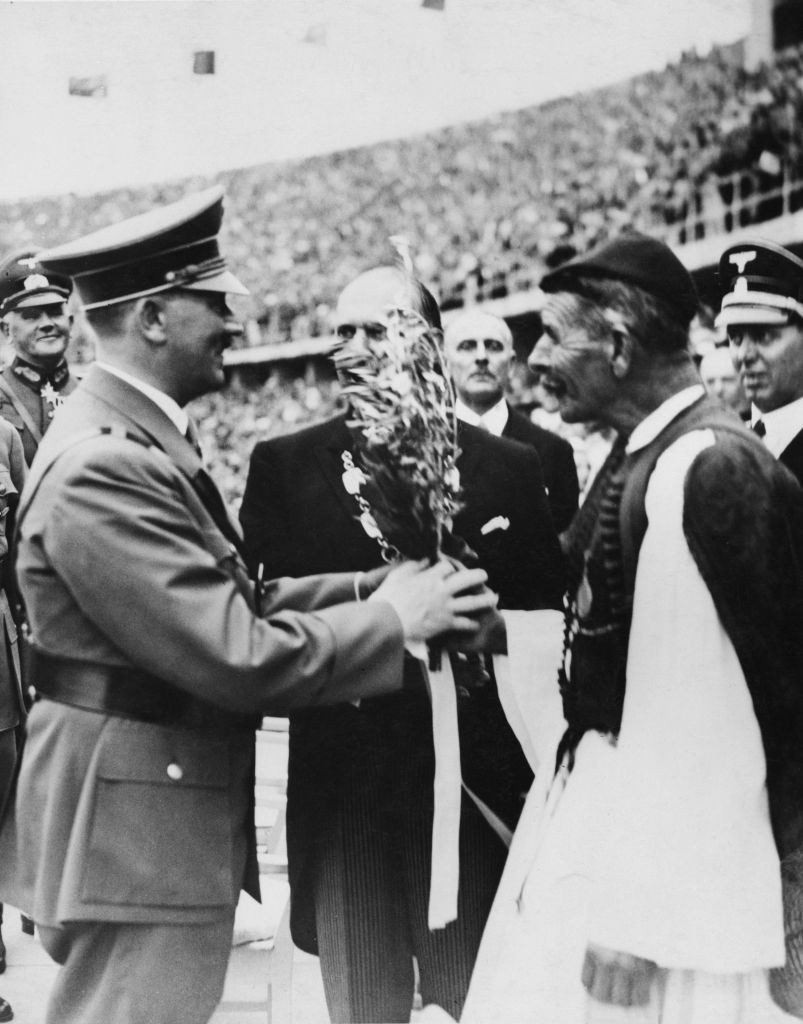 Death and legacy:
Spyros died on March 26, 1940, aged 66, in his hometown of Marousi, Athens, Greece. He is buried at the Amarousion Cemetery. Louis is revered today as a national hero of Greece for his accomplishments.
The Stavros Niarchos Foundation currently own Louis' Breal's Silver Cup when they bought it for a record-breaking €541,250 (AUD$839,928) in 2012.
The Olympic Sports Centre of Athens (OAKA) in Marousi, Athens, is named after Spyros Louis and is used today for sporting events and large-scale concerts.