By Chrisos Mavromoustakos.
Eugenides was born in Thrace in Northern Greece in 1822, who was a pioneer in refrigerated ships, while also founding many companies. He is also considered a patriot. Eugenides found himself in many nations.
Eugenides was educated by his dad by classics and humanities at the Robert College in Constantinople. This shaped how he went about in business. When Eugenides was 20, he found a job at a shipping firm in the United Kingdom named Doro's Brothers. After 4 years at the company he was named the general manager. Eugenides had a huge emphasis on making a fortune, not for his own self gain, but in order to enrich and help others.
Eugenides' first business was in the import and export trade. He would import lumber from Scandinavia, establishing himself with the Swedish shipping business Brostroms. After a scare of timber imports being shipped into Constantinople, Eugenides had a bold idea. He would establish his own small shipyard in order to get into the business.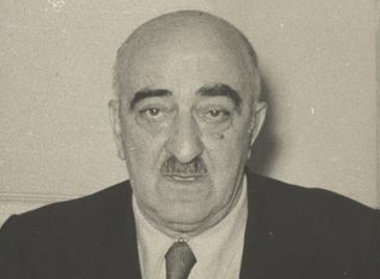 Eugene Eugenides had to return to Greece after the Greco-Turkish war of 1919-1922, seeing himself in the port area of Athens, Piraeus. Eugenides devoted himself to trading and shipping. In 1926, he was appointed the Consul General of Finland in Greece. He would organise the distribution of Scandinavian products to Greece and for Greek products to hit Scandinavia. This led to a positive relationship of trade between the Greek, Mediterranean and Scandinavian ports.
Eugenides frequently visited loading operations and would supervise cargo. He was known as a generous employer and would give bonuses to crews if he was happy with the vessel.
World War II forced Eugenides to leave Greece, however, this made him expand his entrepreneurship to another continent. In 1941, he went to Egypt and then to Cape Town. He launched a linear service between South Africa and South America with his own vessel named Argo. He then moved to Buenos Aires where he lived until the war was over.
In 1947, Eugenides launched Home Lines as he was expecting migrants from Europe to the Americas due to the war. He would take charge of this company in Switzerland. The company had a great reputation for its quality of service and ships. This company would be continuing even after Eugenides' death.
Eugenides would help Greece during times of need. In August 1953, when earthquakes hit Cephalonia, Zakynthos and Ithaca, not only did he provide funds, hospitals and houses but he ensured other nations would respond to the earthquakes. He overbid for the ocean liner Athinae in order to maintain its national legacy.
Eugene Eugenides passed away in Switzerland on the 22nd of April 1954. He was widely recognised in Greece, he was ordered 'the Grand Cross of the Order of the Phoenix' by King Paul the year before he died. He was also honoured by many other nations including Sweden, Finland, Argentina and South Africa.
Former Prime Minister, Alexandros Papagos, called the shipowner a patriot and national figure. The Eugenides Foundation was set up to educate young Greeks in science and technology. His foundation has spent more than $400 million on projects, distributing millions of textbooks. Eugene Eugenides' legacy remains to this day.