Last week, in Part 1 of our special series on the history of The Hellenic Lyceum of Sydney, we gave you an insight into its past. Today, in Part 2, we take a look at the present and future of Australia's first Greek women's association.
RELATED: Hellenic Lyceum of Sydney: The first Greek women's association in Australia [Part 1].
Greek heritage on the international stage:
During the early 1980's, The Hellenic Lyceum of Sydney was involved in several events which were either held overseas or attended by international personalities.
Take for example, the International Lyceum Conference held in Auckland, New Zealand in May 1983. Members from the Sydney Lyceum, Mrs Sophia Salapatas and Mrs Nicky Limbers, represented Greece at the event and exchanged ideas and opinions with other Lyceums from around the world.
Only a few years later, in 1989, Olympia Dukakis, a Greek American actress, and Kitty Dukakis, the wife of US Presidential candidate, Michael Dukakis, graced the Sydney Lyceum with their presence at a Hellenic Club dinner held in their honour.
In one famous photograph, Olympia and Kitty are pictured smiling brightly as they cradle a huge bunch of flowers, surrounded by young girls dressed in traditional Greek costumes. An iconic moment for all who attended the event.
Popular exhibitions of Greek antiques:
More currently, The Hellenic Lyceum of Sydney has had Greek regional costumes, furniture and jewellery on display at venues across Australia. This includes: the office of the Greek Consulate General in Sydney and St Basil's in Randwick, which is run by the Greek Orthodox Archdiocese of Australia – an institution affiliated with the Sydney Lyceum.
The exhibition at the Greek Consulate's office has been available to view since 2006. According to the President of The Hellenic Lyceum of Sydney, Mrs Liana Vertzayias, this exhibition contains some very rare antiques from Greece.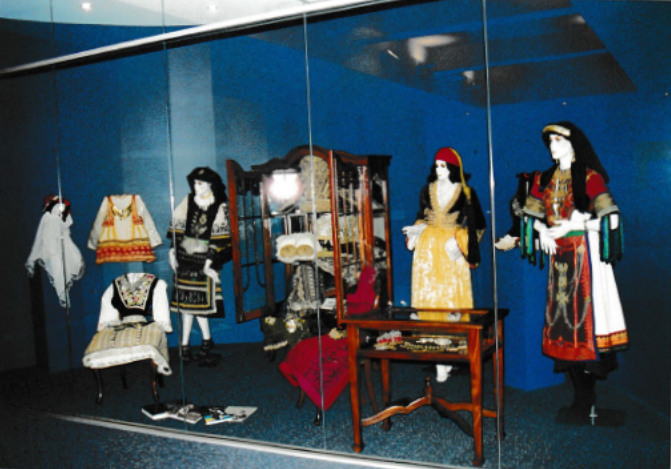 "There is some beautifully carved furniture from Skyros which is over 100 years old, as well as the costumes of Sarakatsana, Karagouna, Thraki and even Zagora. There are also some lithographs of old Athens and a lot of jewellery, embroideries and kontogounia," Mrs Vertzayias tells The Greek Herald.
With regards to the display at St Basil's, Mrs Vertzayias says they also have 'a nice little museum there' of about seven pieces of Greek antiques, while some of their older and more fragile pieces are being stored in a room nearby and taken out 'for special occasions only.'
Many of these special pieces have been donated over the years by people such as Mrs Diana George, Mrs Poppy Kourousia, Mrs Despina Vrisakis, the High Commissioner of Cyprus Ioanna Malliotis and Mrs Maree Caroni, just to name a few.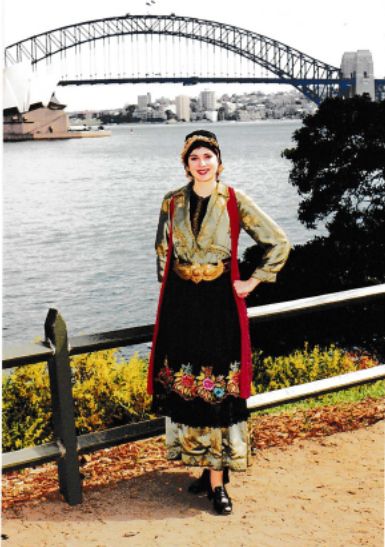 Memorable events throughout the 2000's:
Two other significant events which members of the Sydney Lyceum were privileged to be a part of were the 2000 Sydney Olympic Games and a special concert in 2015 held to commemorate the ANZAC's. Both are spoken of fondly by Mrs Vertzayias.
"During the Sydney Olympic Games in 2000, the Lyceum had a special function at Brighton Le Sands and we also donated money for the statue of a discus thrower which is now erected at Homebush," Mrs Vertzayias says.
"A few years later in 2015, we held a commemoration for the ANZAC's, focusing on the role of the Greek island of Lemnos during the war. It was a huge dance concert held at the Sir John Clancy Auditorium at the University of New South Wales.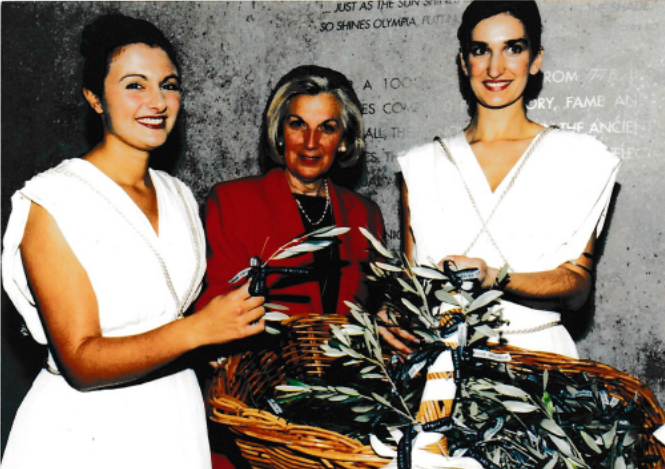 "We brought two dance groups from Greece, with a live traditional five-piece band and we had 200 performers dressed in different authentic costumes from all over Greece."
And that's not all. The Hellenic Lyceum of Sydney also continues to proudly display its regional costumes during an annual walk-a-thon held by the Greek Orthodox Archdiocese of Australia, as well as events for the 25th of March and OXI Day.
For many who attend, these events were and continue to be a true spectacle of Greek culture and heritage, proudly shown off by the Greek women of Australia.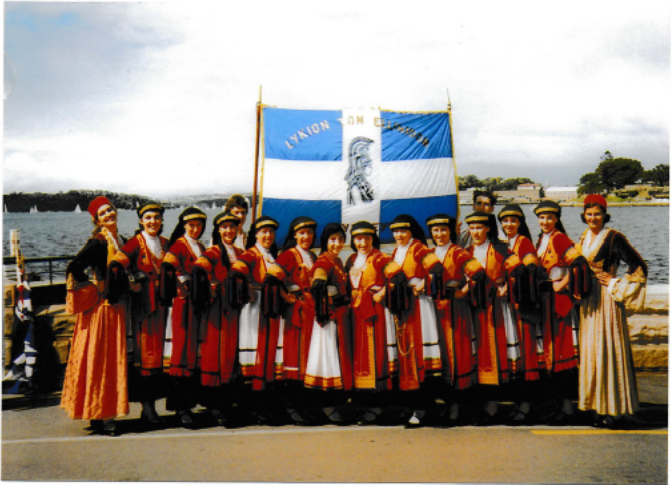 The bright future of The Hellenic Lyceum of Sydney:
As shown throughout this two-part series, The Hellenic Lyceum of Sydney has evolved since its foundation in 1951. Starting out as an association which helped women who arrived in Australia after WWII, it later grew to encompass a more cultural aspect as well. Its main aim was to preserve the Greek culture, folklore and traditions of Greeks in Australia.
But what about today? Does this aim remain the same? We put the question to Mrs Vertzayias, the current President, and her answer is impressive.
"Our main aim at the moment is to open our own Australian Hellenic Lyceum museum because it's important that our collections are shown to the younger generation and to future generations," she says.
"They need to see the background of their forefathers, their grandparents, where they came from and what conditions they used to live in.
"We also want to continue to maintain the Greek language, history and culture, and help women. The Lyceum is not just a social thing, it's also about maintaining that connection to Greece and its history."
Important goals which the Sydney Lyceum is sure to meet, especially as they get ready to celebrate their 70th anniversary next year. Here's to many more years!
If you or anyone you know would like to donate Greek costumes or artefacts to The Hellenic Lyceum of Sydney, please contact: 0425 250 855 or 0430 457 089.