Admiral Andreas Miaoulis is a well-known politician and commander of the Greek fleet during the 1821 Revolution.
On this day in 1835, Admiral Miaoulis passed away. To mark the occasion, we list our top five facts about the important naval commander.
1. His real last name:
Miaoulis' real last name was Vokos or Bokos. People say he was nicknamed Miaoulis for two reasons. One is that his sailors gave it to him when he gave them the order "One gum!" to paddle at the same time. The second is that it came from a Turkish kettle he bought called "Miaul."
2. Involvement in shipping companies:
From his teenage years, Miaoulis was involved in shipping companies. He made a fortune during the Napoleonic Wars, when he broke the English naval blockade under Admiral Nelson and supplied the Spanish cities.
In 1816, Miaoulis handed over the shipping companies to his son Dimitrios and he himself engaged in trade.
3. Role in the Greek Revolution:
During the proclamation of the Revolution in Hydra, on April 28, 1821, Miaoulis signed, together with other shipowners, a document that they would bear the expenses for the naval operations of the Struggle.
In autumn of the same year, he took over as admiral of the Hydra fleet and on September 28, he was confronted for the first time with a Turkish naval squadron in Pylos. In February 1822, he destroys a Turkish frigate and damaged other ships in the port of Patras. In October 1823, Miaoulis defeated the Turks at Artemisio and Oreos.
On August 29, 1824, Miaoulis defeated the Turkish-Egyptian in Gerontas. The losses of the enemy amounted to 27 ships, among them the imposing frigate "Asia."
During the second siege of Messolonghi in 1826, Greek ships under his command assisted the besieged by providing supplies. On the eve of the exodus, Miaoulis repeatedly failed to break the siege of the city and told residents that no help from the sea was possible.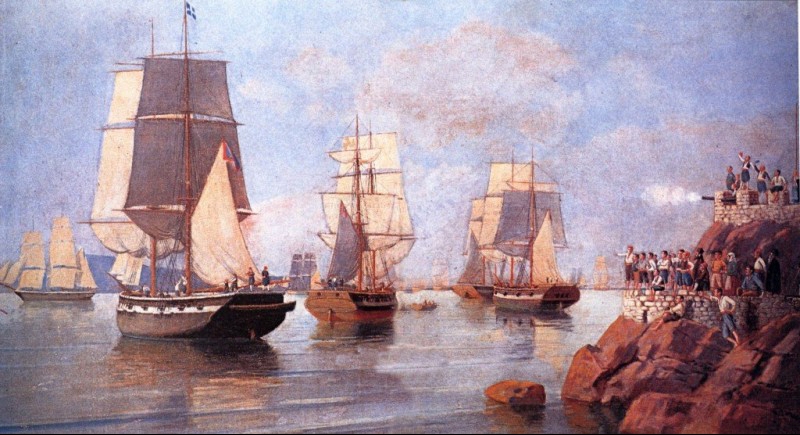 In 1827, by decision of the Third National Assembly, the command of the fleet was assigned to Lord Cochran and Miaoulis was demoted to captain.
4. Friendship with Ioannis Kapodistrias:
When Ioannis Kapodistrias took over as Governor of Greece, he assigns Miaoulis to be Commander of the Aegean Fleet. The Miaouli-Kapodistrias cooperation lasted until August 1829, when the two men came into conflict over Kapodistrias' policy towards the Hydra shipowners, who demanded preferential treatment in exchange for their contribution to the Struggle.
5. Death and Legacy:
Miaoulis died in Athens on June 11, 1835. He was buried in Piraeus, on the right coast of the port, which was named Akti Miaoulis. Later, his bones were recovered in a grave at the entrance of the School of Naval Trials.
A big festival, called Miaoulia, takes place in Hydra every year on the weekend closest to June 21, to honour Miaoulis.
Source: San Simera.