Ambitious. Defiant. Idiosyncratic. Three words used by art critics around the world to describe well-known Greek Renaissance painter, El Greco.
On the anniversary of his death on April 7, 1614, let's take a look back at why El Greco is associated with those words in the first place.
Early Life and Works:
Domenikos Theotokopoulos was born in 1541 in Chandakas (today's Heraklion) in Venetian-occupied Crete, to wealthy parents. Without knowing much about his teachers and artistic apprenticeship, there is no doubt that he had the opportunity to study Byzantine painting in his hometown and become acquainted with Western art.
In 1567, because Crete was then a Venetian possession and he was a Venetian citizen, he decided to go to Venice to study. It was there he acquired the name El Greco (the Greek), as it was custom to identify a man by designating a country or city of origin to him.
El Greco never forgot that he was of Greek descent though and usually signed his paintings in Greek letters with his full name, Domenikos Theotokopoulos.
Interestingly, many of his early works in Italy don't show any influence from his Byzantine heritage. They are completely in the Venetian Renaissance style of the 16th century. One such example is 'Christ Healing The Blind' which places figures in deep space and emphasises the architectural setting.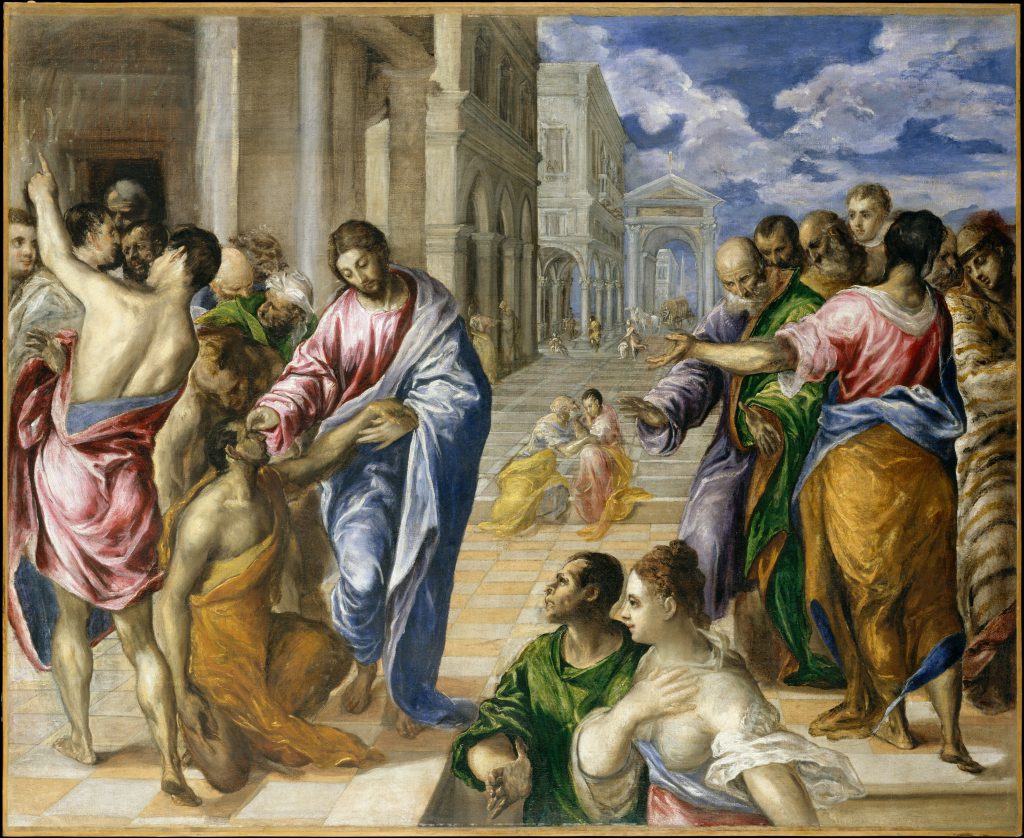 Later Years and Works:
In 1576, El Greco moved to the Spanish city of Toledo, where his artistic production reached its peak.
The Dean of the Toledo Cathedral, Diego de Castilla, commissioned El Greco to paint a group of works for the altar of the church of Santo Domingo el Antiguo (such as 'The Trinity' and 'The Assumption of the Virgin,' both 1579). Castilla also facilitated the commission of 'The Disrobing of Christ' (1579), and these paintings would become some of El Greco's most accomplished masterworks.
However, to this day, his most universally regarded artwork remains 'The Burial of Count Orgaz' (1588). This work features a dichotomy of heaven and earth, and depicts a visionary experience, transcending the known and revealing that which exists in the spiritual imagination.
Death and Legacy:
El Greco died on April 7, 1614, at the age of 73 and was buried in the church of Agios Domenikos in Toledo.
For many years, his name remained obscure and his paintings in churches and palaces in Italy and Spain were considered works of some madman. However, from the beginning of the 20th century, his work began to be recognised and today he is considered one of the leading visual artists of all time.