Greek Australians as young as five years old are among Australia's best young artists to be featured at the Archibald's Young Archie exhibition.
The Young Archie exhibition showcases the works of budding artists between the ages of five and 18 at the Art Gallery of NSW from June 5.
Gideon Baker, aged 8, was selected as a finalist for his self-portrait drawing 'Gideon the Great' in which he draws himself as an Ancient Greek warrior.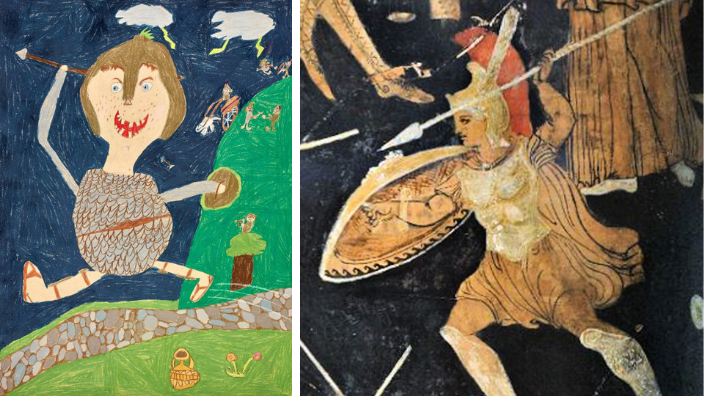 "I have drawn myself as an Ancient Greek warrior because I love Greek history. History is my favourite subject. I also like Greek mythology, but it's a bit weird," he says.
Baker's artwork is presented in the Young Archie's five-to-eight year-old category, alongside fellow runner-up Micaela Psomadelis.
Psomadelis, aged 7, was selected for her drawing 'Fires and flames'.
"I have chosen myself because if I paint myself then I know I am focusing. I chose fire because fire reminds me of hearts, and hearts remind me of love that is shared all around the world," she says.
Lucas Dimopoulos, aged 7, was given an honourable mention for 'Spa's world – self-portrait'
"I am floating in the spa and I am scared because I am close to the sun." 
*The ten finalists from each age category are displayed at the Art Gallery of NSW from 5 June to 26 September 2021 and the honourable mentions at the SH Ervin Gallery.