Melbourne's Greek community came out in full force on Sunday, March 21 to officially commemorate the 200th anniversary of the 1821 Greek Revolution.
The day, which was organised by the Greek Orthodox Archdiocese of Australia Melbourne District in conjunction with the Organisational Committee for Greek National Day, began with a doxology service at Saint Eustathios Greek Orthodox Cathedral in South Melbourne.
A wreath laying ceremony was later held at the Australian Hellenic Memorial's Shine of Remembrance at 12pm. Archiepiscopal Vicar for the District of Northcote, Father Evmenios, who was representing Archbishop Makarios of Australia, kicked off the ceremony with a solemn memorial service for all those that fell during the 1821 Greek Revolution.
This was followed by a number of representatives from the Greek Australian community and Victorian Government laying wreaths at the shrine including, but not limited to, the Consul General of Greece in Melbourne, Emmanuel Kakavelakis, Jane Hume MP (representing Prime Minister Scott Morrison), Andrew Giles MP (representing Leader of the Federal Opposition, Anthony Albanese), Ros Spence MP (representing Victorian Premier, Daniel Andrews), Neil Angus MP (representing Leader of the Victorian Opposition, Michael O'Brien MP), Shrine Governor, Squadron Leader Steve Campbell-Wright, and Chairman of the 2021 Victorian Bicentenary Committee, Tony Tsourdalakis.
Also in attendance at the shrine to pay their respects were: Maria Vamvakinou MP, Steve Dimopoulos MP, Lee Tarlamis MP, Nick Staikos MP, Kath Theophanous MP, Tammy Iliou, Vice President of Greek Orthodox Community of Melbourne and Victoria, as well as a number of other politicians and representatives from organisations. FULL LIST here.
Speeches were later given by some of the officials who laid wreaths, with Mr Tsourdalakis taking the time in his speech to thank people for attending and to highlight the strong connection between Greece and Australia.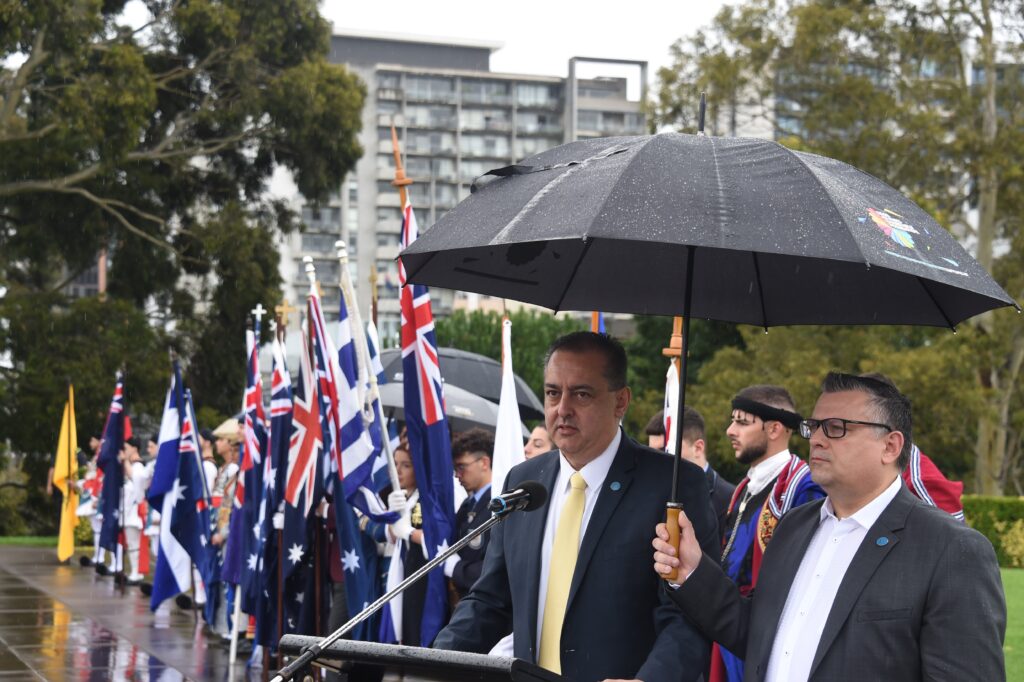 "We are gathered here to honour all of our fallen forefathers and ancestors. We honour those that fell in the battles from 1821 so that we remain free living in a democratic society," Mr Tsourdalakis said.
The ceremony concluded with a reciting of the Ode – Last Post by Shrine Governor, Squadron Leader Steve Campbell-Wright, as well as the playing of the National Anthems of Greece and Australia.