Everyone is friendly in the SA Parliament building.
From the security guards to the receptionist, to Irene Pnevmatikos' assistant who welcomed me and lead me to her office.
The Member of the Legislative Council offers to make me a Greek coffee while we discuss the current situation with the pandemic in Europe.
There is something unique in speaking your language with a Member of Parliament.
Especially one like Pnevmatikos, the daughter of migrants, who came to Australia without knowing a word of English and whose career unfolded in a rather unusual way.
I ask her what were some of the additional challenges she faced this year due to the pandemic and she replies boldly.
"There were no additional challenges that I faced, because at the end of the day I had a job, I had security of income and I could maintain my lifestyle," Pnevmatikos says.
"On a political level it meant that you needed to find new ways of communicating with people and interacting with them and that's been a learning process for all of us. It's not the same as direct contact with people. That is an important aspect of our job."
'Political life is more than the parliamentary system':
Despite the adversities and the change of circumstances due to the pandemic, Ms Pnevmatikos remains focused on supporting workers and disadvantaged groups and continues to work towards improving the representation of women from non-English speaking backgrounds in the community, workplace and the South Australian government.
"I've always been involved in politics. Being a member of parliament is just one aspect of political life. Political life is more than the parliamentary system,"she says.
"Being in parliament means that you become more visible, there are opportunities for you to be able to promote particular issues and concerns and there are also opportunities to hear more broadly from the community in our society and this state. So, you become a conduit -on one level- for others."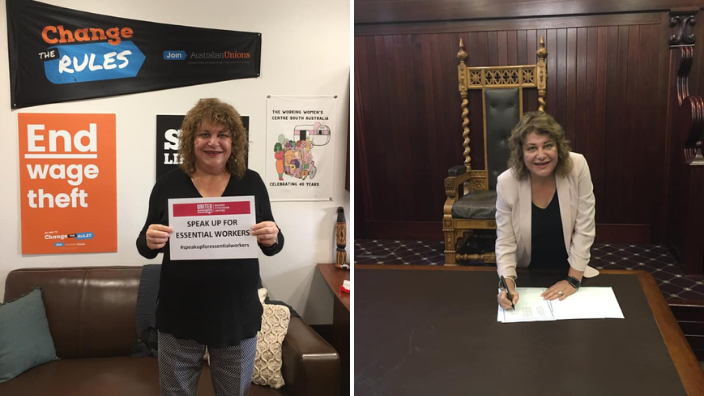 Reaching milestones in an unconventional way:
When asked about the milestones in her career, Pnevmatikos talks with excitement about her service as a delegate of the Federal Government to the United Nations in New York and Beijing for the Fourth World Conference for Women.
With equal excitement, she talks about the unconventional path she followed to become who she is today.
"My father passed away when I was in my last year of high school. So I dropped out of school to help my mother and support our family. I got married a few years later and I think I was one of the first women here to go back to school and study after being married. That was a milestone. There was a lot of antagonism in my community about that," says Pnevmatikos, talking proudly about her two daughters.
"There is no set path for anyone. Man or woman. And I think the more we are able to promote that the healthier our community will be."
Since her election in 2018, Pnevmatikos has chaired the Wage Theft Committee, co-sponsored the Free Menstrual Hygiene Products Pilot Program Bill and has been a strong advocate for abortion law reform and the decriminalisation of sex work.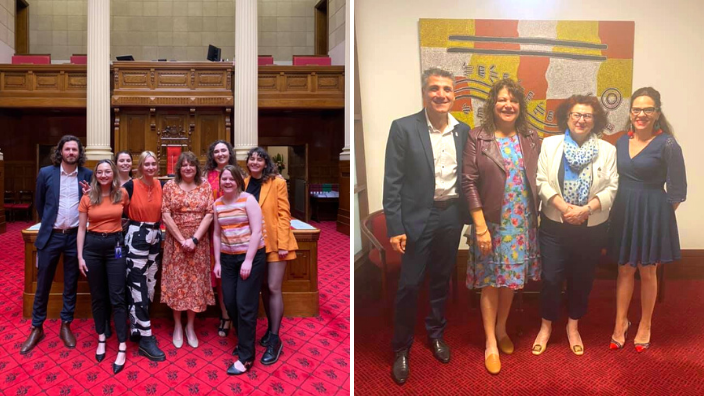 'Voices are heard but not listened to':
One would expect that in a democratic country like Australia, every person's voice and those of community groups would be heard. Sadly, this is not always the case.
"Voices are heard but they are not listened to. There are many who don't have an opportunity to express their concerns for lots of reasons. Because they don't know how the process works and how they can get across their issues. This is a multifactorial problem," Pnevmatikos says.
"But there are enough people out there who can help and support those voices and it's important that we get to hear them, because often they are the people who are most affected by decisions that we make, by laws that we pass.
"They are the most vulnerable and if we are not listening to them, then who are we listening to at the end of the day?"
'Politics is life':
I ask her what she would advise young people from diverse backgrounds who would like to enter politics.
"They should," she says.
"Politics is life. We make political decisions, all of us, every single day of our lives and we need to be involved in our society if we feel strongly about something. Otherwise decisions are made for us and we don't have a say, in what goes on and that's part of a democratic process.
"If we believe in a democratic process, then we have to encourage involvement and participation," Ms Pnevmatikos concludes.
READ MORE: Greek Australian politicians on why SA Parliament has the worst female MP representation in Australia.