By Kathy Karageorgiou
Viky and Dennis are a Greek-Australian couple in their fifties, enjoying one of their many visits to Greece.  
"I've been 6 times," Viky says, while Dennis quips, "I've come to Greece so many times, I can hardly remember – let's say ten."
The couple from Sydney are both previously divorced with similarly aged children – in their twenties – from their prior marriages. Like themselves, their children – born and bred in Australia – have also visited Greece on holidays.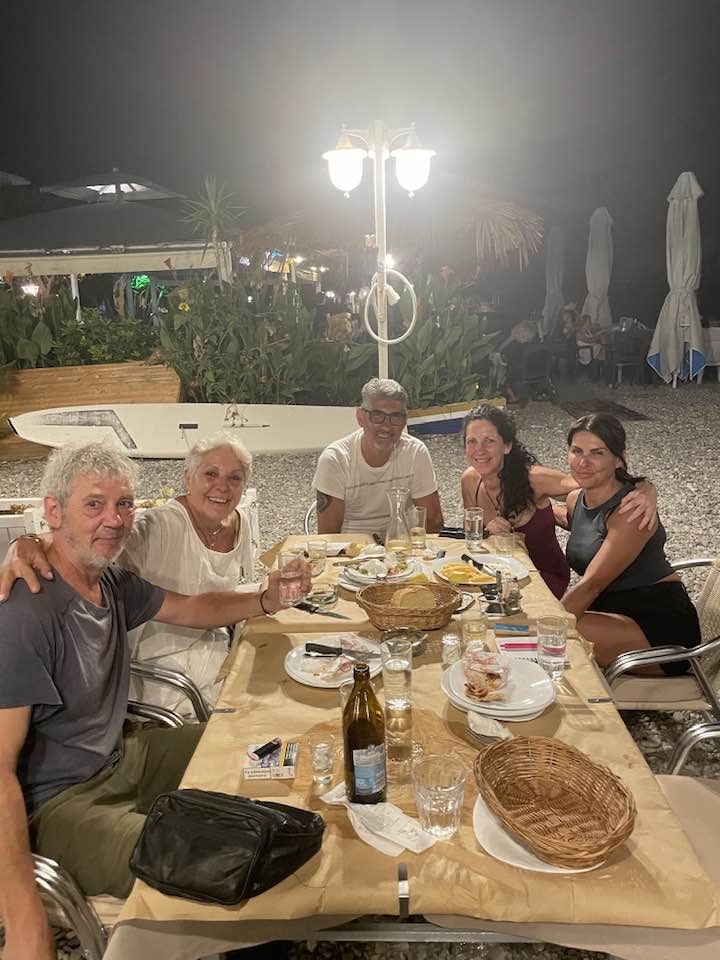 Dennis and Viky tell me that their four children consider themselves Greek Australian rather than Australian, preferring to identify with their families' cultural heritage, which became even more pronounced after visiting Greece.
From their many visits to Greece, interspersed with life in Australia, Viky and Dennis keenly share their observations. Both agree that they love Greece in terms of the more sociable, everyday lifestyle, but Dennis voiced that "happiness is about people not money," referencing his and Viky's decision to continue to live in Australia due to their children.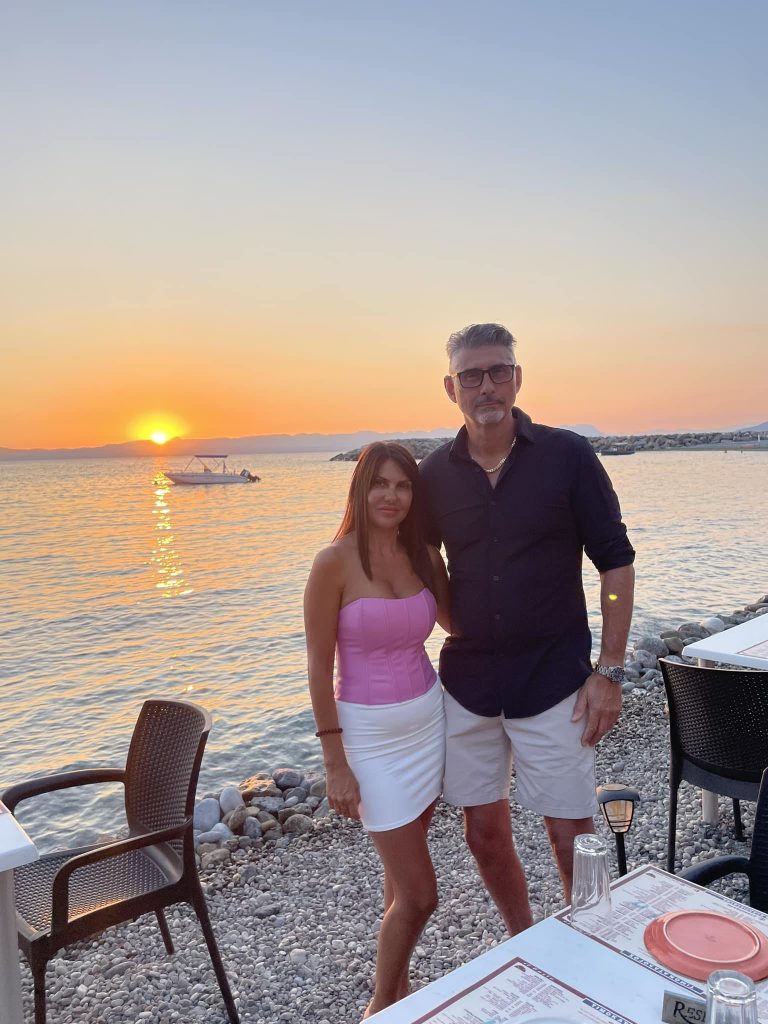 Viky, an employment consultant, confessed that if it wasn't for her children, she would forego the better pay in Australia and move to Greece to enjoy a "simple lifestyle; a block of land and house and grow vegetables and keep animals."
To this, Dennis, an IT professional, looks towards the sea (where we're enjoying our souvlakia and local wine) and stretches his arms out, voicing: "See this is it. We're sitting right on the beach at a simple restaurant having our simple yet delicious food with friends at 11pm and we know we're not going to get ripped off. Nor will the manager, or whoever, tell us that the kitchen closes at 9pm (if you're lucky in Australia), or last drinks. Here they'll politely really put the customer first and stay on through all hours – because of the Greek hospitality and generosity of spirit."
The couple tell me they've encountered the same open heartedness in Athens as in their parents' places of origin such as Kiato for Viky, and Kefalonia for Dennis, for example.
At one point in our conversation, Dennis tries to explain where a particular part of Kefalonia is located, but realises there's an easier way: showing rather than telling! He pulls up his t-shirt sleeve and points to his tattooed map of the island, and continues our conversation regarding the beauty of Fiskardo and Assos and beyond.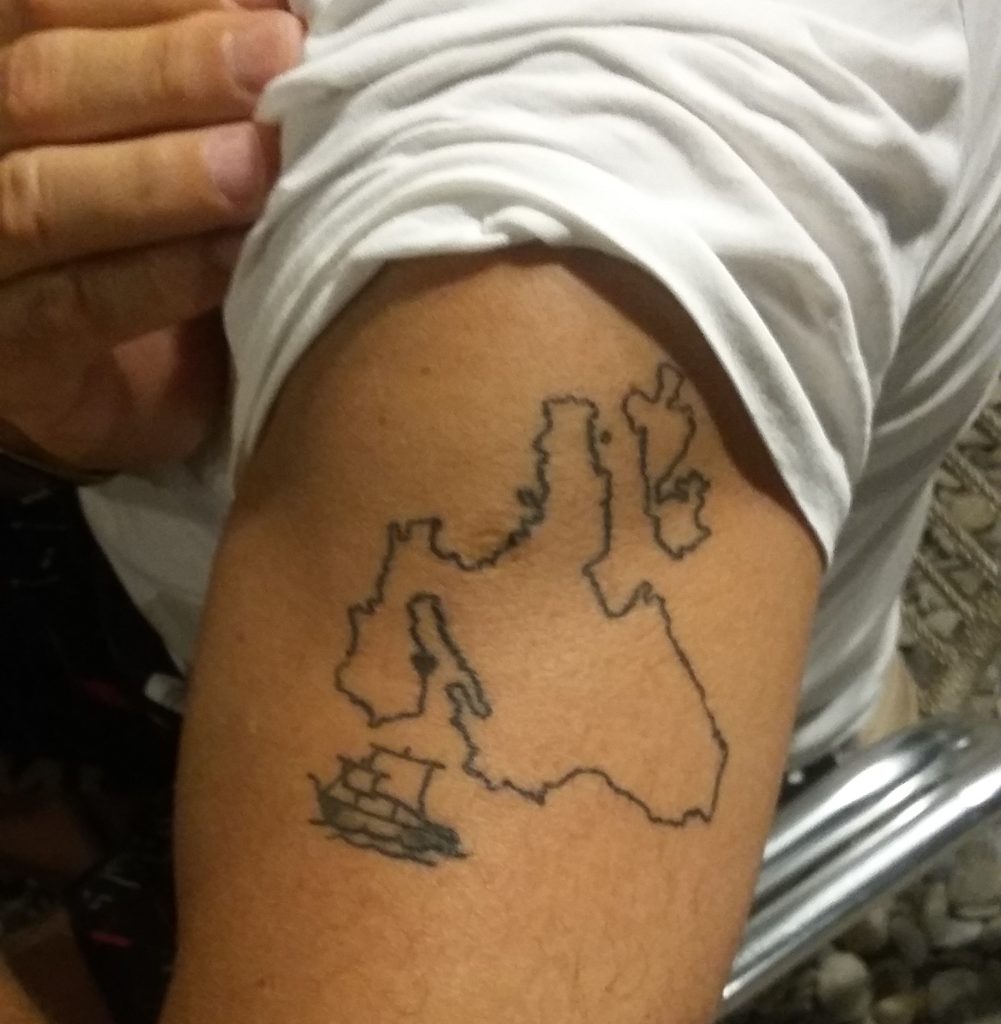 When we come to the topic of football and rugby, Dennis' other sleeve goes up to expose his rugby league team tattoo. These tattoo choices symbolise to me, an iconic melding of being a Greek Australian; part of and proud of both of our cultural identities' influences, shaping who we are.
Viky also comments on the lifestyle of Greece as being more relaxed and less orientated around work as it is in Australia, but subsequently expresses surprise at "where do Greeks get the money to go out and shop for clothes, etc. in what seems like all the time?"
On further discussion, we observe that Greeks in Greece tend to 'sit' on a coffee or drink for a long time, as this coincides with the relaxed Mediterranean lifestyle pace, rather than feeling pressure or just impatience to order 'more, more' as perhaps is the case in other Western cultures such as Australia.
Furthermore, many Greeks don't have the significant, added expense of a mortgage, due to their parents, grandparents and preceding ancestors accruing property which they pass down to future generations, unlike Australia which is a newer country without as much generational capital.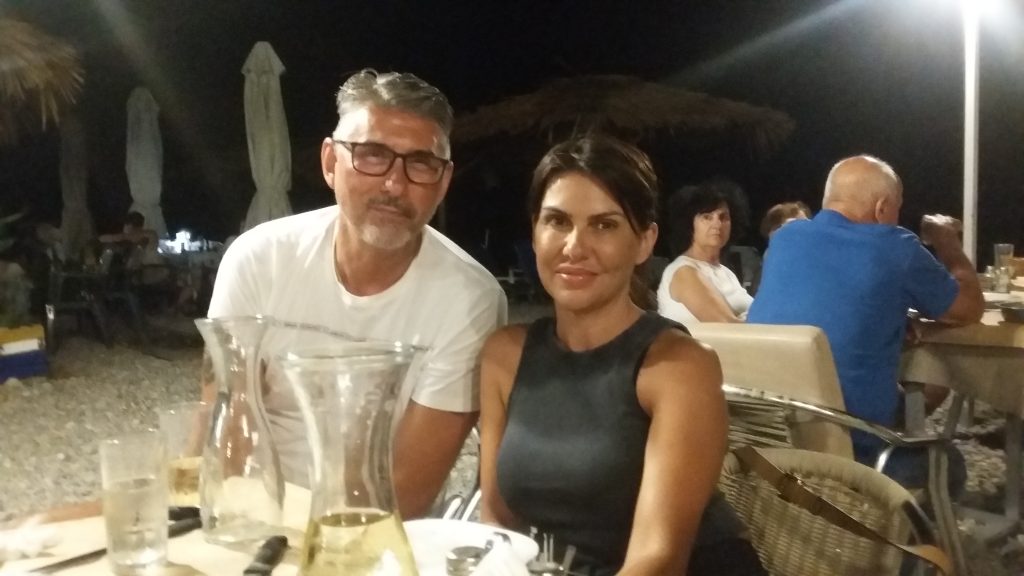 Dennis comments on Australia having changed very much "from 2010" predominantly, whereby the cost of living is difficult.
"Wages might be seen as good, but buying power has diminished, though the petrol's still pretty decent compared to you guys here in Greece," he states, noticing its increased price in Greece.
Viky adds that although Australia used to pride itself on being 'the lucky country,' middle class people find it hard to make ends meet, let alone younger people paying off a house, "like our parents used to." I comment that there's a great welfare system in Australia compared to Greece, yet Viky soon brings me back to reality, telling me the figures on rent assistance and Jobseeker payments.
"At least the ridiculously high road toll isn't what it is here in Greece," I add, with Dennis and Viky agreeing, and us shaking our heads in disbelief at the "slackness" of the Greek police when it comes to policing dangerous driving.
The couple then proffer that "Australia goes to the other extreme, to the point of being a granny state," attributing the COVID-19 era to introducing 'dobbing in' on people 'breaking' the law, and hence negating a sense of community.
"And speaking of community" she continues, "why don't they play Greek music here? We come to Greece for the culture, for its strong identity and sense of community, and all we hear is non-Greek music being played in cafes, and bars. It's disappointing." Dennis nods in agreement.
On a final note, the couple resonate unequivocally in their ethos of "don't lose your identity."