By Vasilis Vasilas
Every so often you come across very special stories; in so mycase, it is more often than so… as I continually comes across fascinating people with interesting stories. Dimitris and Vasilia Alavanos' story is just one of those amazing stories; from whichever perspective we examine their work and efforts, it amazing!!!
Dimitris and Vasilia's story is simply fantastic, whichever way you look at it. A nursery is a very, very different business! That Dimitris and Vasilia took their hobby- of growing orchids- to the next level (i.e. nursery) when Dimitri retired from his 'day' job! That Dimitri has cross pollinated orchids and even created his own orchid, "Cronulla Jim"….this list goes and on!!!'
Dimtris migrated to Sydney, Australia, in 1960; his first job here was in the W. Stevens metal work factory which manufactured products such as air conditioners and mufflers. Then, he found work at the Slazenger factory in Alexandria, where he worked in the tennis section. In 1963, Dimitris married Vasilia (nee: Kougiou) and they settled in Balmain. Being a furniture maker and carpenter in Lesvos, Greece, Dimitris and his brother George worked as sub contractors for many years until Dimitris successfully got a job as a carpenter in Drummoyne Municipal Council as a carpenter.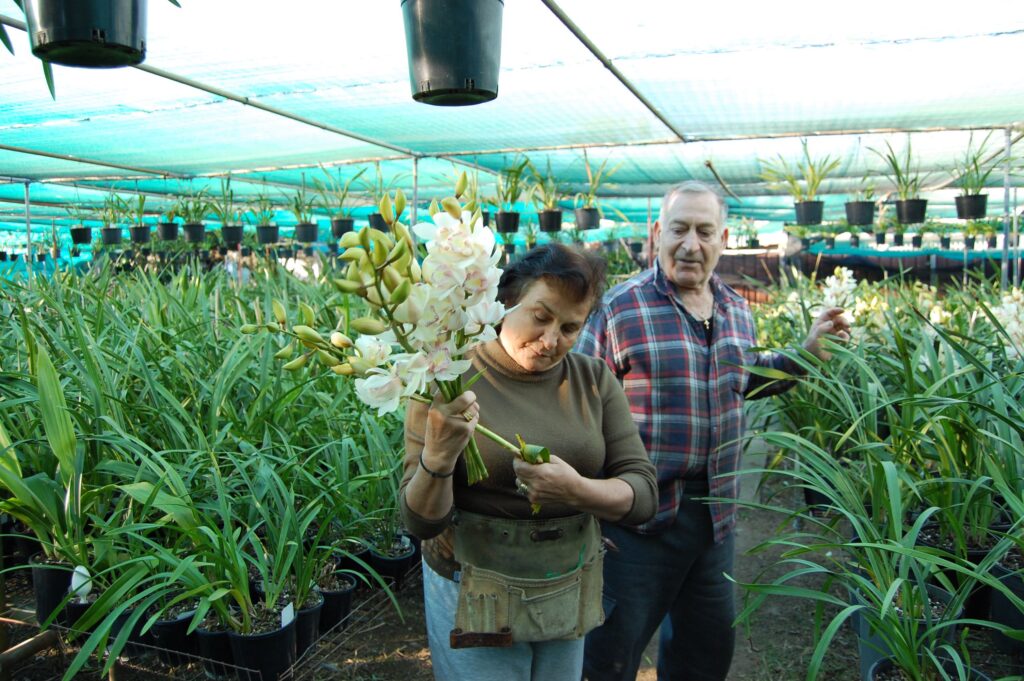 HOW ONE THING LEADS TO ANOTHER!?! Preparing the timber stalls for an annual orchid show in Drummoyne's Town Hall, Dimitris and Vasilia were immediately captivated by the variety, colour and beauty of orchids when they attended this orchid show. They bought a few bulbs and off they went; in the tiny rear of their Balmain house, they created a 'bush house' on the outside laundry's roof and began growing orchids… as a hobby.
It was when Dimitris and Vasilia moved to Roselands that Dimitri could transform the backyards of their houses as their garden and nursery.
Working their nursery, Dimitris compares it to painting the Sydney Harbour Bridge, once the growing process finishes, you have to return to the beginning. As Dimitris explains, 'Growing orchids is a very long process; we start with twenty or so seedlings in a community pot and, over time, we re-pot them in individual and larger pots- re-potting lasts for years! When they bloom, however, it is worth the wait because orchids are beautiful.'
Running a nursery is labour-intensive that requires hard work, dedication and effort. What Dimitris enjoys, however, is the unpredictability of growing orchids, 'The most exciting aspect about growing orchids is what will grow from the seedling. I may have an expectation but I do not know what will come out; there are different sizes, colours, shapes, textures… I love the constant surprise!'
And has Dimitris created his own orchids? He explains the process of coming up with his own species, 'Orchids are very easy to cross pollinate. I am constantly experimenting and I have come up with my own species too. We have to register the new species in Britain. My species was Cronulla Jim, as the seed came from a grower in Cronulla. We used to participate in Orchid Shows and won awards and ribbons; at our age, we are passed this now.'
Asked about what it is like to work in such a beautiful environment, surrounded by orchids, Dimitri admits, 'Orchids may be beautiful but there is a lot of hard work involved. In whatever you do, you have to have κέφι (fun) and μεράκι (good taste)- you have to love what you do! I am lucky to love what I do and I will keep going for as long as I can.'
And what is the future of such a blooming business? Dimtris explains, 'None of our children are interested in growing orchids. This is not a family problem; it is a general problem. Young people enjoy other types of work. Once, there were lots of growers; they have rapidly decreased over the years. We all have a similar grievance that this will eventually die out. When I pass away, I think a bulldozer will come through (laughs)! And the irony to all this is there is a genuine demand for orchids. We are very, very busy…'
Watching their nursery in full bloom is spectacularly beautiful, it is just a sea of vibrant colours…