The Hellenic Initiative Australia has announced two new grants totalling $110,000, which have been awarded to Greek charities Boroume Saving Food Saving Lives and Emfasis Foundation. 
These grants have been made possible through the generous support of Greek-Australian and Philhellene communities.
The grants to Boroume (AU$66,000) and Emfasis Foundation (AU$44,000) will address food insecurity, provide basic necessities and assistance with securing temporary and permanent accommodation and employment for many vulnerable and isolated people in Greece.
Boroume will continue to coordinate the collection of food by local and international volunteers at markets in Athens and Thessaloniki for donation to local charities and other beneficiaries through its Farmer's Market Program.
Read more: The Hellenic Initiative Australia announces four new grants for the vulnerable in Greece
In 12 months, August 2022 to July 2023, 199.2 tonnes of fresh produce were collected by Boroume and distributed to 39 charities in Athens and Thessaloniki.
THI Australia's CEO, Stergitsa Zamagias-Hill said in a statement, "This program is achieving more than just the saving and repurposing of fresh produce.
"We are contributing to more than 1 million kg of CO2 equivalent not being released into the atmosphere. That's the equivalent of more than 18,000 trips from Athens to Thessaloniki by a conventional car or the positive impact of almost 6,000 adult trees."
Since 2015, THI Australia's support of the Farmer's Market Program has resulted in the collection of 970 tonnes of fresh produce. Additionally, over 100 Australians have generously volunteered for this program while in Greece.
Volunteering for Boroume offers an excellent opportunity to contribute to relief efforts, gain a unique perspective on Greek life, and connect with both local Greeks and fellow volunteers.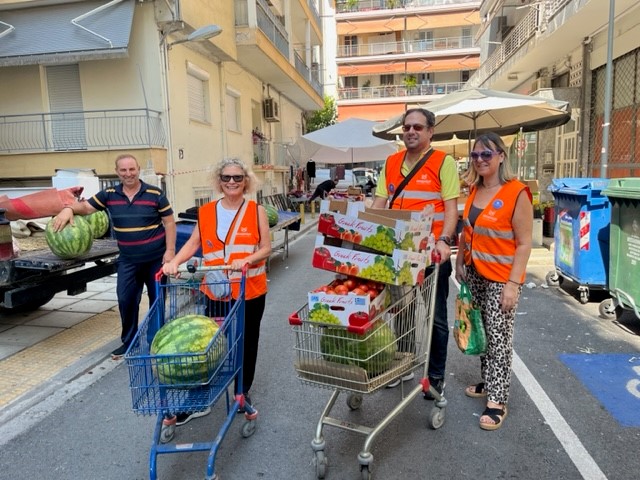 Emfasis Foundation will continue to support vulnerable individuals who are either homeless, at risk of homelessness, or facing severe survival challenges and social exclusion through their Mobile Support Unit (MSU). Most importantly, this grant will help to broaden its reach beyond the Attica region to include Patras, Thessaloniki, Volos, Crete and Rhodes.
'We congratulate Emfasis for expanding its services beyond the Attica region and its willingness to share its expertise with local not for profit organisations in other parts of Greece', said Mr Zamagias-Hill.
The MSU provides assistance to individuals in need by addressing their immediate material needs, eviction relief and help with utility bills. In addition, they offer counseling, training, and upskilling initiatives to empower and mobilise beneficiaries, guiding them through the necessary steps to improve their life conditions.
During the previous grant period of 2022-2023, THI Australia's support of the MSU made a significant impact with a total of 2,708 vulnerable individuals benefitting from these services. This included 50 homeless individuals who were helped into temporary accommodation and 49 people who received assistance in securing temporary and permanent employment.
Despite improvements in Greece and reports of the successful tourism season, many more families are living on or near the poverty line in Greece and still need our support.
To make a donation to one of the partner charities, visit The Hellenic Initiative Australia's secure online platform Shout For Good. All donations of $2 or more are tax deductible in Australia.
To volunteer with Boroume for the Farmer's Market Program while in Greece, contact: info@thehellenicinitiative.com.au