By Evelyn Karatzas
Να τα Χιλιάσει! Beloved mother, yiayia and great yiayia Mary Kalenderidis turns 100, claiming the title of Goulburn's oldest Greek community member.
On Saturday the 15th of February, Meropi Kalenderidis celebrated her 100th birthday with all her loved ones at the Goulburn Soldier's Club.
Her day full of love and reminiscing was spent with 90 guests, as well as the Apollo dancing group from the Canberra Hellenic dancers, who put together a special performance. 
Is it the Mediterranean diet, the garlic, the olive oil, the onions or her strong faith in God?
Mary was born on the 10th of February 1920, in Atsiki, Limnos, Greece and last Monday received her letter from the Queen as she finally made it to 100 years old.
Mary also received a congratulatory certificate from the Prime Minister Scott Morrison, the David Hurley-Governor General of Australia, a congratulatory message from the NSW Premier Gladys Berejiklian, a congratulatory certificate from the MP Federal member for Hume Mr Angus Taylor, as well as a letter from Wendy Tuckerman – MP member for Goulburn.
She has accomplished many amazing things in life, including marrying her beloved late husband George Kalenderidis, having 4 daughters, 8 grandkids and 5 great grandkids.
So what hasn't Mary experienced over the last 100 years?
Her journey of a lifetime began in 1958, when she first moved to Australia aboard the "Castel Felizzi", disembarking in Sydney. She then moved on to Canberra, where she stayed at the Hotel Wellington, later moving to Goulburn.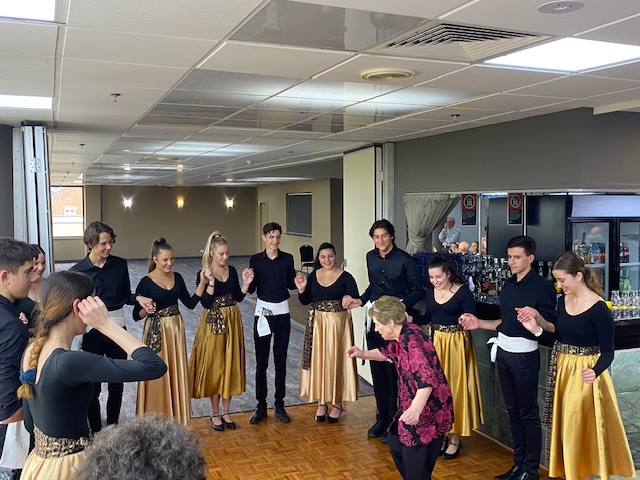 It was both a terrifying and exciting journey that changed her life, providing a fresh start for Mary and her family.
From courageous to compassionate, dedicated and inspiring, selfless and strong to loving and generous, Mary is truly one of a kind. She always puts her family first and is the perfect role model to her family, as told by her 4 daughters.
Eldest of 8 siblings, and the last alive, Mary passed down her wisdom and always taught her loved ones to give and never expect, to respect people, to always be grateful for everything and "be careful".
She may never have had a typical 9-5 job, she did however have Boarders living in her house and she would cook and clean for them daily for extra income to provide for the family.
Mary and her late husband (who was the church chanter and well-known barber), would also hire out black and white movies to the local Greek community in Goulburn, where locals would come to their house to catch up on the latest gossip, enjoy a coffee and Mary's famous Greek sweets.
Although Mary never learnt how to speak English, Days of our lives taught her everything she knows to this day. Despite this, she maintained her hobbies, which included crocheting, gardening, reading, cooking and singing.
Mary truly lived an extraordinary life, experiencing endless milestones, creating so many memories and accomplishing many amazing achievements, one of the best being her beautiful family. As we say in Greek, Να τα Χιλιάσεις!