In what many people are calling a leading initiative by Sydney's Greek community, the gymnasium of All Saints Grammar in Belmore opened to the public on Wednesday, August 18, as a pop-up vaccination clinic.
The clinic is running for three days until Friday, August 20 from 10am to 4pm and offers Pfizer vaccines to people aged 16 to 59 from 12 Local Government Areas (LGA) of concern across Greater Sydney. This includes Bayside, Blacktown, Burwood, Campbelltown, Canterbury-Bankstown, Cumberland, Fairfield, Georges River, Liverpool, Parramatta, Strathfield, and some suburbs of Penrith.
On the first day of the pop-up clinic, hundreds of people, both from the Greek and wider community, turned out to get their vaccination. Everyone was socially distanced outside in a line before they checked-in via a QR code, had their temperature checked and entered the gymnasium for their vaccination.
Some people who had not booked their vaccine appointment via an online form before they arrived were given assistance by a team of volunteers from NSW Health and former students from All Saints Grammar. Others who had English as a second language were also guided through official procedures by interpreters onsite.
"It's great to be able to work with our community partners. I think the community trust the organisations that are part of the community and that helps with people that might be a bit vaccine hesitant," Renee Moreton, who is the General Manager of Population Health for Sydney Local Health District, told The Greek Herald exclusively on the day.
"Once they see their local community organisation take part in the vaccine response, it brings more people forward from the community, which is really good.
"We've got 500 Pfizer vaccines available [per day] for the next three days and we anticipate that we will use all 1,500 over the three days."
'Everybody has been super grateful':
Looking inside the All Saints Grammar gymnasium, you can see exactly why NSW Health authorities are anticipating their designated supply of Pfizer vaccines will be used up by the end of the three day initiative.
The clinic is like a well-oiled machine.
People are given numbers before they sit patiently in a 'waiting area' to be called to one of the 10 vaccination stations set up around the gym. After receiving a Pfizer jab from a registered nurse, people are then guided to sit in an observation area for 15 minutes before they are allowed to leave with a 'goodie bag' which contained 20 masks and some antibacterial gel.
Registered nurse, Chloe Gibson, told The Greek Herald the process was made even easier because of the Greek community's help, as well as that of interpreters and cultural support workers.
"I feel like everybody is a little bit hesitant in times like this. It is a new process and it is a new vaccine, but everybody has been super grateful and super awesome to work with," Ms Gibson said.
"It's been really rewarding for us as nurses to be able to come into their community and their spaces and have them come and see us [to get vaccinated]."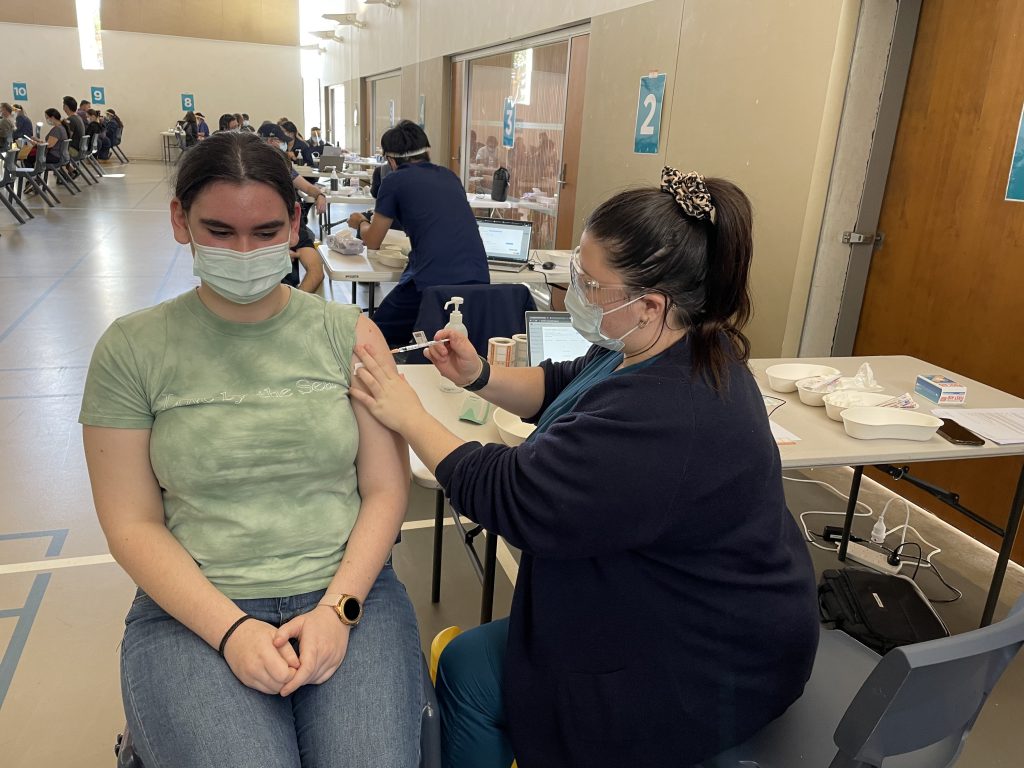 'Lovely of them to open their doors':
Demi Kavaratzis was one of the many people lined up outside the gymnasium and said she decided to visit the pop-up clinic to receive her second dose of Pfizer.
"Be persistent to get the vaccine," she said. "It's the only way out."
47-year-old, Tina Daniels, agreed and said her experience at the pop-up clinic was 'unreal' as she's 'looking forward to some freedom.'
"It was very good. Everyone is just trying to do their best to keep everyone safe and the nurses were beautiful," Ms Daniels told The Greek Herald as she sat in the clinic's observation area after receiving her vaccine.
"I think it's really good to have pop-up hubs like this. I wish there was more of them. This is a great organisation and it's really lovely of them to open their doors up to us and allow us in to be vaccinated."
NSW Minister for Multiculturalism, Natalie Ward, also thanked the Greek community for their role in the state's vaccine roll-out and said she was "heartened to hear that there has been a strong turnout at the Belmore pop-up clinic."
"My deep gratitude goes to each and every person in our Greek community who has rolled up their sleeve to get the jab. Your contribution in our fight against COVID is crucial," Minister Ward told The Greek Herald.
"The best vaccination is the first one you can get. Vaccination is our pathway for the future and it's absolutely critical everyone gets vaccinated as soon as they can."
To book an appointment at All Saints Grammar gym please visit: https://vaccination.slhd.nsw.gov.au/vc/AllSaints/8