A new school year started last week for St Andrew's Grammar School students and staff in Dianella, Western Australia.
On Thursday 18 February 2021, Father Emmanuel, Father John, and Father Terry conducted the Blessing of the Waters Service for the start of the new School year at St. Andrew's Grammar; a particularly joyous occasion as it marked the start of the first year for the school's new Principal, Mrs Dawn Clements who was appointed late last year.
During the ceremony, Father Emmanuel wished the children well for the year and urged them to show each other a Christ-like love, while Father Terry passed on to all the staff and students the blessings of His Eminence Archbishop Makarios and of His Grace Bishop Elpidios of Kyaneon.
A Leadership Blessing was given for Mrs Clements, as well as new Board Chair Mrs Samta Thakrar, and the 2021 Student Leaders, before the Honourable Consul of Greece in Perth, Mrs Georgia Karasiotou who led students and staff in officially celebrating International Greek Language Day (February 9).
The Fathers also blessed the Vasilopita, and along with the new Principal, cut a cross into the traditional Greek New Year's cake as the new School Captain for 2021, Kristen Taylor, explained the history and significance of the tradition.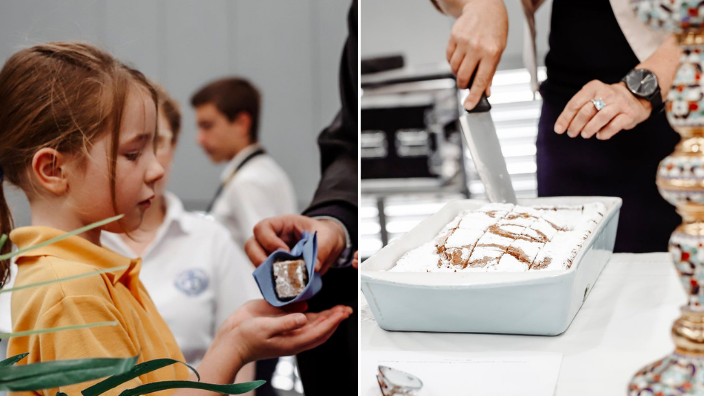 A piece of the Vasilopita was handed to a representative of each class and each guest attending. Father Terry then Blessed each of the children individually as well as all the classrooms and buildings of the School.
St Andrew's is a K-Year 12 co-educational Hellenic School with a student population from 47 different nationalities and both ceremonies were enjoyed by all.
*All photos by: St Andrew's Grammar/The Pink Tank Creative
READ MORE: Hellenic Community of WA welcomes appointment of new St Andrew's Grammar Principal