By Mary Sinanidis.
On Sunday, April 30 around 100 people gathered for a commemorative service to honour the ANZACs and other Allied soldiers who served and those who died defending the Greek port city of Kalamata 82 years ago.
Held at the Australian Hellenic War Memorial near Melbourne's Shrine of Remembrance and organised by the Society of Kalamata '23 March,' those present remembered the Battle of Kalamata which took place on April 28, 1941, during the German invasion of Greece in World War II.
The event was emceed by the Vice President of the Society of Kalamata, Peter Andrinopoulos.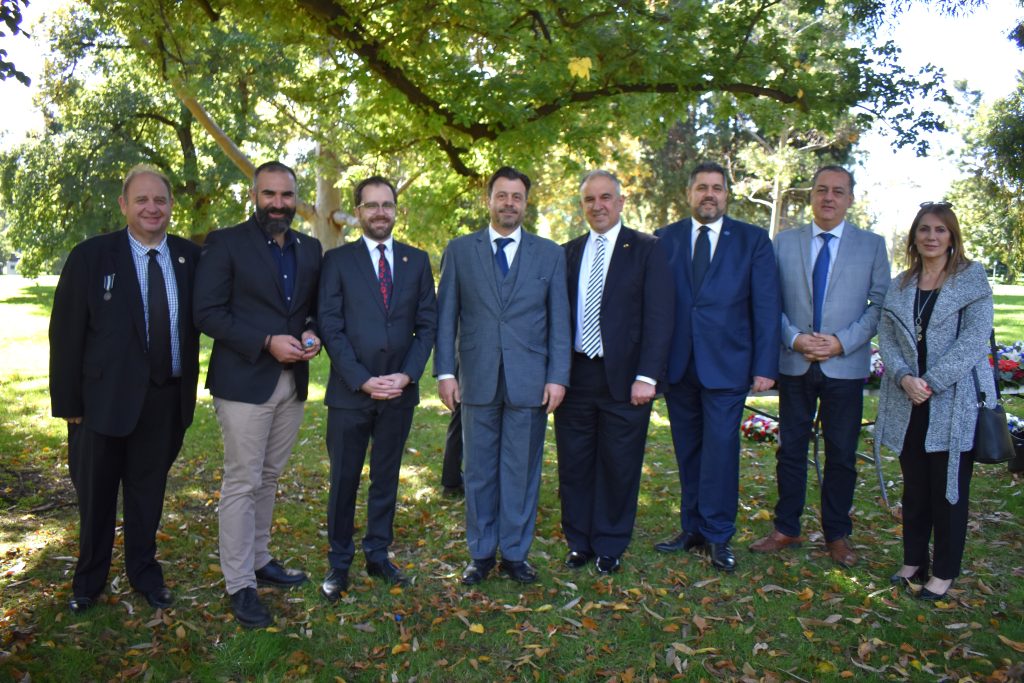 Around 30 wreaths were laid to honour the 16,000 Greek, Cypriot, Australian, New Zealand, Palestinian and Yugoslav soldiers who were forced to retreat to Kalamata in southern Greece after a series of defeats.
With little support, they were surrounded and under heavy attack by German forces. Despite fierce resistance, the Allied troops were eventually overwhelmed and had to surrender with 6,000 soldiers captured and later held as prisoners of war.
A spectacular battle:
Greek Consul General to Melbourne, Emmanuel Kakavelakis, said the battle and its struggles led to strengthened ties between Greece, Australia and New Zealand.
"Most of these bonds are forged on the battlefields of these three nations which fought side by side," Mr Kakavelakis said.
President of the Society of Kalamata '23 March,' Sam Vlachos, said the allies "fought for Greece, and civilians risked their lives to protect them."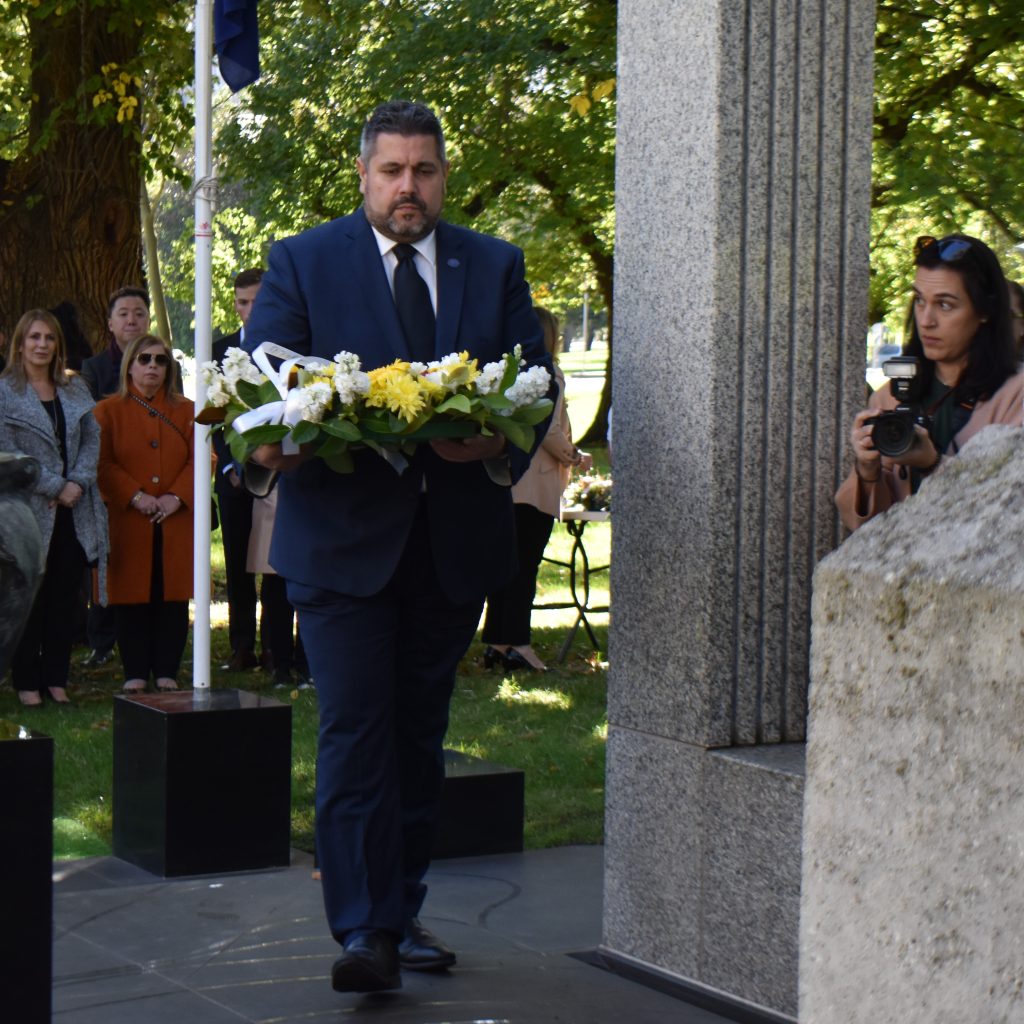 Mr Vlachos referred to Australian heroes like Albert Gray, Syd Grant and New Zealand's Jack Hinton as he recounted the last moments for ANZACs in Kalamata who were ordered to destroy all weapons prior to their surrender to the Germans on April 29. By April 30, most had been captured while others chose to escape to Messenia.
The residents of Kalamata suffered during the German occupation following Italy's failure to occupy Greece.
"My mother Joanna, 86 years old today, was befriended by an Italian soldier, who had a young daughter himself. She reminded him of his child," Mr Vlachos said, adding that the situation took a turn for the worse when the Germans came.
"There was a lot of suppression, there was a lot of hunger, a lot of stories."
Derek Trewarne attended the ceremony to honour his father Bill – one of the 39ers first to volunteer their services to the war efforts.
"He was lucky enough to get to Crete and would have passed through Kalamata. My father didn't talk about it much, and we weren't to watch any war movies or anything to do with wars because he suffered from nightmares," Mr Trewarne told The Greek Herald.
"We were told not to ask anything about it. It was only when he entered his 80s that he told us a few things, but not much. When he passed, I put together the pieces and joined an association for sons of servicemen and ended up being president, and currently the vice president."
Royal Australian Air Force Wing Commander, Matthew Shelley, said that the commemoration was a great opportunity to reflect on and unpack a "special and unique campaign." His sons Oscar and Oliver Shelley, 14 and 11 years respectively, accompanied their father to the commemoration after hearing of the military efforts in Greece.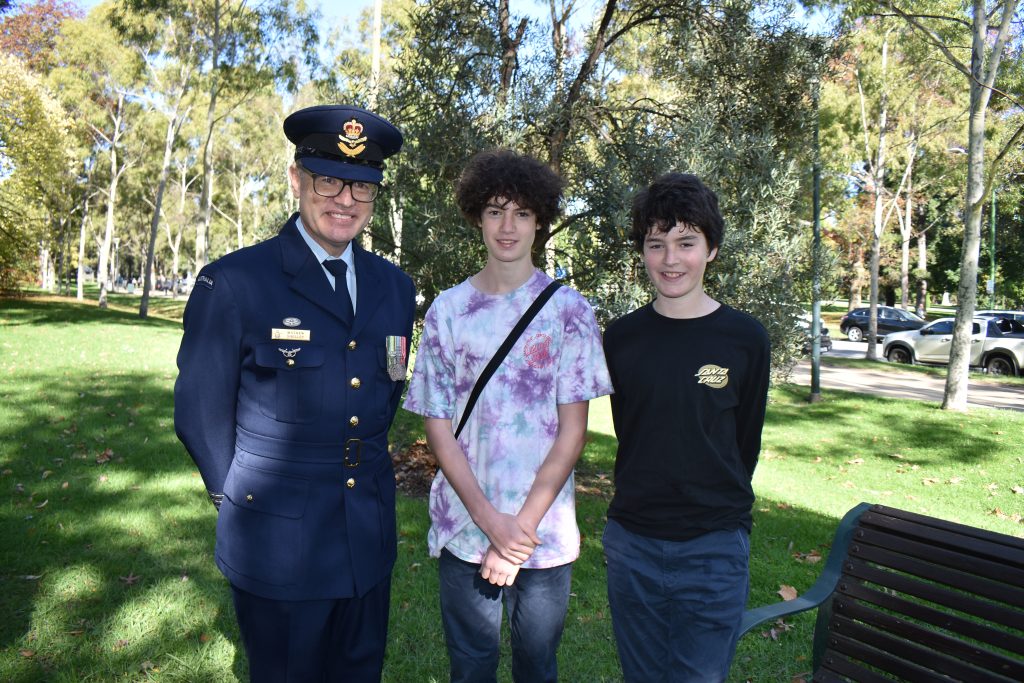 "We're interested in the whole topic of war and stuff and my dad was telling us about the memorial and we came to pay our respects," Oscar told The Greek Herald, adding that one of the more interesting aspects was the stories of those who escaped the Germans.
Nick Staikos MP told The Greek Herald that "Kalamata, like Crete, like Lemnos, was one of those pivotal moments between Greeks and Australians during wartime that forged inseparable bonds endured through peace times."
His cousin, Councillor Steve Staikos, said he laid a wreath as a representative of the 14 percent Greek population of his municipality, many from Kalamata.
"It is the second most spoken language after English," Councillor Staikos said, adding that a Greek-inspired artwork would soon be erected as part of an arts program to honour the City's multicultural community.
Helen Pavlidis from Merri-bek City Council said there are 130 different nationalities in her municipality and Sparta Place was created in Brunswick to honour the City's large Spartan population much like nearby Darebin now has Kalamata Square.
Former Mayor of Whittlesea, Kris Pavlidis, said she was there to honour her heritage on her mother's side, and recalled all the goodness which Kalamata has come to represent from heroic battles to olives all the way to Kalamata Square in the City of Darebin.
Adam Breetvelt, representing the New Zealand government, summed it all up nicely when he said the Battle of Kalamata "shaped history."