Melbourne's Greek community was out in force on Sunday, March 28, as they held their official commemoration of the 200th anniversary of the Greek Revolution.
The celebrations began with a Divine Liturgy and Doxology service at Victoria's first Greek Orthodox Church, The Annunciation of the Virgin Mary.
At the close of the church service, festivities moved outside to Lansdowne Street in East Melbourne, which was transformed into a place bursting with colour, dancing and music by the Greek Community of Melbourne.
Once at Lansdowne Street, MC's Tammy Iliou, Vice President of the Greek Community of Melbourne, and Michael Karamitos, Co-Chair of the Greek Community's 200 year Anniversary program, launched official proceedings with a Welcome to Country and the singing of the Australian and Greek national anthems by students from Alphington Grammar.
This was followed by a number of speeches from prominent members of the Greek Australian community including, the Very Reverend Father Evmenios, Archiepiscopal Vicar for the District of Northcote representing His Eminence Archbishop Makarios of Australia, Consul General of Greece in Melbourne, Emmanuel Kakavelakis, President of the Greek Community of Melbourne, Bill Papastergiadis, Leader of the Victorian Liberal Party, Michael O'Brien, Steve Dimopoulos MP and Melbourne City Councillor Jamal Hakim.
During Papastergiadis' speech, he announced a significant donation by Andreas Andrianopoulos and his family towards the continued reinstatement of the Evangelismos Church.
Papastergiadis presented Mr Andrianopoulos, who was flanked by his son Chris Andrianopoulos and his wife Niki and family member Con Xindaras, a commemorative plaque to thank and honour Mr Andrianopoulos for his generous support.
After official proceedings concluded, a re-enactment of the beginning of the 1821 Greek Revolution took place, which involved 30 actors dressed as freedom fighters (six on horseback) re-telling the taking of the sacred oath by Ypsilantis and his band. Gun shots were also fired as part of the act.
This was followed by a number of dancing and music performances by the Greek Community Dance Ensemble, the Pancretan Association of Melbourne, the Manasis School of Greek Dance and Culture, the Pan Macedonian Association and the Pegasus Dance Academy.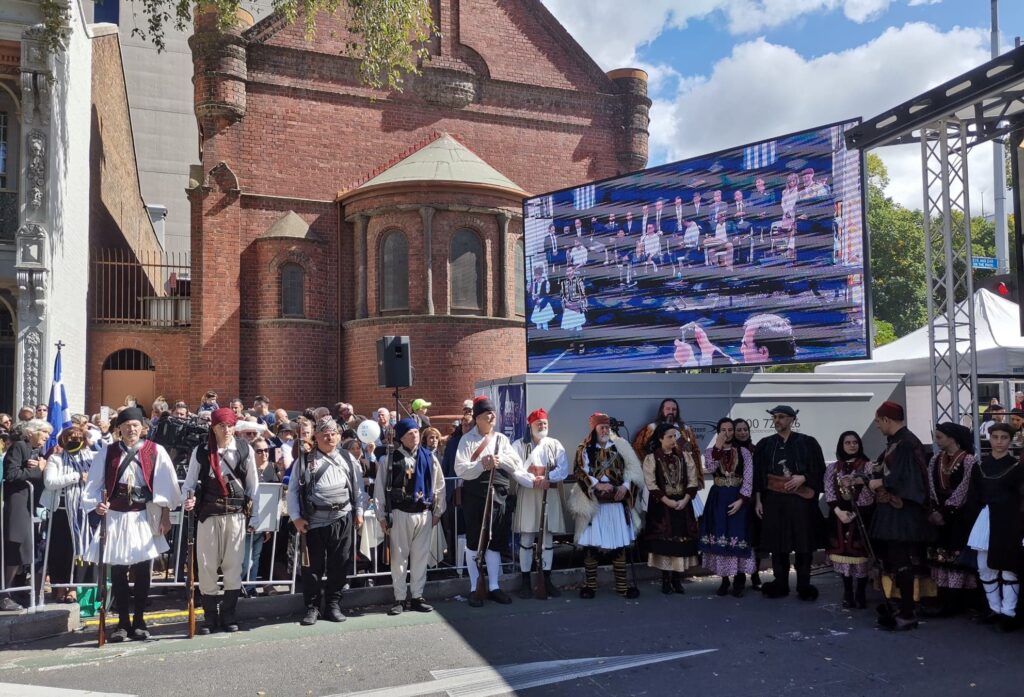 "It's a moving day for all of us as we celebrate 200 years from the beginning of the Greek Revolution. We see celebrations here in Melbourne which matches those held in Greece… with the horses and actors, all of them dressed like our heroes," President of the Greek Community of Melbourne, Bill Papastergiadis, tells The Greek Herald.
"It's a day which everyone around the world recognises, but more so here in Australia, where we have strong ties with our homeland."
Attendees were delighted by the performances, with many joining in themselves and of course, enjoying the Greek koulouria and loukoumades which were also on offer.