Students of the Greek Community of Melbourne have the opportunity to participate in the new 'Intergenerational Program,' an initiative that aims to innovate, improve communication, and work towards reducing generational gaps.
The program is the result of a collaboration between the Ministry of Social Services and the organisations "Be Connected," "Good Thing Foundation," "eSafety," and "Education Centre Victoria."
It will be implemented in the GCM schools under the supervision of Mrs. Christina Dalianis.
During the course, students will become technological mentors for their grandparents, teaching them the use of new online tools and applications, with the goal of helping the elderly communicate via new technology.
The introduction of this program aims to empower both groups of participants. For the students, this empowerment is created by their development of knowledge and their ability to teach their grandparents how to use new-age technology such as smartphones, tablets, and social media.
On the other hand, the elderly participating in the program have the opportunity not only to be trained technologically but also to get in touch with their grandchildren, share stories from the past, and help them with the use of the Greek language.
Through this exchange of skills, the program hopes that both the students and grandparents will put themselves in each other's shoes and begin to understand the challenges or difficulties that the other group may face, ultimately fostering a deeper connection between the pair and a stronger intergenerational understanding.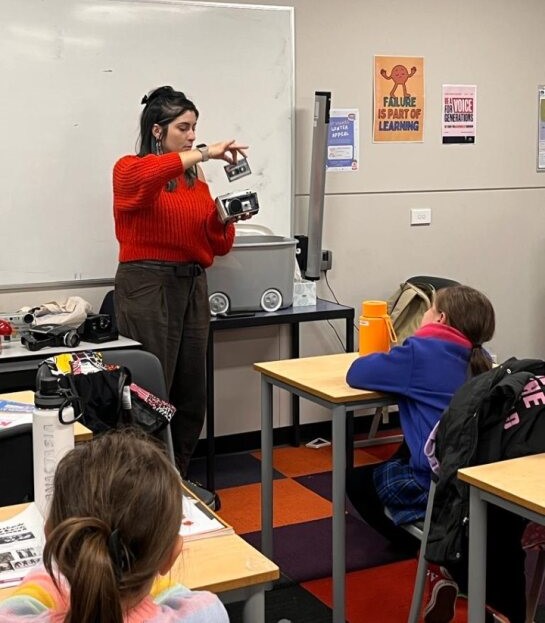 "The need for grandparents to communicate with their grandchildren, when grandchildren communicate differently today, led me to create a program that aims to teach children mainly empathy, that is, to show them how they can help someone by understanding them and without judgment. To teach grandparents to use today's technology. But above all, to give both generations the opportunity to communicate effectively, feel useful, and help each other," Mrs. Dalianis stated.
A teacher from GCM school, Mary Lefteriotis, who participates in the program, explained "The students are very happy with this program. They feel they have a purpose and find motivation to visit their grandparents".
A sixth-grade GCM student of Ms Lefteriotis said her grandmother is excited that she no longer feels disconnected when talking to her about modern technological issues and now finds it easy to use various applications.
"It helped me with my progress in Greek, but I also liked it because I travelled through time, seeing and touching old technology devices. I found it difficult or complicated to use some of them," the student added.
The program will conclude with an event attended by all participants, celebrating both the course and the development of grandparents, as well as the knowledge and skills developed by students during it."Be Connected," which funds the program, is an Australian Government organization that aims to increase the confidence, skills, and online safety of older Australians in the use of digital technology.
The partner organization "Education Centre Victoria" is responsible for the implementation of the specific Intergenerational Program "I help grandparents with technology."
"Be Connected" has free learning resources available on its website: Be Connected Network
Read more: A different form of aged care: Yvonne's family commitment to her elderly Greek parents