In a recent meeting between the Federal Minister for Immigration, Citizenship, Migrant Services and Multicultural Affairs, the Hon Alex Hawke, and Greek Community of Melbourne (GCM) President, Bill Papastergiadis, a number of important matters were discussed including the opening of international borders and the status of the much-muted vaccination passport.
Despite this being his first meeting with the GCM, Minister Hawke said, "I am aware of the GCM's outreach and programs and I commend the GCM for its work.'
Minister Hawke welcomed the GCM's interest in community affairs and invited the GCM President to continue to advocate and reach out to him and the Government on all matters of relevance. The GCM's advocacy on the recently announced negotiations with Greece on a tax treaty is a pertinent example.
READ MORE: Bilateral tax treaty between Greece and Australia to be negotiated next year.
The Minister then spoke of the great vaccination program across the nation that had picked up speed and expressed confidence it would hit targets in the coming weeks and months.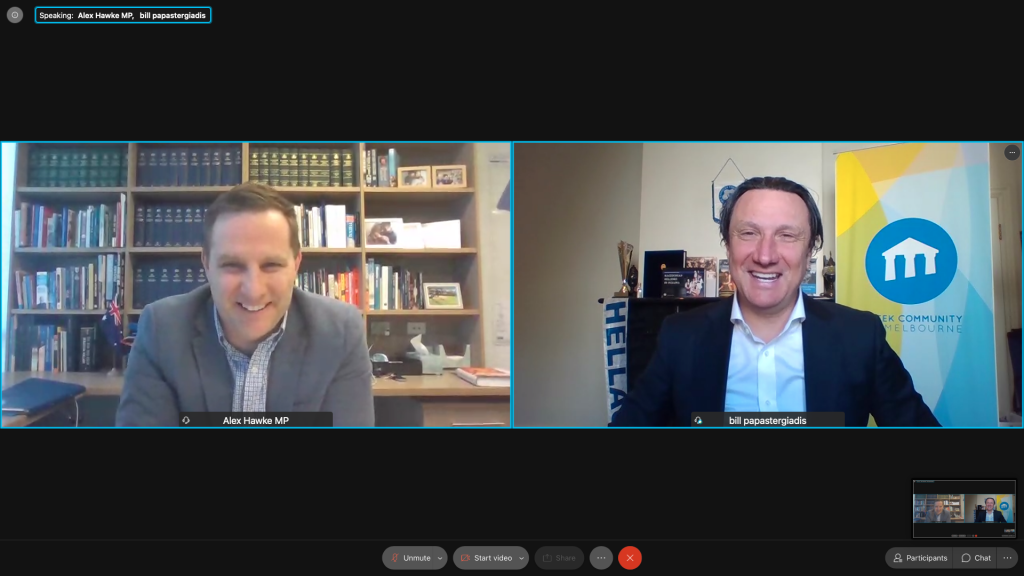 The Minister empathised with the stress being felt by many over the international border closures noting, "I understand the dislocation that the border closures have had on the Greek and other ethnic communities, not only with cancellations of travel but in particular with the disruption of family re-unions, but I believe that there is light at the end of the tunnel."
READ MORE: 'A ray of hope': Alex Hawke MP discusses potential travel bubble between Australia and Greece.
Minister Hawke noted that, "the Government was working hard on both international borders and vaccination passports."
On vaccinations, Bill Papastergiadis briefed the Minister about the successful hub the GCM ran in Thornbury recently and that the GCM was working with Minister Hunt on further instituting more of these in the next few weeks.
Bill also congratulated the Minister on his work to allow a larger partner immigration intake this year given the downturn in skilled migration due to the pandemic. Minister Hawke reiterated the Governments keenness to make it to pre-pandemic migration levels as soon as was safely possible.
READ MORE: Alex Hawke MP: Government delivers largest partner program in over 25 years.
Finally, the Minister who spoke of his Greek heritage, responded to an invitation to visit with the GCM at its landmark Greek Centre in the near future with an undertaking to try and make it his first trip out of lockdown.