By Mary Sinanidis.
Greek Culture and Sports Minister Lina Mendoni told the Greek diaspora who attended an event at the Hellenic Museum, held in her honour and organised by the Greek Consulate of Melbourne, that "here, in Melbourne, we see the heart of the (Greek) nation."
She pointed to Greek Australians like former minister Jenny Mikakos, who visited her in June 2018 and asked for antiquities from the National Archaeological Museum to travel to Victoria for the 200th Bicentenary of Greek Independence.
"I immediately welcomed your proposal," she said directly to Ms Mikakos, before encouraging guests to visit the display at the Melbourne Museum. Titled Open Horizons – Ancient Greek Journeys and connections, it runs through to 14 August and explores how the trade of ideas and goods influenced Greek culture.
"The sea opens the spirit and creates open horizons because the sea joins, it doesn't separate, because the sea is a road," she said, linking the display to the journey of immigrants who "arrived in the land of Oceania and created a new country here, not only because they were able, not only because in each Greek is an 'Odysseus' but because they found a country that accepted them."
Greek Consul General Emmanuel Kakavelakis, flipped the coin with a different take on Greeks in Victoria, stating that a month earlier, at the same venue, he had greeted Victoria's Premier Daniel Andrews.
"When I greeted him […] I said, 'Your excellency, I have to say I admire that you manage to run so efficiently a state with so many Greeks'," Mr Kakavelakis said. "A few minutes later, in his speech, he retaliated perfectly because he said, 'You know, I admire you Greeks. Not only because you have a culture but because you are prepared to share the culture with everybody else."
Surrounded by Evzones in civilian gear, Ms Mendoni said: "We believe that not only is Greece a superpower in culture, but we also believe that through culture and through cultural extroversion which is a central pylon of our policies, Greece is coming out with its best features."
Ms Mendoni added that the Benaki display at the Hellenic Museum is what the Greek government had in mind when amending a law which stipulates the export of museum collections for 25 years before being renewed for another 25 years.
Speaking to The Greek Herald, Ms Mikakos, said that "it was wonderful to see Minister Mendoni again and to have the opportunity to personally thank her for making the Open Horizons exhibition a reality."
"She [Minister Mendoni] is a very dynamic person who embraced the proposal to send us priceless antiquities to Melbourne with great enthusiasm."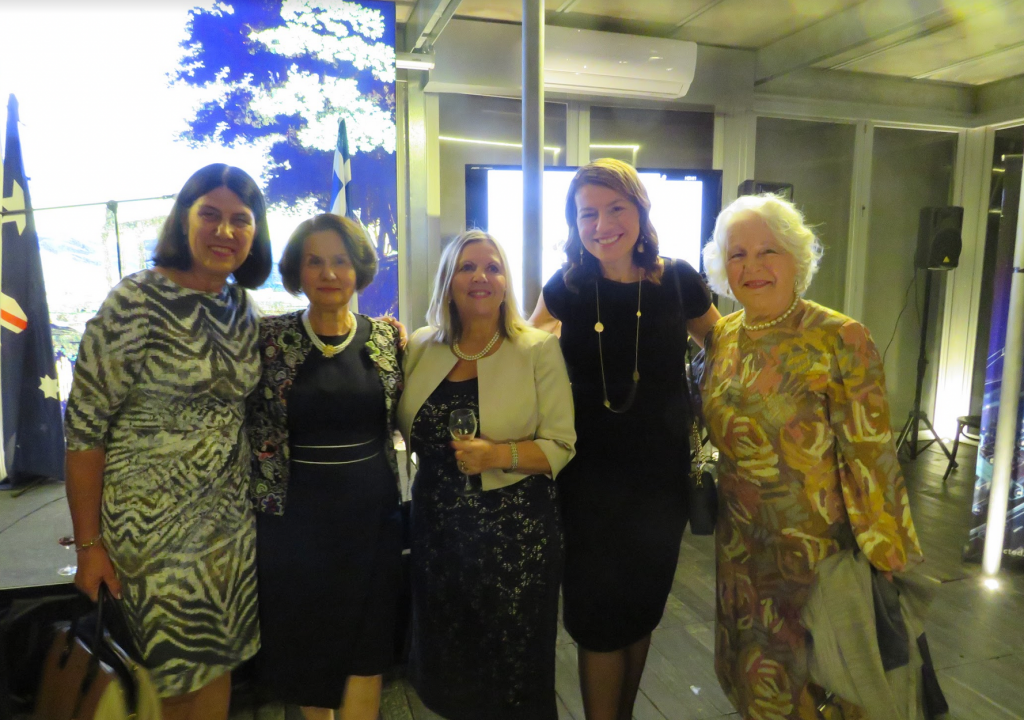 Sophie Siachos, a member of the International Organising Committee for the Restitution of the Parthenon Marbles, told The Greek Herald the visit is important when it comes to Greek causes such as the return of stolen antiquities. "Events such as these highlight the issues even more. The more help we can get the better," she said.
Elly Symons, Vice President of the Australian Parthenon Committee, told The Greek Herald, "The Melbourne Greek diaspora community is absolutely thrilled to welcome the Greek Culture Minister."
Others present at the event included Maria Vamvakinou MP, Lee Tarlamis MP, Senator David Vann, former Greek Australian ministers John Pandazopoulos and Theo Theofanous.
Archbishop Makarios said it is "difficult to find people with power to handle It with simplicity, love and prudence", when he referred to Minister Mendoni.
Minister Mendoni proved this by mingling with those present, sharing a banter, and particularly praising and encouraging all those supporting Greece to continue championing its causes.