On the grounds of Lalor North Primary School in Melbourne, students have been immersing themselves in the Greek language and culture for 43 years. They are taking part in Australia's only Greek Bilingual Program, which was founded by Mr Jim Polites in 1977.
In the program, primary school students are taught Greek, for a minimum of 10 hours per week, alongside English. From prep to Grade 6, they do basic reading and writing in Greek, as well as developing their oral language.
This is something which many of the young students love. In fact, three students tell The Greek Herald exclusively that learning Greek through the bilingual program makes it easier for them to communicate with their families.
"I get to learn more stuff like the Greek letters and counting in Greek. My dad speaks Greek and so do my sisters, brother and yiayia and pappou and I want to understand them," Chrysoula, who is in prep school, explains.
"I get to do Greek work because it is special to me, as my family speaks Greek and I want to be able to speak with them," Alexi, who is in Grade 1, says.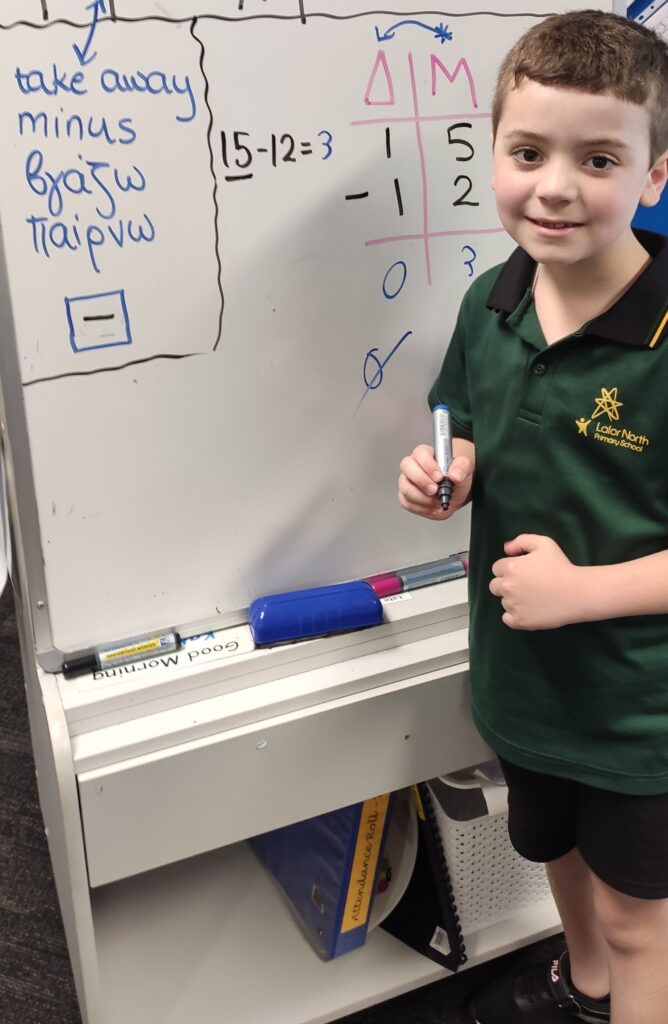 Prep student, Thano, also cheekily adds that he "likes learning a lot of Greek like writing sentences about elephants."
Exposing students to Greek history and traditions:
But Ana Koutsouroupas, who is the Coordinator of the Greek Bilingual Program, adds that Greek literacy and language isn't all that is taught by the program.
"From prep to Grade 2, primary school students are taught maths in Greek, then in Grades 3-6 it is in English. All of the maths which is taught follows the Victorian curriculum," Mrs Koutsouroupas tells The Greek Herald.
"From there we also have 'Inquiry Subjects' which incorporate geography, history and science. They are currently taught in Greek for Grades 3-6, with some English support.
"Students are also exposed to Greek history, including Greek Independence Day and OXI day, Greek dancing and cooking, traditional Easter activities and learning Greek Christmas carols."
With such a packed schedule, some people might be worried the program could be overwhelming at times. But that's definitely not the case. Some other students we spoke to couldn't praise the Greek Bilingual Program enough.
Christos from Grade 1 says maths in Greek is his "favourite subject." Electra, who is in Grade 4, explains how she loves to "learn new things such as Greek myths."
Catherine from Grade 3 says she "loves learning the Greek dances and all the friends I get to speak Greek to," and finally, Grade 5 student, Cassandra, says she loves being in the bilingual program "because it is good to speak another language and helps your mind grow."
'We wanted our son to be educated in two languages':
The parents of all these students were also eager to add their own voice to why they chose to enrol their children in the Greek Bilingual Program. Let's just say that a single message became clear – they wanted their children to have an understanding of their Greek heritage.
"We chose Lalor North Greek Bilingual Program because we wanted our son to be educated in two languages, gain knowledge of the Greek and Australian culture, way of life and values," Alexi's dad, Phil, tells The Greek Herald.
"Our Greek language and vibrant culture is so important to us. We wanted to pass this onto our children, who will all learn the importance of our Greek heritage," Helen, who is Electra, Christo and Thano's mum, says.
Chris, who is the dad of Cassandra, Catherine and Chrysoula, also added that it was important to him that his children were "able to communicate with relatives in Greek."
"Since it is hard to speak Greek at home because my wife isn't Greek, sending them to this school was a must to have the language spoken often," Chris says.
"Being immersed in the language on a daily basis helps them to understand and speak it comfortably and if they ever travel back to Greece they could communicate easily. This also keeps them connected to their roots."
'If we don't pass on the Greek language, we will lose it':
Mrs Koutsouroupas couldn't agree more. She says the bilingual program not only gives students a better understanding of both English and Greek, but they also have a "higher vocabulary range, exhibit more creativity and generally perform at a higher level academically."
"But apart from the many benefits of bilingualism and the benefits to the brain, we have a Greek heritage and we should maintain it," Mrs Koutsouroupas says.
"We should pass our culture and language on to the next generation because if we don't, we're just going to lose it."
And that's exactly why Mrs Koutsouroupas remains committed to Australia's only Greek Bilingual Program and hopes to see it continue expanding for many more decades to come.
With students from all backgrounds who wish to learn Greek also welcome to enrol in the program, it's clear that the future is bright.