On Sunday, November 12, during a Pastoral visit to the capital of South Australia, Archbishop Makarios of Australia made a historic visit to Olympic House, where he met with and addressed more than 300 members of the Greek Orthodox Community of South Australia (GOCSA).
Joined by Bishop Silouan of Sinope, Bishop Bartholomew of Charioupolis, and the Reverend Archdeacon Athinagoras, Archbishop Makarios was welcomed by members of the Administrative Council at the historic hall of the Community for the first time in over 60 years.
Addressing the attendees, Archbishop Makarios said: "I am moved today because we are all together,
and I see your faces, for what is most important in human interaction is what is communicated
through the eyes."
"I can see people blessed, with light on their faces. All of you love God, the Church, and Hellenism,
and because of this, my concern as the Primate of the Greek Orthodox Archdiocese of Australia is for
that love not to be divided."
Archbishop Makarios added that his vision "is for Hellenism to become stronger."
"For this to happen, we need to be united. There is no room for division," the Archbishop said. "I did not come here to judge the past but to tell you that we need to seek ways to collectively shape the future."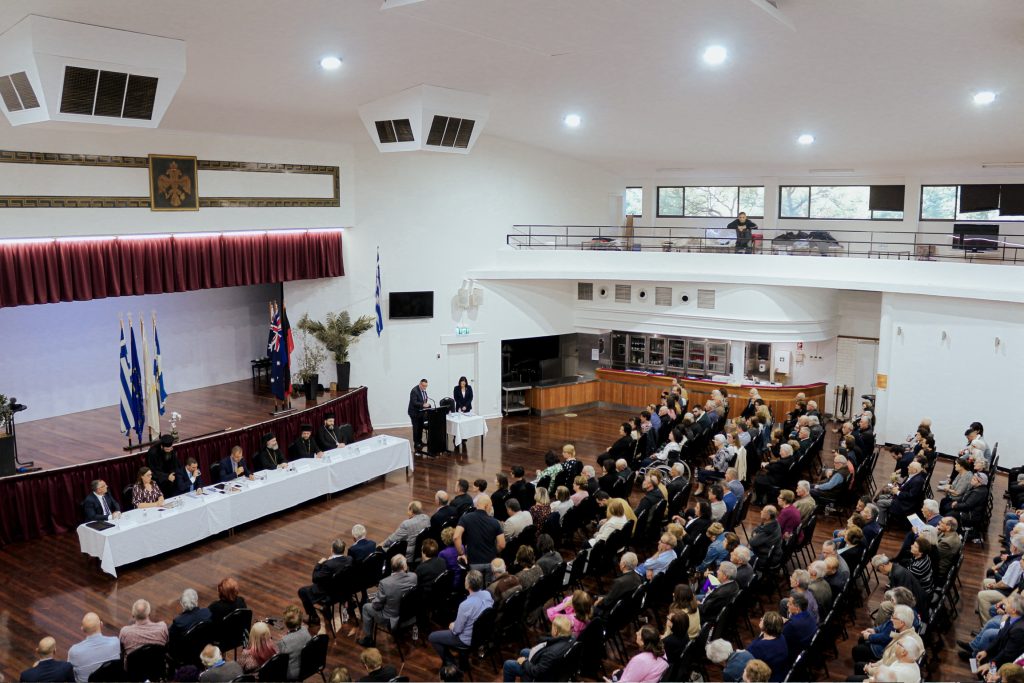 GOCSA President, Peter Gardiakos, expressed his gratitude to the members in his opening speech for their "open minds and open hearts" and thanked them for showing strength and courage.
"I understand that for some of you, it takes strength and great courage to be here with us, and for that, I say thank you," Mr Gardiakos said.
"This indeed is a significant occasion for our Community. I believe it to be the first time since 1960 that an Archbishop of the Greek Orthodox Archdiocese of Australia has openly visited us and welcomed dialogue."
During the hour-long Q&A session that followed, Archbishop Makarios answered questions from members regarding how a potential reunification would affect GOCSA's ecclesiastical services, issuance of certificates, the clergy and the Community's property.
Speaking to the younger members of the Community, Bishop Bartholomew reinforced Archbishop's remarks, stating "unity is all we want. His Eminence has said, and he is willing to write it, we don't want money. To the contrary, we want you to have more than you already have and we want to assist you through our various programs. We want your community to grow. We want you to have children and youth."
The event concluded with Mr Gardiakos gifting the Archbishop an orchid as a sign of respect and hope, before Archbishop Makarios took his time to personally greet and speak candidly with members present.