Female students and employees globally, are under-represented in Science, Technology, Engineering, and Mathematics (STEM) related fields and are paid less than their men counterparts.
But "if nothing changes, nothing changes," as the song goes.
Myladie Stoumbou, was born in Arta, a city in north western Greece. In the 1980s, when most of her female peers were dreaming of becoming teachers, she studied Computer Engineering and Informatics.
Today, a Regional Director with Microsoft she leads a multinational, diverse team across 24 countries in Central Eastern Europe and Central Asia and she's also a wife, mother, an avid traveller, a women's leadership advocate and a TEDx Speaker.
The Greek Herald sat down with Myladie and discussed digital inclusion, equality and the need for more female role models in STEM professions.
Q: In one of your recent TEDx talks you said that "women built the tech industry and then they were pushed out". What did you mean with this?
Women were initially at the forefront of the tech industry, back when technologist jobs were considered menial, akin to typists. The group of programmers selected to work on the U.S. military's first computer in 1946 was more than 50 percent women.
Until the 90s, the female programmers were known for their meticulous work ethic and attention to detail. Sadly, from the 90s and onwards, the number of women undertaking computer science majors began to decline steadily.
As the tech industry grew more lucrative, engineering jobs became of higher-status and better paid. With the sector rapidly expanding, companies were hiring quickly, but were unsure of what qualities to look for in employees, since coding was such a novel skill.
At that time tests were developed to assess personality profiles that would best fit a programmer's job. These tests tend to eliminate extroverts and people with strong social skills. It was the time where the "geek" stereotype was born.
And so, a vicious circle started: the hiring process favoured men, so men became overrepresented in technology companies, feeding popular perceptions of engineering as a masculine domain.
Q: Female students and employees are under-represented in STEM-related fields and they are paid less than their men colleagues. Why is this in your opinion?
The stereotype of technology as being "for boys only" is prevalent amongst teachers, who are much less likely to suggest a technology career to girls. A lot of female students feel discouraged to work in a male dominated environment.
But there are more reasons for that:
Our schools, universities and industries are failing to show young people – and especially girls – the realities of technology jobs and careers in today's world. Technology careers are now highly creative, particularly around understanding people's behaviour, and working out how to develop digital user experiences.
The lack of school programs offering professional guidance and advice based on current business needs
The lack of role models, particularly local ones. A role model makes a career in tech more real and offers confidence that women can "make it"
The structure of the family life, particularly Greek families feel very strong about the position of women and their responsibilities to raise children and support the family.
The drop out phenomenon. Women who work in the digital sector tend to exit at a greater rate than men. This is particularly clear with females at the range between 30 to 44 years old, the prime working age, but also the age range when most Europeans have their first child.
Q: Recently, Microsoft announced a big investment in Greece. What would you advise a young girl who aspires to work for one of the technology giants?
Microsoft announced recently its "GR for GRowth" initiative, a significant technology commitment to support the people, government and businesses of all sizes in Greece with technology and resources to create new opportunities for growth. As part of the plan, Microsoft intends to train approximately 100,000 people in Greece, in digital technologies, by 2025.
The technology industry is evolving rapidly, so I would encourage young women who want to pursue a career in one of the tech giants to first focus on deeply developing their skills and capabilities. To make sure they stand out, deliver outstanding results, they are open to continuously learn new things, they develop new skills, they innovate, they grow.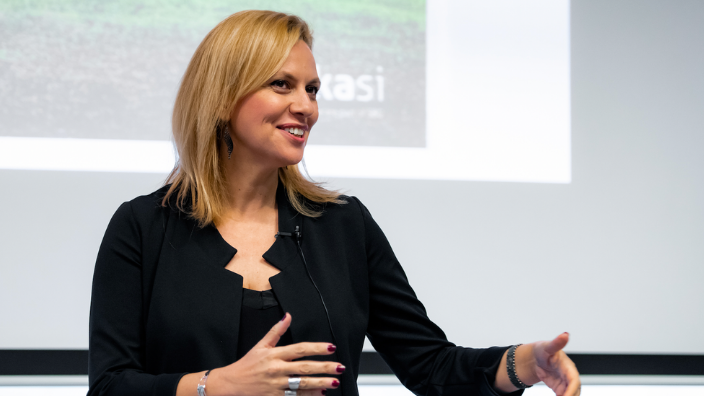 Q: You are a wife, a mother, an avid traveller and a women's leadership advocate. You wear many hats. How do you juggle all these roles?
The life of a modern woman, whether she is working or single, a mother or a wife, is multi-faceted. It requires a lot of hard work, considering the fact that managing homes and children is a full-time job without any paid holidays, overtime compensation or day-offs to show for.
As my children are all grown up, I have decided to give back by sharing my experiences in order to support young women in their first career steps. In this journey, I get a lot of support from my husband and my children.
Q: You are a mentor for the Greek NGO 'Women on Top', that supports young women in their first career steps. Why is it important for more women in leadership roles to stand up and help the future generations of women achieve their goals?
Studies have shown that role models are an incredibly effective way to encourage women to make different choices. Their effect is based on the concept 'Seeing is believing', and interestingly this works at multiple levels.
Typically, people get inspired to do something when they see others like them do it. When women see other women in roles, they find it easier to imagine themselves in those roles and are more likely to put themselves forward.
Men also see that women can do it! Regardless of how many scientific studies are cited, it's hard for men to imagine women would be good CEO's if they don't see many of them.
When I was at university, a male friend of mine used to say, 'If women were really that good at electrotechnical engineering, then why do I not see them in it?'
It's that simple.
Q: What is one of your favourite quotes?
It's one by Maya Angelou: My mission in life is not merely to survive, but to thrive; and to do so with some passion, some compassion, some humour and some style.