By Panagiotis Dalatariof.
Director of the Areopolis Health Centre in Greece, Dr Anargiros Mariolis, was named 'Best Family Doctor' in the world for 2021.
To celebrate this recognition, The Greek Herald sat down with Dr Mariolis and spoke to him all about his Kytherian heritage from his mother's side, as well as his medical career.
READ MORE: Dr Anargiros Mariolis named 'Best Family Doctor' in the world.
1. How did your journey with medicine begin?
I have been in Mani for the last eleven years. Of course, I had the idea to establish the first health center in Greece in Vyronas, Attica, which played a key role in shaping the need to create other similar units in urban centres.
Up to that point, the role of the family doctor in the health system in the urban environment had not been documented as we have seen in the rest of Europe. This gave rise to other similar efforts in Europe. Meetings were held with the Health Ministers of Turkey, Finland, Sweden and Turkey, as well as with other scientific staff from Denmark to implement similar efforts.
When we got to the point of being a role model as a primary care unit in April 2010, I decided that my role was complete and that the dream had become a reality. So I came up with new ideas, such as this primary healthcare centre in remote areas like Mani, and to see them become a reality is really fun.
2. You have also become a top family doctor in the world in a country where the health system is typically criticised and has come under pressure due to the COVID-19 pandemic. How difficult is it for you to do what you love?
For a doctor who lives and offers health services in such areas which are critical and barren like Mani, many times everything becomes one. There is loneliness, there is danger but the most important thing that exists is the necessity of sending a health worker.
Love for this place and its inhabitants is above failure because the duty and responsibility to offer continuous, coordinated cooperation, but also with an approach towards the family and the person, was institutionalised by the citizens themselves, by the Maniates. Therefore, at times a primary health care doctor had to submit to the demands of the community in order to be able to survive and continue to serve.
3. Across from Mani is the Greek island of Kythera where your mother is from…
Exactly! Mani is a small place. The one which really illuminates the seas and especially the seas of Kythera is the Lighthouse of Tenaros. It is my guide every day because I grew up in both of these places – less of course in Kythera, but it is my great love. My mother comes from there and whenever I can I visit the island, which has many similarities with Mani.
4. Have you thought about working there as well and helping out?
I can't say this has not gone through my mind. I have always been interested in contributing to the interest of the citizens and I do not hide from you that it has crossed my mind to offer services in Kythira as well.
You know, after this question I have in my mind colours, music, love, sea, conversations from the past. The colour of the moon when you see it from Kythera and the visitors as they walk in the streets and on the beaches, they feel as though they can unfold the sea. I would like to participate in this unfolding at some point.
'Kythera is the lost paradise of the expatriates':
5. The Kytherian Association of Australia has helped with the creation of a museum on the island. Has there been any discussion with you about this initiative?
No, but I would really like to have a discussion with them because I have heard that Kythera has helped a lot.
Well done to the Greek community that looks after this island. Well done. Warm congratulations for all their initiatives because when you get off the boat and walk the streets of the island, you feel that you are returning to paradise. What the Greek community really supports is this paradise.
6. You have been a General Practitioner for many of the years. Is there one instance or patient you remember vividly?
Every day is different and that is the beauty of outpatient medicine. I have a duty as a doctor to continue to be friends with the uncompromising human positions expressed by the medical function. I can not fill your question with words, because every patient is a sign for me, a meeting at a crossroads. There are many problems with people and they are not only medical. There is a holistic approach to the individual and the patient.
We all walk on parallel roads. Our minds may dig into yesterday but our eyes look to tomorrow. So all these years looking through the patient's window, all the problems that this person and his family may have and I tried to contribute as much as I could. Every day has new waves of nostalgia.
7. What does the award recognition mean to you?
It's a nice question. I am proud that this award was given to a Greek family doctor who practices medicine on a remote rock.
My mistakes and my nostalgia have helped me stay on the side of patients who survive in a world that is threatened. And especially nowadays, not only in the shadow of the coronavirus.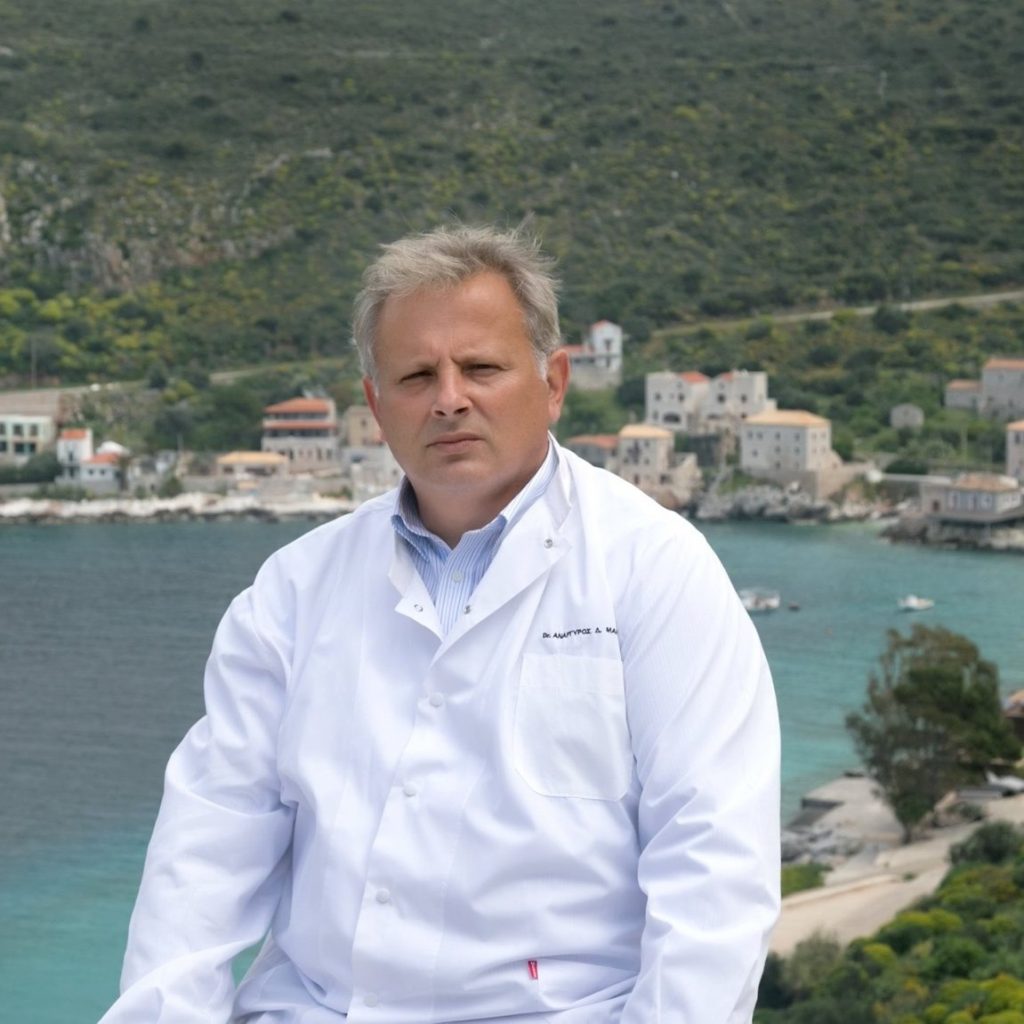 At this moment, Mani and its citizens hold me tenderly in their arms. I have not yet followed rules, tried paths and dogmas. What I tried with my colleagues was to defend myself by creating a little more light and a little more dignity in the health system.
I was happy in this place because for me the patient remained, and remains until now that we are talking, my constant reference mark, my daily compass.
What can a reputation offer a doctor? I felt strange when they told me. I was in a remote village offering chemotherapy to an elderly man in his home, with the moon alone as his only companion that day. I was happy because a 25 year effort was recognised and that is why I said thank you and I repeated the thank you that I have heard so many times in my life.
That is why, with the anchor of courage, I said to continue this effort for a few more years. We will see what the next days and the next years will be like and although I have stated that Mani is my penultimate station, I would like my last station to be the island of Kythera.