By Mary Sinanidis.
Ohio State University Professor Yiorgos Anagnostou graduated from the Faculty of Engineering at Aristotle University of Thessaloniki expecting to invent, design, build, test and improve systems and structures. Instead, his experience of migration took him to the Baton Rouge, Louisiana, at the age of 25 where he "reinvented" himself, and his life took a different route. These days, he builds "bridges" for the diaspora as an ethnographer rather than an engineer.
One of the foremost researchers on ethnicity, Professor Anagnostou was invited to Australia by University of Melbourne's Hellenic Senior Lecturer in Global Diasporas, Dr Antonis Piperoglou, to share his research and exchange views through a series of lectures and meetings in Melbourne, Canberra and Sydney.
"I am not here to advocate or preach, but to understand," he told the Greek Herald during his visit to the Greek Centre in Melbourne on Saturday, where he met with students, parents and teachers, a day before a lecture on Sunday.
"I feel at home here in Melbourne, in a diaspora where we can discuss issues which concern us all. Through a productive exchange of ideas and dialogue, you feel that you belong. We all understand."
When cultures merge
Remembering his own 38-year migration story, he said, "I wanted to go back home after the first mid-term Masters exam in engineering as my English was deplorable and it took me longer to understand the questions. But how do you go back as a failed migrant?"
He stayed in the American South, where he studied and waited tables along with other jobs.
"I experienced intense labour and saw how immigration is an embodied experience that I got through with the help of the Hellenic network. A big lesson that immigration taught me was that of reciprocity," he said, adding that the "ethos of reciprocity" is one he carries with him with a desire to pay it forward.
New layers to his experience were added when he met his wife, a person of Chinese descent from Nicaragua.
"She was studying cultural anthropology. I loved literature but my English was not good enough, so she supported me in making a new beginning to reinvent myself," he said.
He quotes Annie Liontas' statement from her debut novel "Let me Explain You," a story of a Greek American restaurant owner who sends an email to his estranged ex-wife and grown daughters, laying out his last wishes.
"Liontas' writes 'immigration is reinvention'. As we encounter a new culture, we draw from that and we change in ways that are not predictable, and we negotiate through the two. This structure can be laborious but it creates a poetics of self as you fashion yourself," he said.
His story of reinvention is one of many, and he adds, "Kids in Astoria and LA have different experiences of Greek culture, whereas families in Northeast Ohio are more close-knit and children have more contact with the language."
Professor Anagnostou is particularly interested in telling the stories which were overlooked by ethnocentric books and the establishment.
"There are certain experiences of Greek Americans that are not included in the narratives of identity, what I call 'the other Greek America' – people who are eccentrics, the rebels and people who don't fit into the ethno-religious mould or didn't suit the interest of certain elite and institutions, so they are phased out of history. I am interested in documenting historical memory. We must hear these voices too," he said.
"I know what it means to have your perspective dismissed, devalued, excluded, and rejected," he added, but he has hope for the future with Greeks like author Christos Tsiolkas in Australia and his American equivalent, Jeffrey Eugenides, leading the way.
The next generation brings hope
"Each generation reinvents itself," Professor Anagnostou said, pointing to a changing landscape as we move towards becoming more heterogenous as a diaspora.
"What I am trying to convey to leaders is that we are moving towards a different chart, map, model of being a Greek in multi-ethnic societies, and as the all-traditional model historically is phased out, and now we have new challenges."
While many of the diaspora point to doom and gloom as language is lost, Professor Anagnostou also points to a positive picture.
"My students are trying to author their own identities," he said, pointing to certain negative traits of previous generations which they may be rejecting, such as the treatment of women or a lack of inclusivity.
"They connect what works for them, their preferences, their tastes, and experiences and reject others. They ask, 'Why should I know Greek to be seen as a Greek? Who are you to tell me that Greek (language) is important for my identity? If I feel Greek in my own ways, why should I feel pressure?'"
Professor Anagnostou said cultivating identity is the key.
"As the game of language is being lost, there is a turn to culture. If you love culture, the interest in the language may come," he said.
"What are kids interested in? If they like music, you nurture their proclivity. Ange Postecoglou said his father worked 15-hour days and had no time or love for literature or music but found freedom in soccer. Those hours with his dad caused his love of soccer," he said. "Kids come to the class with a proclivity to things and we need to customise these."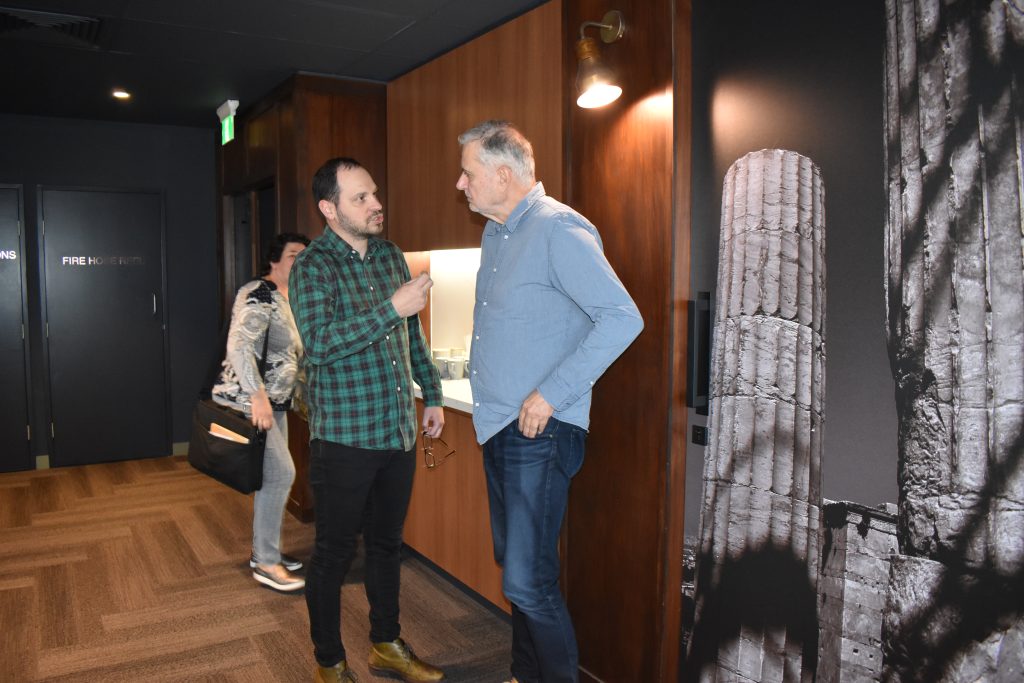 Looking at exceptional Greeks of the diaspora, it is interesting to see how they move in both worlds.
"We have individuals who love poetry, the arts, literature and cinema, and they consider themselves as American writers but still incorporate a Greek theme in their cultural production as cultural traces meander through their work," Professor Anagnostou said. "You cannot have a career in the US if you are a Greek American journalist, so you have to aspire to be a New York Times reporter and somehow do it."
Professor Anagnostou has devoted his whole academic life to thinking and writing about the diaspora and is excited when it comes to global initiatives to come together for dialogue and exchange. One of his passion projects, Ergon, features Greek American scholarship, poetry and essays.
Upcoming events:
Professor Anagnostou will present his work at the Greek Orthodox Community of NSW on Sunday 5th November, 5pm.