By George Vardas
Pavlos Samios was a dreamer.
He translated his dreams into incredible works of art fusing modernism, Byzantine aesthetics and surrealism with his own love of the Mediterranean sun and sea, classical antiquity and the Greek ideal. He was an outstanding artist and painter.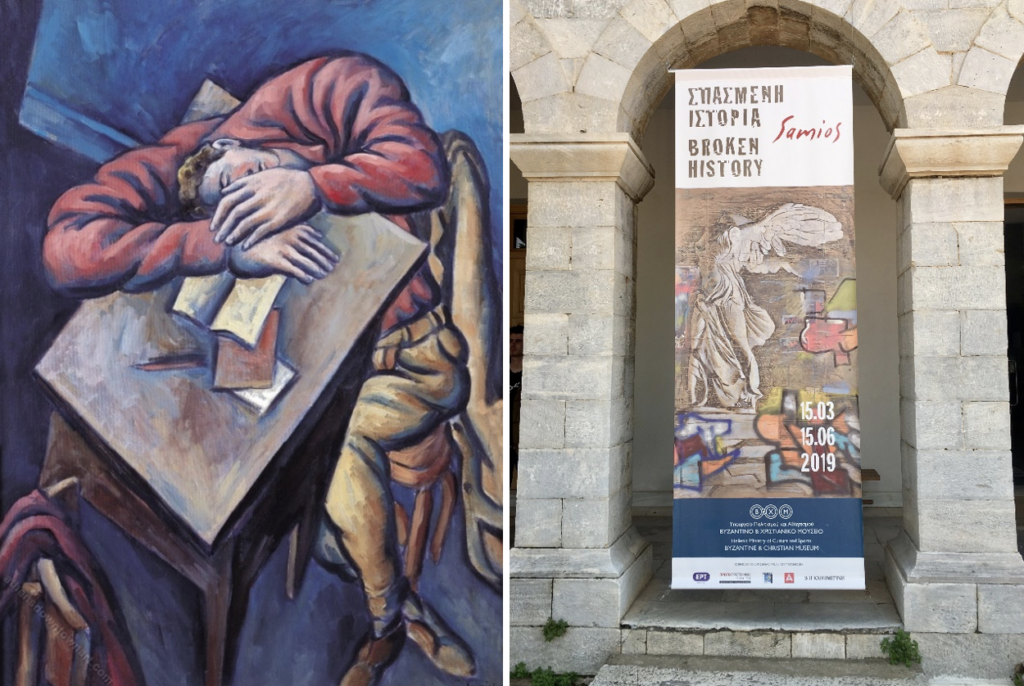 Sadly, Samios passed way on 4 February 2021 at the age of 72 after a short illness. His loss is profound and almost unbearable such was the depth and aura of his prodigious artistic output.
Pavlos Samios was the son of an Athenian cobbler (who had returned from Smyrna). His mother was from Lefkada.
From an early age young Pavlos helped his father in making shoes and, more importantly, visiting shoe stores in downtown Athens to sketch the latest styles in women's shoes for his father to emulate. As Pavlos would later confide, shoes became a sort of "fetish" for him and many of his works are graced by high heel shoes. Red shoes in particular, as red was the colour of uprising.
One painting from this genre stands out for me. In 2009 he painted a pair of red shoes in the moonlight by the Caryatids of the Erechtheion on the Acropolis. For me, it was almost a case of desperately seeking the missing but forlorn Caryatid in the British Museum.
Pavlos had an incredible artistic upbringing.
At the age of nine he drew El Greco paintings. As a young man he spent time on Mount Athos where he discovered Byzantine art and mastered what he referred to as his "innate passion" of icon painting.
The colours of Byzantium were to become a central element of his creative identity: "If you know Byzantine, you know all painting," Pavlos would elaborate with admiration.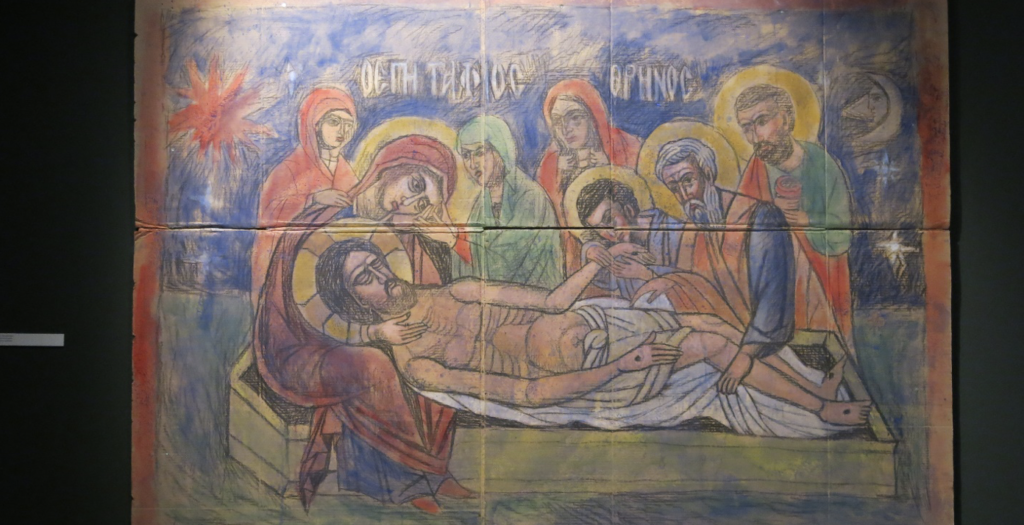 Whilst at school he visited Paris and was inspired by the works and particularly the colours of Picasso, recalling that upon his return he stared to paint "like Picasso"
At the age of 18 he was accepted into the prestigious Athens School of Fine Arts where he had some great mentors. One of his early masters, Nikos Nicolaou, whose work was generally based on the tradition of Classical Greek Art, spoke of that tradition, drawing and rhythm and how works are painted but then the great visual and impressionist artist Yannis Moralis (whom Samios would come to refer to as his "spiritual father") would later add "and after that smash it all up, liberate yourself, find your own form, represent contemporary life".
Pavlos Samios indeed acknowledged that he "inherited" his love of the ancient world from Nikolaou and the European way of looking at colors and nature from Moralis. Pavlos' artistic imagination was to know no bounds.
From 1978 to 1992 he lived and worked in Paris where he met the great painter Yannis Tsarouchis who would also mentor Pavlos. In 2000 he was appointed Professor at his beloved Athens School of Fine Arts in the discipline of Traditional Painting Workshop: Fresco – Byzantine icons – Manuscripts. Pavlos in fact painted many chapels using the fresco technique.
Broken History
I never met Pavlos Samios but I feel as though I knew him well through his works and writings. In April 2019 I managed to catch his new exhibition, with the superbly symbolic title "Broken History", at the Byzantine and Christian Museum in Athens.
Broken history and dismembered sculptures. As one critic noted Samios "absorbs the patterns of modernity and the shapes of antiquity".
The renowned painter had chosen in this exhibition a different medium, including cardboard boxes and blocks of stone, as his canvas, to project, in his own words, the contemporary Greek reality and its colourful, aniconic graffiti, using spray paint to finish his works so as to convey the feeling of the streets of Athens.
As another commentator observed, this dynamic material, synonymous with movement and change of place, became the "canvas of ancient symbols" and functioned as a bridge from the past to the present.
According to the director of the Byzantine and Christian Museum, Katerina Dellaporta, Pavlos had selected a dialogue of emblematic works of ancient Greek art with Byzantine and post-Byzantine Christian depictions, interspersed with Classical idols, ancient kouroi, kore and sphinxes, classical sculptures from the Parthenon and statues such as the Winged Victory of Samothrace and the Aphrodite of Milos, which he had rendered in a bold new manner in 'installations' that combined painting, sculpture and graffiti; where the fragmented pieces are in a process of reconnecting until they find themselves again.
Or as Pavlos Samios himself wrote about this exhibition, he was simply inspired by a verse from the Noble Laureate George Seferis' poem Κίχλη ("Thrush"): "The statues are no longer fragments. We are".
Pavlos Samios and the Parthenon Frieze
This is no more evident than in the case of the iconic Parthenon Sculptures, separated in time and space between the British Museum in London and the Acropolis Museum in Athens.
In 2019 Pavlos gave a presentation in New York in 2019 entitled Re-envisioned: The Colour and Design of the Parthenon Frieze" during which he presented his ideas on the composition, colours, scale and techniques used in the creation of the Parthenon frieze which he had studied for many years and how, based on his research, the Greeks envisioned and created the decoration of the Parthenon.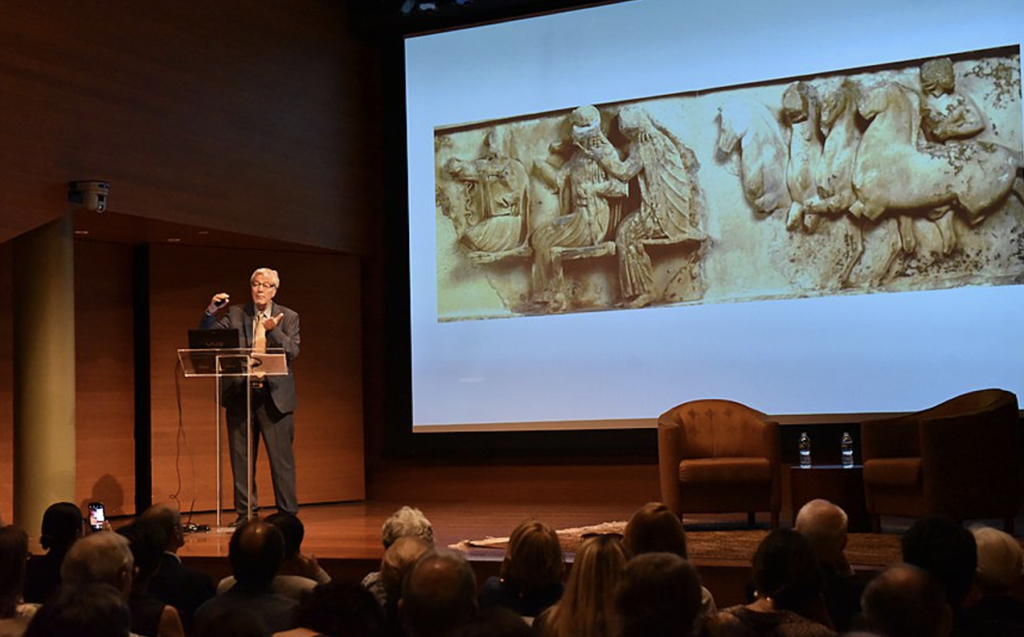 Pavlos also lamented the continued fragmented and dismembered state of the iconic Parthenon Sculptures, torn between London and Athens. This too was a central theme of "Broken History".
At the Paradise Café
In his last solo exhibition held in Athens in 2020, Pavlos Samios took us into his world of Parisian and Athenian cafes of the 1980s and later. For Samios, the traditional café or kafenion no longer existed except in our imagination. Through his paintings we returned to Pavlos' favourite haunt, a café named "O Paradeisos" at Platia Attikis, for a nostalgic reunion.
According to the Greek art historian, George Mylonas, "O Paradeisos" encompassed all the beauty of the post-neoclassical tradition, all the joy and misery of the whole of Greece.
Moments of sensuality, of joy, a light that shone from the faces of the people themselves and in the afternoons the old men drinking coffee without talking, just passing through.
In the French cafes the heels and suitcases are circulating under the gaze of the city nightlights. In Greek cafes, on the other hand, there is usually an open window with a view to the sea.
The table also dominates many of his works. According to Samios, "it is the concept of the base: you place things on a table – your ideas, desires. You place your imagination."
Pavlos Samios was a very significant painter. He illuminated the Greek artscape and produced a prolific and diverse body of work that remains a tribute to his artistic creativity. Sadly, he had already started painting the works in his next exhibition, entitled "Broken Reality", trying to make a connection with the exhibition of "Broken History".
Perhaps the Parthenon Sculptures would have been a central theme of that fractured reality?
Pavlos Samios' death was felt by many.
The Greek Culture Minister, Lina Mendoni, wrote that Pavlos is now in Café Paradise. The Minister of Education, Niki Kerameos, farewelled her dear friend and fondly recalled how in his works "realism constantly meets and flirts with the dream".
And the former Tourism Minister, Olga Kefalogianni, best described Pavlos Samios as one of the most beautiful people she had ever met: an "outstanding artist, philosopher, painter who never stopped searching, inspiring, creating … Pavlos has left us suddenly, leaving behind a huge gap".
Pavlos Samios is survived by his wife, Maria Xanthakos, and his two daughters from his first marriage, Pandora and Aphaea.
But Pavlos Samios' memory will also live on through his art and his observations of life in the Greek world and beyond.