It was during the penultimate voyage of the Spanish ship Begona, in May 1957, when 17-year-old Voula Dasiakli left her family in Tripoli, a city in in the central Peloponnese, in Greece and embarked on a journey to Australia, following her older sister who had immigrated to Sydney a year earlier.
Three years later, in March 1960, on another side of Peloponnese, in Pylos, not far from Tripoli, 25-year-old Apostolis Rentoulis would also leave his family to immigrate to Adelaide in search for a better future. His brother had already settled in Australia.
Two different people, with different life stories, whose fates and immigration journeys were meant to intertwine thousands of miles away from their home country.
Today, married for 56 years, Voula and Apostolis Rentoulis – or Valerie and Paul as they are known among their Australian friends – open their hearts and retell their life story.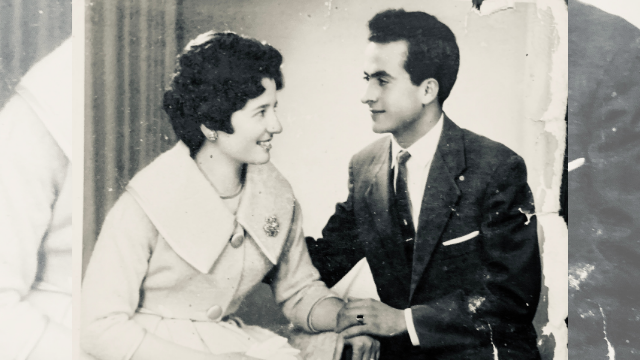 Voula Rentoulis: "I like life in Australia despite the difficulties"
I ask Mrs Rentoulis to remember and describe her journey. She pauses. Thinks. Smiles.
From the way she narrates the events, I understand that she never forgot. It is forever engraved in her memory.
"We lived a good life in Tripoli. We went to school; my dad was a judicial secretary but we immigrated to do something better in life. My sister was already in Australia and I wanted to follow her.
"I left Piraeus on May 21, 1957 on board Begona and arrived in Melbourne almost a month later. Then I took the train to Sydney, " Voula Rentoulis, 80, tells The Greek Herald explaining that the trip was an enjoyable experience for her, unlike many of the other girls who were on board the Begona.
"I became friends with three girls one of whom also had three children. I remember spending a lot of time on deck because we were not feeling sick up there. Unfortunately, many of the girls I travelled with were not happy, because they were coming to marry grooms whom they had only met through photos.
"Unfortunately, many of them got disappointed when they arrived in Melbourne."
Despite her limited knowledge of the language upon her arrival she soon started working at her brother in law's Milk Bar in Sydney. She was focused to learn and succeed.
"I took some English lessons in Greece and they helped. The first year was difficult as I was missing my family but the fact that I had my sister and some relatives in Sydney also helped.
"I enjoyed life in Australia from the very beginning despite the difficulties. A girl I used to work with happened to be married to Apostolis' cousin. She introduced me to Apostoli and after I met him, my life in Australia got even better," Mrs Rentoulis says.
"I would have returned to Greece if I hadn't met Voula"
One and a half years after arriving in Adelaide, Apostolis Rentoulis was thinking of returning to Greece.
"It was impossible for me to find a job in Adelaide. In Greece, I used to work in big international hotels but there were none in South Australia back then. I migrated to Australia for a better future," Mr Rentoulis explains.
"I knew from my dad who had migrated to the USA and worked in California and Chicago, that the majority of people overseas had progressed, but it wasn't working for me in Australia."
Apostolis' cousin, who lived in Sydney, persuaded him to join him and test his luck. It was in Sydney that he was introduced to Voula whom he got married to within six months.
In 1964, they decided to return to Adelaide, where they created their family and still live today. Mr Rentoulis, a fan of soccer, tells me that he has been reading The Greek Herald ever since!
"We started our married life with just 80 pounds. We had bed sheets on the windows instead of curtains. In 1965 our first child came and the demands of the household increased. Then the second child. We needed beds, a refrigerator.
"But we were happy," Mr Rentoulis says.
I ask them to give me their advice for the next generation of Greek Australians. They speak with pride about their children, grandchildren and their respective partners who speak or learn Greek and keep the language and tradition alive.
For the friends, the 'koumbarous' and acquaintances they have created over the years in the new home country.
Mrs. Voula asks me if I would like a coffee. She also offers me 'diples' and home-made 'koulourakia'. It feels like home.
I am sitting in the same living room where Voula and Apostolis built their dreams. Together. This is probably the advice.
The way all our first migrants fought the odds and made new beginnings. Perseverance, patience, understanding and love.