The year was 1956 in Melbourne and the streets were filled with a festive atmosphere as people prepared for the arrival of athletes from across the world to perform in the Olympic Games.
Greek migrant, Nina Kondelos, was one of these people and as she became excited for the Games, she also began to imagine what her wedding dress would look like when she married the man of her dreams, Nicholaos, early the next year at the age of 22.
In the end, she wore a flowing white wedding dress from a bridal shop in Collins Street, Melbourne, with long sleeves and a cheeky twist – the Olympic rings embroidered around the bodice and waist.
"The Olympics were such a big thing here in Melbourne at the time and the Greeks would have been really proud that it started in Greece," Debbie Argyropoulos, Nina's daughter, tells The Greek Herald exclusively.
"Mum would usually make her own clothes but in this particular case she was lucky enough to have her wedding dress done at a beautiful bridal shop."
Love at first sight:
Such a beautifully inspired dress was fit for a young girl like Nina who first migrated to Melbourne from Ithaca, Greece in 1953 after an earthquake devastated the island.
Her later-husband, Nicholaos, also migrated to the city in 1954 from the Greek island of Lesvos and Debbie says when he first laid eyes on Nina, it was love at first sight.
"My dad spotted her at some Greek dances and he said to his friend, 'If I could, I would marry her straight away'," Debbie says.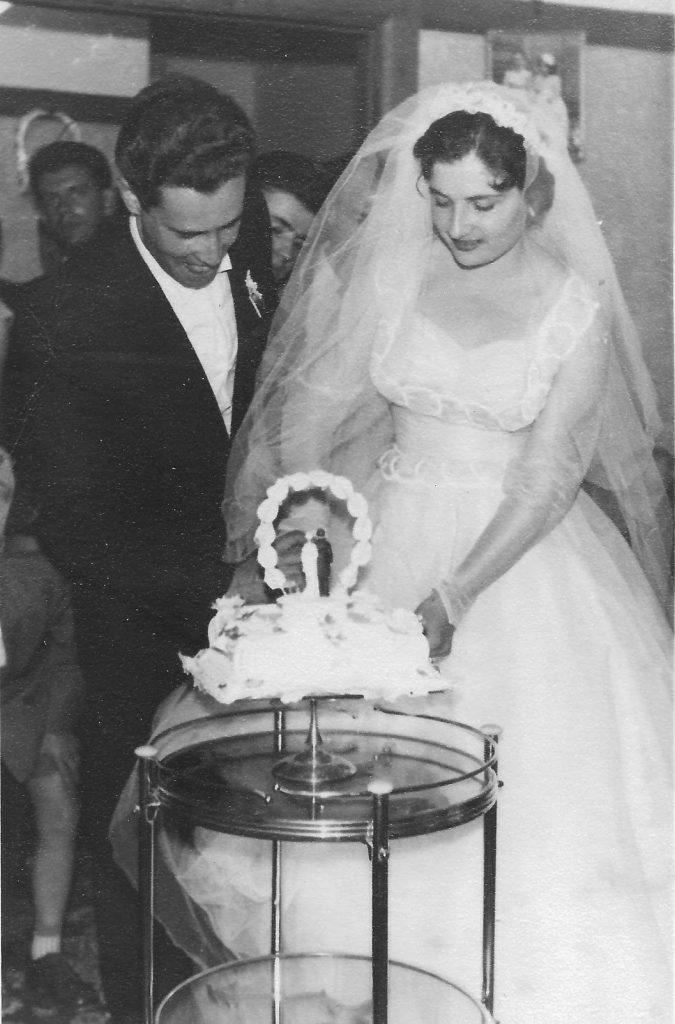 A second chance meeting at a Greek cinema a few days later and then again at Nicholaos' workplace at the Astor Radio Company sealed the deal.
"At work one day, lo and behold, dad looked up and she was coming in to get a job," Debbie says with a laugh.
The rest, as they say, was history.
Nicholaos and Nina enjoyed their Olympics inspired wedding, had their first born son Foti (Philip) and when he was two years old in 1960, bought a fruit shop in Brighton called 'Fresh Connection.' Later, they had two other children, Debbie and Theo.
Finding the dress:
Although Nina has sadly passed away, her legacy lives on through her husband and children.
In fact, after 61 years, Debbie and Theo are still running their parent's fruit shop and in a nice turn of events, it was at this shop where Debbie found her mother's wedding dress again after many years.
"I didn't think mum had the dress anymore and then when she passed away, I found it and I found it the same year as the Olympic Games in Athens in 2004," Debbie says.
"I found it that year in a cupboard at our shop upstairs and I was really thrilled. I felt like it was sort of meant to be.
"It's quite delicate now given so many years but it's all in one piece."
A special memento of a mother who clearly had a flair for fashion.