Players, coaches, officials as well as high profile guests attended an evening acknowledging the achievements from the top tier National Premier Leagues NSW Men's and Women's, as well as the Football NSW Leagues held at The Star Event Centre on Thursday.
In a first for Football NSW's competitions, every senior league award was celebrated in an unforgettable night as over 900 guests enjoyed what was a massive year for the sport in 2023.
There were a number of special guests that attended the Football NSW Gala Awards, including Steve Kamper MP, Eleni Petinos MP (Member for Miranda), David Harris MP (Member for Wyong), Stuart Hodge (CEO of Sport NSW), Adam Santo (Sydney FC CEO), Mark Jensen (GM Operations Western Sydney Wanderers), former Socceroo Les Schienflug, former Charles Valentine Medallists, various Football Australia staff and Football NSW Life Members, along with the Football NSW Board.
With 47 awards presented to clubs and individuals, there were many highlights that took place on a magical evening for the sport.
Samuel Tzanakes from the Dunbar Rovers FC took out the Under 20s Reserve Grade Golden Boot on the night.
A new category acknowledging the Assistant Referees was introduced this year as Alexis Johnson and Cameron Wright took the honours for the inaugural award, while Mikayla Ryan and Sam Kelly were awarded Referees of the Year in their respective leagues.
The NPL NSW Goal of the Year award was met with some stunning goals, but it was NWS Spirit FC's Richie Darko who stole the headlines with his 94th minute winner in what was the game of the season as his troops finished 5-4 winners over the Wollongong Wolves in Round 9 of the Men's competition. There were quality finishes witnessed from both the NPL NSW Men's and Women's leagues but as voted by the Football NSW Media department consisting of reporters and commentators, it was Darko's last gasp strike that sealed the accolade.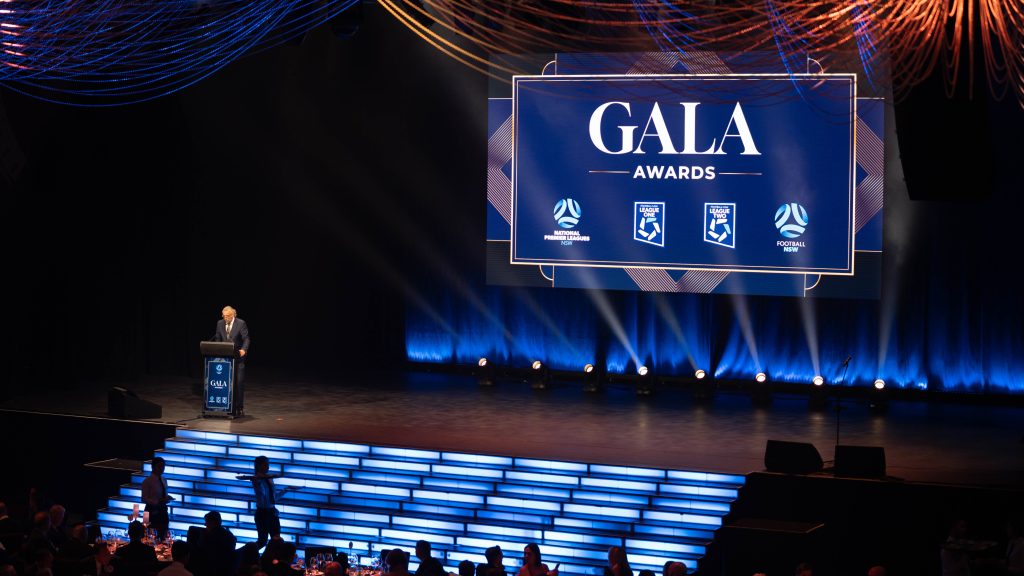 The Golden Boot award saw several key attackers honoured with UNSW FC's Kevin Lopes (23 goals), South Coast Flame's Bronte Trew (29 goals), Northern Tigers' Kai Denton (26 goals), APIA Leichhardt's Ashlie Crofts (24 goals) and Rockdale Ilinden's Alec Urosevski (27 goals) receiving the plaudits as each individual hit their targets for 2023.
The goalkeepers were next on the list and once again, there were a number of standout keepers that held their own across all competitions. Nepean FC's Justin Biega, Blacktown City's Kiara Rochaix, Hills United's Ryan Wood, Gladesville Ravens' Romina Parraguirre and APIA Leichhardt's Ivan Necevski all took out the honours.
Coach of the Year recipients were next in line and as always, it was yet another big year for what is one of the toughest jobs in football. UNSW FC's Gabriel Knowles, Central Coast Mariners' Dan Barrett, Hills United's Luke Casserly, Macarthur Rams' Stephen Peters, and APIA Leichhardt's Franco Parisi all took out the top gong for their great seasons.
Hakoah Sydney City East's loyal serving and influential administrator Jon Pillemer was awarded one of the biggest honours at this year's Gala Awards with the coveted Charles Valentine Award.
The time had then come for the Player of the Year awards in what was the crucial part of the evening as the suspense was at boiling point for all players involved.
Once again, the clubs voted in a 3-2-1 system after each team put forward their best two players for the 2023 season.
Bankstown United's Mitchell Cross, Central Coast Mariners' Kaitlin Murphy and St George FC's Conor Quilligan were all rewarded for stellar seasons while the evening got better for APIA's Crofts and Ilinden's Urosevski who both clinched their second awards of the evening and most notably their most important taking out the top honours.