By Takis Triadafillou
14-year-old Sydney Olympic academy player Maria Roumeliotis has the world at her feet, combining her passion for football and school studies to reach her highest potential.
Accompanied by her mother Poppy, originally from Lemnos, and her father, Dimitris, originally from Lesvos, Maria developed her personality and love for football through her team, Sydney Olympic, and through her coaches who endlessly support her.
Born in Sydney on November 6, 2006, she currently attends Bethany College High School in Hurstville.
How and when did you start playing football?
Maria: Playing in the backyard with my cousins ​​(who were already playing in the Sydney Olympic squad), I started to become more and more a supporter of football until my father went to the Sydney Olympic academy. I started in the Under 10s group, then U11, U13 and now U14.
Who helped you in your first steps?
Maria: In addition to the standard training with the team, I trained with coach Bruno, a Brazilian, who guided me and gave me the basics to improve. Of course the road is far away and still have time to make my dreams come true.
The way the Brazilians play impresses me so much. It's really a fantasy and art football that I love to do. At the beginning I had very good coaches like John Platis, Julia Mavridis who helped me cultivate my love for football.
What are your dreams for football?
Maria: I want to play in the women's Sydney Olympic squad, transfer to Sydney FC and of course play in the Australian National Team in the Matildas. I would also like to go to America in the Women's Championship.
What position do you play?
Maria: I play in the midfield with the number 10. I started as a centre forward, then as an outside right and centre in the midfield.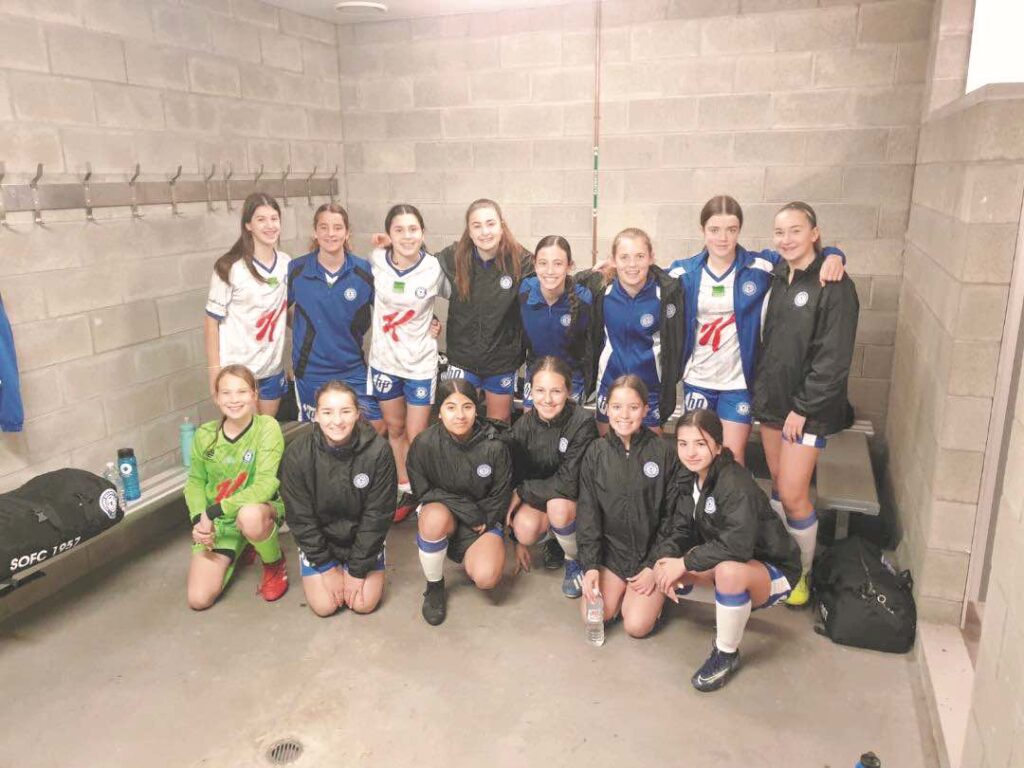 So you are a cerebral and organisational type player?
Maria: Yes, I like to organise the team, play and lead the team to victory. I'm the second leader. In the team we all work as a whole for victory under the instructions of our coach Nick Nicholas (?).
Maria, what's your training schedule like?
Maria: My training is about 6 1/2 hours and consists of warm-ups, running, 5×5, technique with the ball, and fouls. I also train in Tae Kwondo. I have a Black Belt and have been training at the Master Kwon's Sydney Martial Arts Academy in Kogarah for about 5 years. This training helps me to have flexibility and quick reflexes. Decisions need to be made quickly and with a clear mind, because when you are tired the mistakes are made, one after the other.
Since you started, approximately how many goals have you scored for Olympic?
Maria: Too many, but what interests me is to help my team and help my teammates.
What makes you play in the middle line?
Maria: I like to organise the game, to anticipate the moves of the opponents, to decide what to do to win. For these things to happen, you have to be very well trained. I want to emphasise that I watch the games of the big teams on TV and observe the way they play and how players move on the field. When there's dedications from specific players, I read how they play and I also get techniques that I can apply on the field.
What do you want to study?
Maria: I want to study to become a teacher and Sports Physio to help athletes perform better, how to avoid injuries and to help them recover
Dimitris, how do you see Maria?
Dimitris: Maria from a young age showed a tendency towards football and for this reason we supported her to move forward, to study and to become a productive member of the community.
Poppy, would you agree?
Poppy: I totally agree with Dimitris that we will support and guide her to use her skills, while at the same time use her knowledge and spread what she loves.
Observing Maria in the way she unfolded her talent and her dreams, the heights of what she wants to achieve in the future, she showed a complete personality unique for her age. A talent with an extraordinary rhythm and humility. Her DNA from Lesvos and Lemnos that make her even more dynamic and determined.