Cheers exploded across the Trans-Tasman region this morning as people woke up finding out Australia and New Zealand had won the joint bid to hold the 2023 Women's World Cup.
The two nations beat out opposing bidders Columbia in every criteria – stadiums, team and referee facilities, accommodation, International Broadcast Centre (IBC) and competition-related event sites and commercial.
As a result, Australia and New Zealand scored 4.1 out of five on the report with Colombia totalling 2.9.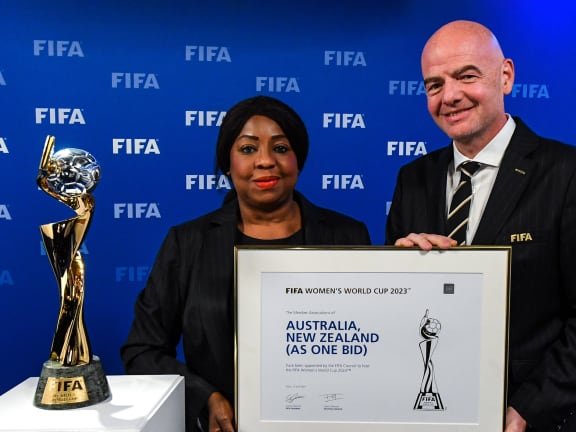 FIFA Council president Gianni Infantino said himself, upon the announcement, that the FIFA tournament will be the "best World Cup ever, in Australia and New Zealand."
Read More: Australia and New Zealand secure victory in bid to host the 2023 Women's World Cup
"It will be even more global and have much positive impact on the development of women's football," Mr Infantino said.
After announcing Australia and New Zealand as the victors, FIFA released the official list of votes placed by FIFA Council members.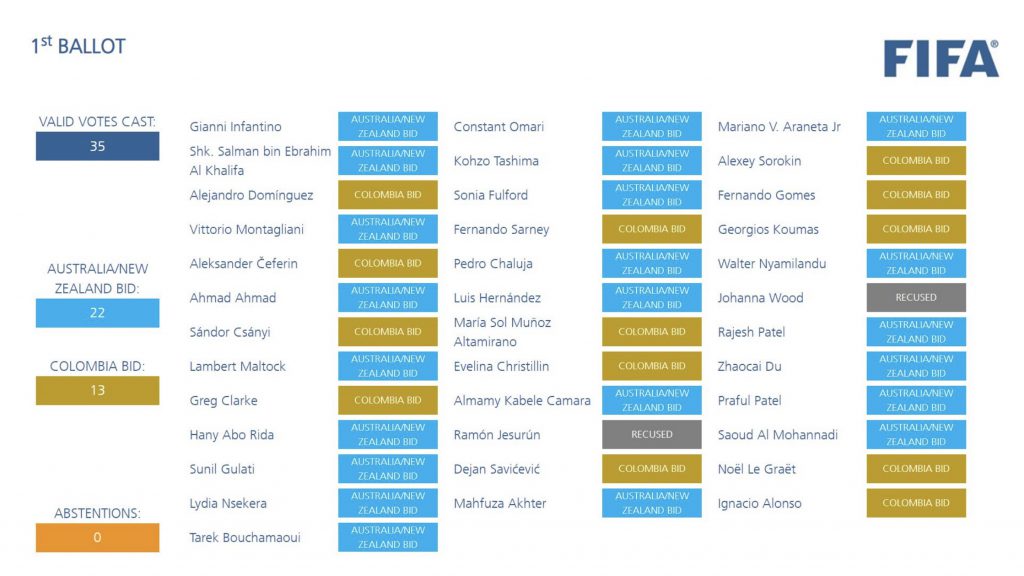 However, that image may look confusing to anyone who doesn't know where each Council member is from. To make it easier for readers, here is a full list of countries that voted against Australia.
Alejandro Dominguez – CONEMBOL President
Aleksander Ceferin – UEFA President
Sandor Csanyi – Hungarian Football Fédération
Greg Clark – The English FA
Maria Sol Munoz – Ecuador
Evelina Christillin – Italy
Dejan Savicevic – Montenegro
Fernando Gomes – Portugal
George (Georgios) Koumas – Cyprus
It is completely expected that the South American nations would vote for their Columbian neighbours. However, it must be noted that every participating European nation voted against Australia and New Zealand's joint bid.
FIFA Council president Gianni Infantino admitted he was just as surprised to see UEFA vote in favour of Colombia, yet refused to criticise the decision, calling it "democracy".
All fingers were pointed at English FA boss Greg Clarke after voting against the joint bid, with FFA chief executive James Johnson left unamused at Englands actions.
"I actually don't find it very funny," Johnson told Fox Sports.
"I think that was quite disrespectful to be perfectly honest with you.
"It was a process that was, I think, run very well by FIFA. We scored very highly on a report that was an objective report.
"We know now what the voting was like, and I must say we are disappointed with the way that the FA voted."
Not only the English FA, but Cyprus Football Association president George Koumas tagged on the back of the UEFA board members in their bid for Columbia.
The Matildas and White Ferns have been big supporters of the Cyprus Women's Cup since it's inauguration in 2008, with the two teams participating for a total of 10 years combined.
Yet, it is the pressure of UEFA that has forced every European nations hand into voting together, recognising the combined votes as a "matter of solidarity."
"Even though the Colombian bid was not the one rated highest technically by FIFA, European members of the FIFA Council felt that it represented a strategic opportunity for the development of women's football in South America thanks to the legacy and increase of attention for the women's game that the tournament would bring to the continent," UEFA said in a statement, supporting their vote for Colombia.
Read More: UEFA pledges support to end violence and corruption in Greek soccer
"It was a choice between two countries – Australia and New Zealand – where women's football is already strongly established, and a continent where it still has to be firmly implanted and has a huge development potential."
The FFA chief executive said it best; "We know now what the voting was like…"
It's a shame that after UEFA pledged their support to end corruption in Greek soccer, that they too are guilty of voting for political purposes and not for the benefit of the tournament.