By Vasilis Vasilas
Decades may pass and people's tastes change but some businesses have such enormous reputations that they are not impacted at all- their high quality product becomes legendary!!! One of those legendary businesses is definitely Paul's Famous Hamburgers at Sylvania- which has incredibly operating since 1957!!! Here is part one of its story…
Paul Zerefos, from Neapolis, and Katina Andronicos, from Avlemonas, Kythera, migrated to Australia in 1926 and 1927 respectively; they married in 1936 and ran a series of businesses in Scone, Glenn Innes, Moree, Bondi Beach, and two in Hurstville before they bought a property at 12 Princes Highway, Sylvania, with the vision to build and open a mini market; according to Paul and Katina's daughter, Helen Zerefos OAM, it was Katina's brainwave to separate the proposed shop into two and start a tiny hamburger bar, According to Paul, Katina had never cooked a hamburger in her life!
Opening day was all ready for the shops when Katina realised there was no sign for the hamburger menu and she called out to Helen to make one up, and she recalls, 'I looked around for something to write a sign on and found a large sheet of white painted tin with a Coca Cola logo on it. I quickly traced out with pencil our original menu and prices. When Mother OK'd it I looked around for something to fill in the letters and figures. It was too late to go out and buy crayons or paints. I looked in my large handbag, found a bottle of red nail polish and used that to paint the details of our first menu!'
And Katina's hamburgers were an immediate smash hit, 'Mother was a fabulous gourmet cook, but instinctively knew that what was needed in the area was a good wholesome basic tasty snack – this was long before MaDonalds! She set about devising her hamburger which simply was to be a lovely toasted bread roll buttered, plenty of fresh lettuce and tomato, the meat patty covered by lots of cooked onion, all cooked with butter-oil (Ghee), then topped with tomato sauce. The extras at the beginning were egg and bacon, later came the cheese and pineapple. She did not sell anything else in her section of the shop as she wanted to specialise in her hamburgers. Mother named the entire place, "Pauls", after dad.'
All three children, Helen, Bill and late Bubsie (Florence), worked in the shop, as well as other staff.
Helen recalls how Katina's hamburgers became legendary, 'Mother had created a monster with "her" hamburgers – they became famous! The crowds came from all over Sydney! We worked so hard for many years and sweated through many heatwaves making those hamburgers in that small section.'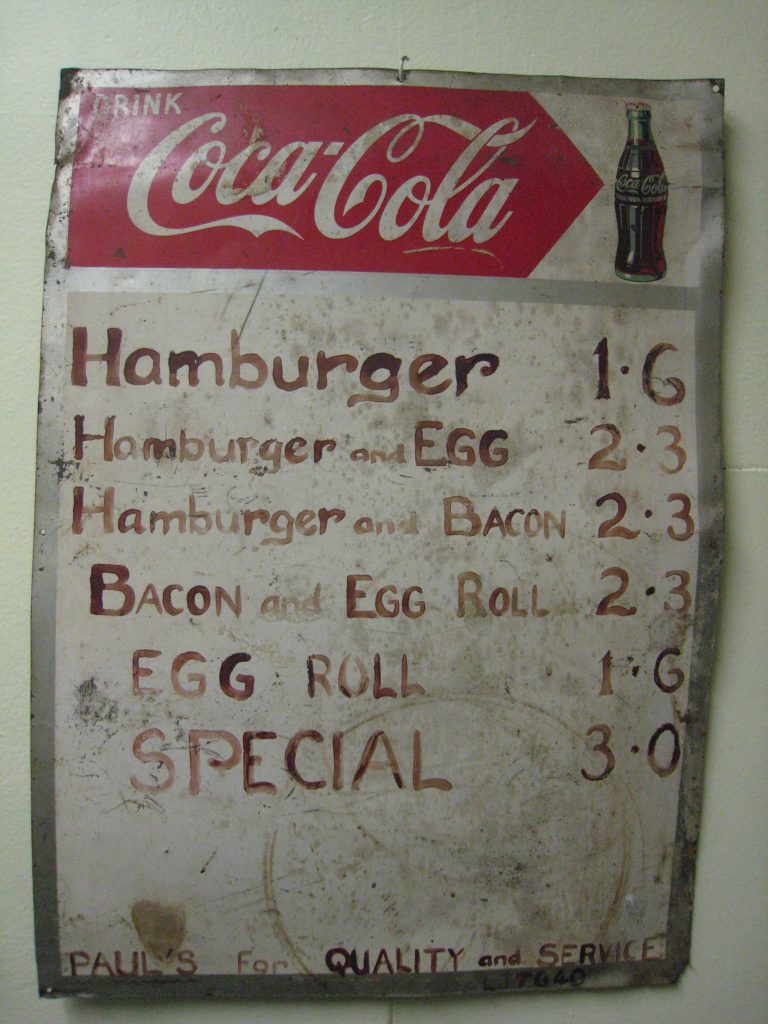 Despite Helen beginning an illustrious career in show business, and appearing weekly on national television, she still worked in the family business, as she admits, 'Time permitting – family is family!' Helen has many instances where customers recognised her behind the counter, "Aren't you Helen Zerefos?" and on one occasion, one customer was telling another customer what a terrific singer the person making the hamburgers was – to which the second person replied, "Well if she's so great, what's she doing here?"
And whenever Helen travelled overseas, Katina always asked her to keep her eyes open for any new ideas for her hamburgers; upon her return, Helen would always say, "No Mum, they're still the best in the world."
Paul passed away in 1981, and Katina suffered terribly from this loss.
In the early 1990s, Helen was in the local video shop and recounts a story of a man approaching her and said, "Excuse me Miss Zerefos, I've always wanted to speak to you and tell you that some years ago, my mother-in-law was out from England. One Saturday lunchtime, we took her down to your family's shop to get some hamburgers and you were there. We ate our hamburgers under nearby Tom Uglys Bridge. That night we took her to the Opera House and I said to her, 'See that girl on the stage, she made your hamburger at lunchtime!' My mother-in-law couldn't get over it!"
In the early 1980s, Bill and his wife took over the shop; despite the mini market being a successful business venture, they closed it and used the extra space to extend "Paul's Famous Hamburgers". They maintained the high quality hamburgers, the business continued to grow and people continued to come from all over Sydney for "Paul's Famous Hamburgers".
After forty one years in the family, they sold the business "Paul's Famous Hamburgers" to Nick and Sandra Sinesiou and family.
Huge thanks to Helen Zerefos OAM for the text and photographs. Part Two of the "Paul's Famous Hamburgers" story will be in next week's The Greek Herald.