By Ilias Karagiannis.
His name was one of the positive surprises of the PASOK state ballot. Simos Gerasimidis is a member of the new generation of Greeks of the diaspora. The Associate Professor of Civil and Environmental Engineering at the University of Massachusetts, Amherst, has also worked as a post-doctoral researcher at Columbia University in New York, has received his PhD from the Aristotle University of Thessaloniki and has postgraduate studies at MIT.
His scientific interests are in the fields of new materials and metamaterials, bridge engineering and energy construction. Nikos Androulakis chose him in the state ballot of PASOK as a representative of the diaspora and he speaks to The Greek Herald ahead of the elections on May 21.
"It is true that the invitation of the president of PASOK is extremely honourable and I want to thank him. I had not thought about going into politics but after the invitation, I felt that we all have an opportunity and an obligation to contribute and help the country we love to see an improvement in its way of life and the way it operates," Mr Gerasimidis said.
"Personally, as a member of the generation of young people who left Greece after 2011, I considered it my obligation to help in this effort with my experiences from abroad and specifically America and to try to convey perceptions, ideas and proposals that could play a positive role in the course of Greece.
"It is important that young people return to politics, young people with fresh ideas and take life into their own hands."
We asked Mr Gerasimidis about the restrictions of the Greek diaspora voting law and what PASOK intends to do if it is elected to government.
"Although I have been in America for 10 years, a relatively short period of time compared to other immigrants of other generations, I have realised that the expatriate vote has been a demand that has existed for many decades. We must first recognise that having the right to vote for expatriates is progress and even if the numbers are indeed small, it is a small step forward," Mr Gerasimidis said.
"The law, however, as it stands, is too problematic. The failure is clear when in Australia so few Greeks will vote and we see this in most countries abroad as well. While there was an excitement initially that this wall was finally breaking down, in fact the wall still exists.
"Looking to the future, of course, and in order to be productive in our criticism, I think the directions for the improvement of the law are specific and I hope that with the formation of the new government we will have the opportunity to inform the relevant bodies and see changes."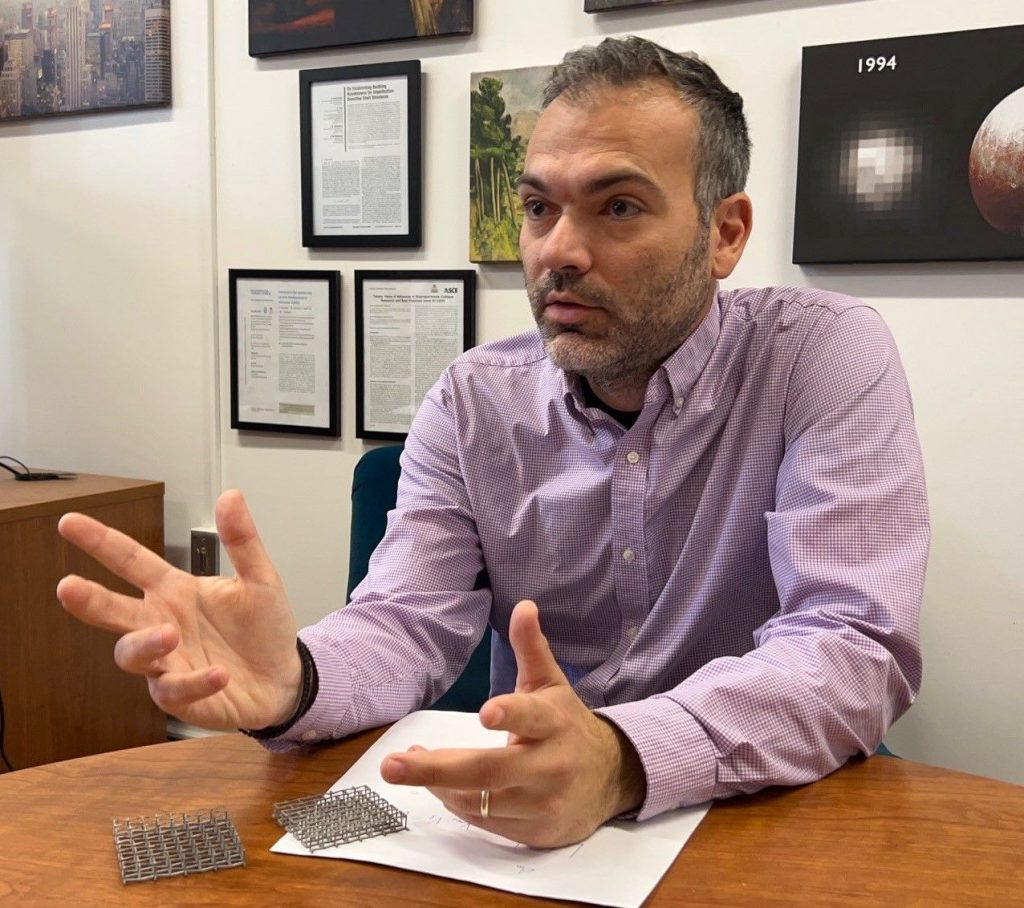 The stakes of the election:
Mr Gerasimidis accepted the Androulakis' invitation to be on the PASOK ballot and we asked him if it marks a personal shift from academia to politics.
"For me, accepting the invitation does not mean that there is a departure from academia. After all, I personally believe that politics cannot be a profession, there should be a limit to the time one can be an MP or a minister," he answered.
As a young man, Mr Gerasimidis has solid opinions. We asked the PASOK candidate about the stakes of the elections.
"I would describe it in a word as institutionalism. I would like citizens to ask themselves how all these important values of a democracy such as transparency, meritocracy, development and others can be realised in reality," he said.
"For me, the answer is adherence to European institutions and the use of tools that already exist in other European states. I think the world, and especially the new world, is tired of saviours and huge promises of magical solutions. We as a people must realise that the first step we need to take is to believe in reforms that will put in order the public administration, education, health, the productive model of the country.
"As we see from other European and non-European countries, this is done institutionally, transparently and convergently. The way we have seen things run in Greece for many years now is to aim at unrealistic targets, accept our illusions and land ourselves in harsh reality. One step forward and one back. I think if we have learned anything in the last 10 years and with the great economic crisis, the only way forward is prudence, planning and utilisation of national and European institutions in all areas."
We also asked Mr Gerasimidis for his opinion of the leader of PASOK.
"If you follow his word, there are no grand promises or overbearing approaches. He moves within a reasonable framework on all the programmatic issues he has raised in the public debate. For example, the issue of social housing, where he mentions the successful examples of Portugal and Spain, or the energy crisis.
"Of course I can't help but also mention his truly extraordinary patience in the matter of wiretapping. He was essentially one of the victims of this story. I would like all of us to think how we would react in such a situation if we learned that there is a state mechanism that listens to us from our cell phone 24 hours a day even if it is turned off.
"Finally, I think the country has tried both Mitsotakis and Tsipras and it is time for something new. Personally I am not of the belief that everything was done wrong by Mitsotakis or Tsipras. I think that each one tried to improve the country and both had successes and failures.
"What I am proposing is that this is the time for something new, something that is not a product of the past, something realistic, prudent, European, institutional and self-made. I very much liked Nikos Androulakis' reply in a recent interview that 'he has an obsession with making Greece a European country.' This is a good obsession," Mr Gerasimidis said, while also sending a message to the Greeks of Australia through The Greek Herald.
"I want to send my warm greetings to all the Greeks of Australia, who although I have not been able to visit, I have read about their dynamism and love for their country.
"I hope that in the next elections more Greeks will be able to vote and that we can strengthen even more the relations of expatriates with the country.
"From PASOK, what we can all expect are concrete proposals that will improve the lives of people back in Greece, but also proposals that will be able to stem the wave of young people fleeing the country and attracting people back home."