The Greek-Australian Society (GAS) hosted an online panel titled 'Greek-Australians and the Voice to Parliament' earlier this month.
The panel conversation was held virtually, after being brought forward one week following the announcement of the referendum date in August. This date was chosen in order to ensure the conversation would be held prior to early voting centres opening.
Speaking on the panel were the NSW Shadow Minister for Multiculturalism, Mark Coure MP; Senior Lecturer at Macquarie Law School, Dr Shireen Morris; Chair of the Ethnic Communities' Council of NSW (ECCNSW), Peter Doukas OAM; and the Founder of Gamarada Universal Indigenous Resources (G.U.I.R), Ken Zulumovski Hon DHSc. The panel was moderated by GAS President, Ellie Stamatelatos.
Dr Shireen Morris had returned to Sydney from interstate Voice engagements, while Ken Zulumovski spoke from Port Lincoln in South Australia. There were also approximately 50 community and student leaders in attendance, alongside GAS Members from Brisbane, Sydney and Melbourne.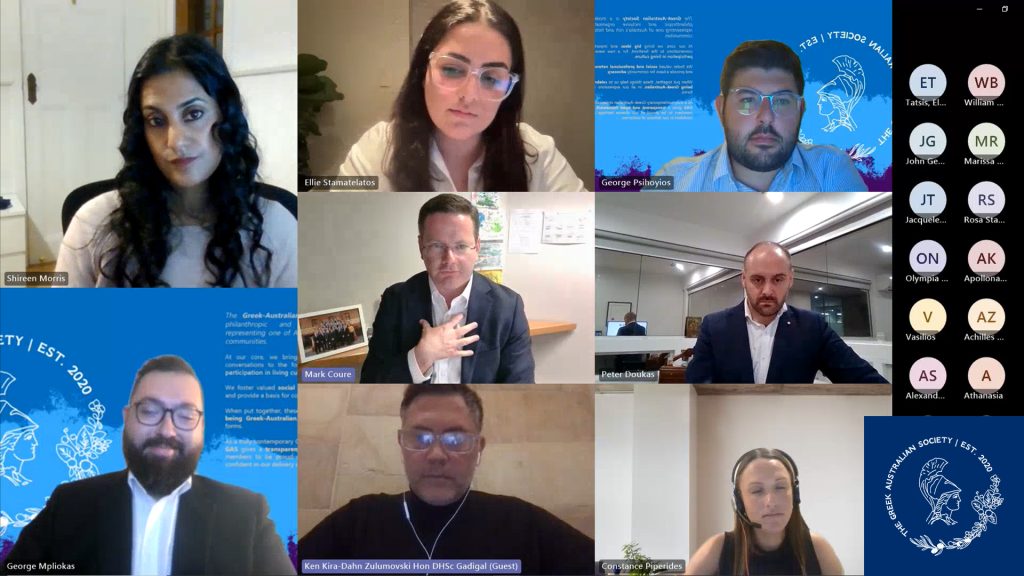 The panel organised by GAS facilitated a discussion on the Indigenous Voice to Parliament and encouraged people to put personal opinions aside, to engage with people from different political persuasions and lived experiences and to allow them to provide information on an important national conversation. The objective was to help attendees make an informed decision on October 14.
On the day, Mr Coure referred to engagements in his multiculturalism shadow ministry. He spoke about meeting with constituents and communities in his electorate, "explaining to them that the Voice will not have a veto, it will not be a third chamber, and it won't divide Australians. It's about narrowing the gap that is widening with our First Nations."
Dr Shireen Morris referred to mixed results in the federal Productivity Commission's Closing the Gap report from July 2023, as part of the case for giving Indigenous Australians constitutional recognition through the Voice.
She said: "Australia is failing to close the gap; why? Because everything is top-down. Because politicians and bureaucrats, with very good intentions, spending a lot of money, simply don't listen to Indigenous communities."
Peter Doukas OAM said that many Greek Australian and many other 'established' communities are reluctant to be publicly involved in the debate, "which is an unfortunate thing because no matter what happens, this is part of the national conversation, this is an historic moment in Australia, and I think the last part of the building blocks of our Federation."