As NSW has been declared a state of emergency, and the international community have deemed the Australian bushfires an "international crisis", the Australian community is currently facing a lot of unknowns.
Statistics that have been confirmed are that 500 million wildlife and livestock have been killed. 5.9 million hectares of land has been burned including over 2500 buildings. 18 people have been confirmed dead across NSW, Victoria and South Australia since October.
Since Monday there have been eight deaths including volunteer firefighter Samuel McPaul, Patrick Salway, 29, and his 63-year-old father Robert in Cobargo.
The Rural Fire Service (RFS) confirm they have saved over 9000 homes.
As of Saturday, the RFS have anticipated a dangerous fire spread with temperatures set to reach over 46 degrees.
New South Wales
New South Wales has officially announced a state of emergency over the next 7 days.
Two NSW towns have been completely cut off from escape, as residents in the towns of Manyana and Bendalong are trapped due to road closures.
Residents say there has been a lot of confusion regarding evacuations.
"About 200-300 cars [are] lined up. No shops in Manyana so people [are] running out of food. No power, phone lines or mobile," said a local resident.
A number of small towns are also experiencing a shortage of supplies and concerns of water contamination. Residents have been told to drink boiled water until it can be tested.
In addition, smaller towns are running out of fuel, and there is shortages of basic supplies like bread and milk in local shops. Power outages have affected ATMS and many shops are only accepting cash.
Over 70 Queensland both paid Fire and Rescue staff and Rural Fire Service volunteers, are flying to NSW today to assist with the fires.
Victoria
Premier Daniel Andrews confirmed on Thursday night that a second person had died in the East Gippsland region. This morning Mr Andrews revealed there were 28 people missing, as the Mallacoota area has been evacuated by Navy ships.
The Navy vessels are expected to transport around 1000 people from Mallacoota to Westernport at 5pm this afternoon. The ship is set to arrive at 10am tomorrow morning.
According to residents, they will be transferred to Somerville, where there will be bus transfers to Melbourne.
Over 4000 residents and tourists were trapped in the region from New Years Eve.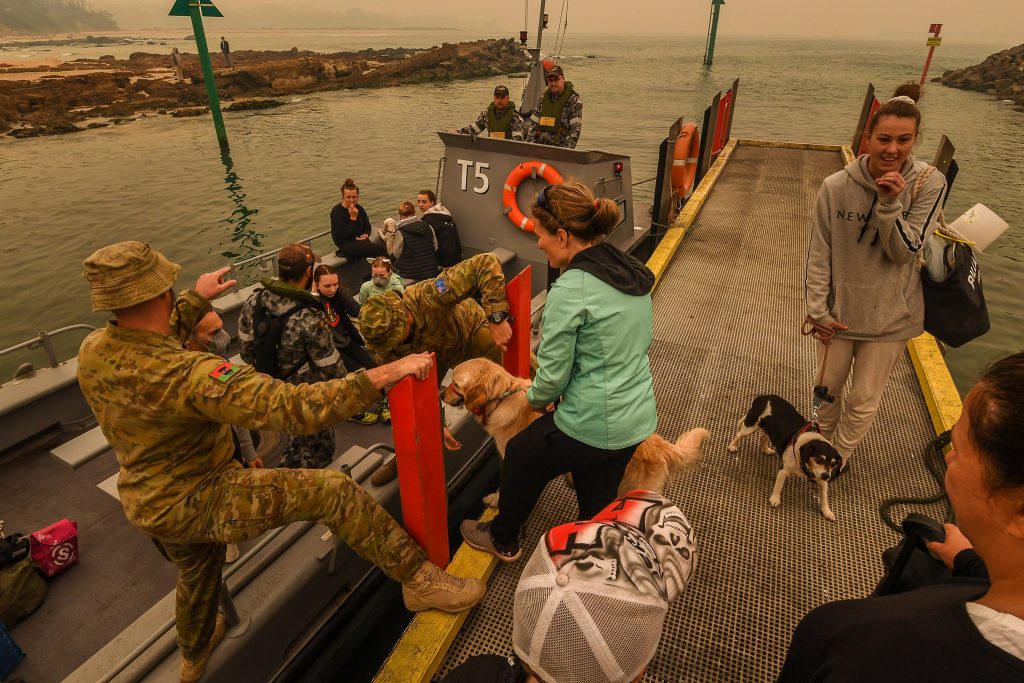 South Australia
Kangaroo Island and Adelaide Hills areas in South Australia have also been declared a state of emergency.
It was announced today that "firefighters are now unable to prevent the fire spreading" and locals were told it was too late to evacuate via car, and to seek safety.
With temperatures of over 47 degrees anticipated for the weekend, NSW, VIC and SA have all been reminded that, unfortunately, these fires will not be stopping any time soon.