A man in his 20s was attacked in Melbourne's north-east last week, over "tension between Greek and Macedonian communities", The Age reported.
The police are investigating after three men, who were at the restaurant with a larger group, set upon the man at a Ribs & Burgers restaurant on McDonalds Road in South Morang on December 17. They assaulted the victim at about 7.40pm, before fleeing the scene and leaving him with minor facial injuries and a small fracture on one finger.
The Age reports that the group punched the victim, who is of Greek heritage, in the head and face for up to 40 seconds. The victim's car was also damaged.
The attackers have not been arrested by police and the investigation is ongoing. Detectives have secured CCTV footage from the restaurant.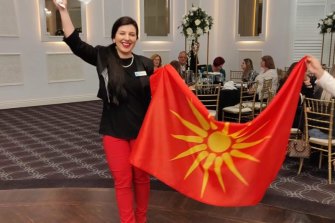 Whittlesea mayor Emilia Lisa Sterjova sparked tensions between the local Greek and North Macedonian communities after posting a photo on Facebook showing her holding a flag with the Vergina Sun symbol. She has since removed the post. CREDIT:FACEBOOK
It is understood that the attackers and the victim had just been at a nearby City of Whittlesea council meeting, where a protest had been planned and extra security engaged. The extra security was established following a controversial Facebook post from Whittlesea mayor Emilia Lisa Sterjova, showing her dancing with a flag featuring the Vergina Sun symbol.
Cr Sterjova took down the post and responded to the backlash on social media several days later.
"I was surprised by the negative response to my posting which included death threats against me, threats to remove me from the office of mayor, threats to have me expelled from the political party I am a member of, and stalking threats necessitating the engagement of security services and police for my protection when attending certain future events," she wrote.
"By way of clarification, the posting of the subject photo was not intended to insult, or be disrespectful to, any member of the Whittlesea community."
The Whittlesea council will be monitored over the next six months, with an interim report about councillor behaviour due on March 27.