The Greek Community of Melbourne has praised the exceptional results achieved by Greek students in this year's Victorian Certificate of Education (VCE) and Victorian Certificate of Applied Learning (VCAL).
For another year, Greek students from schools in the E.K.M excelled in the Modern and Ancient Greek VCE exams, scoring impressive results.
In Modern Greek, 75 percent of students scored above 30 (average score), 56 percent scored above 35, while a very high percentage of 18.9% achieved a score above 40. The above percentages are without the grading of the course (scaling).
Among the students who excelled are Anastasia Typou (Αναστασία Τύπου), who achieved a score of 47 out of 50, and the Evanthia Katsouli (Eυανθία Κατσούλη), who achieved a score of 45 out of 50, also without scaling.
In Ancient Greek, 40 percent of students achieved a grade above 42 with the grade subsidy, while the remaining 60 percent achieved grades between 30-38.
Specifically, Evanthia Katsouli, scored 44 out of 50 in Ancient Greek, which after the grade subsidy is 50/50.
The pride for the performance of the Greek Community of Melbourne students was expressed by the Community Schools Coordinator, Mr. Manos Tzimbragos.
"Continuing a long tradition, our team, students, and teachers have shown that they can achieve wonderful results even under very adverse conditions such as those imposed by the pandemic this year," Mr Tzimbragos said.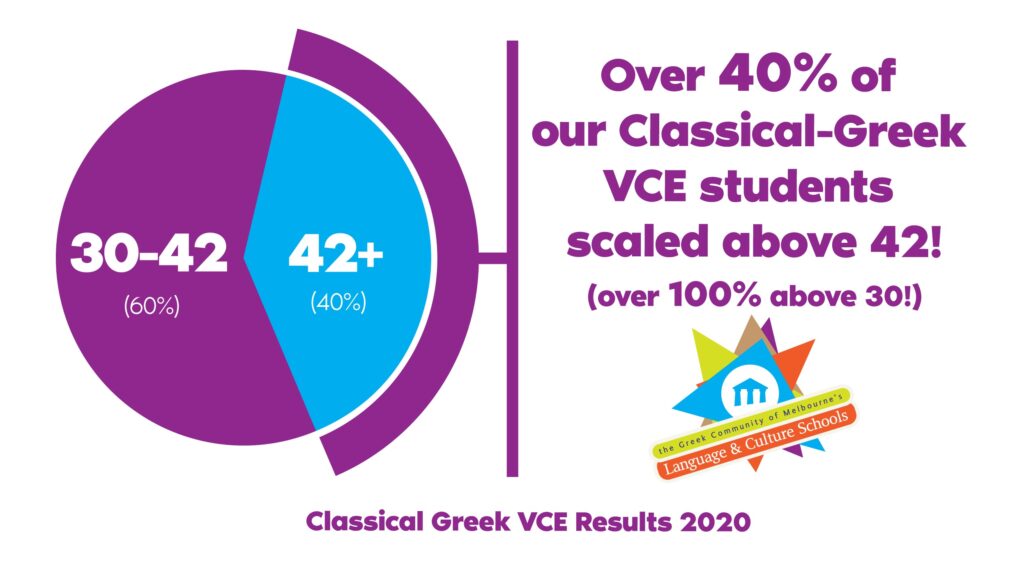 "I am very excited about the results. Warm congratulations to our children for their dedication, zeal and incredible adaptability they showed in the new conditions, but also to our teachers who managed to inspire and support their students in their difficult and challenging journey to knowledge."
Vice President of the Greek Community of Melbourne, Mr. Theodoros Markos, made the following statement:
"In education, as in life itself, travel is what matters. And when it comes to studying Greek, we are glad that a large number of our students decided to make this trip with the VCE"
"In a year in which we were all confronted with a new reality, where a new regularity had to be created overnight, our students and teachers showed us the way. We are proud of what you have achieved and we urge you to continue the journey of life with the same vigor and passion that you have shown throughout 2020!"