By Andriana Simos and Argyro Vourdoumpa.
Fire struck again Wednesday night in Greece's notoriously overcrowded refugee camp on the island of Lesvos, a day after a blaze swept through it and left thousands in need of emergency shelter. The fires caused no injuries, but they renewed criticism of Europe's migration policy.
Later, about 4,000 migrants who had left the camp for the island's main port of Mytilene to board ships for the mainland, threw stones at police blocking the road, and officers responded with tear gas, police said.
Moria had been under a coronavirus lockdown when the first fire gutted a large section of it, and health officials said some of those who had tested positive for the virus had fled.
"The combination of migration and the pandemic in these conditions is creating an exceptionally demanding situation," Alternate Migration Minister, Giorgos Koumoutsakos, said.
Civil protection authorities declared a four-month state of emergency for public health reasons on Lesvos.
Officials said the original fire was started by camp residents angered by the lockdown measures and isolation orders imposed after 35 people tested positive for COVID-19.
The exact cause of the first blaze was being investigated, but "what is certain is that the fire was started because of the quarantine by asylum-seekers in the facility," said Migration Minister, Notis Mitarachi.
"Instances of unlawful behavior such as the ones we experienced yesterday will not be left unpunished," Mitarachi said. "Such behavior is not acceptable, and also respect for law and order is a necessary precondition for the asylum process."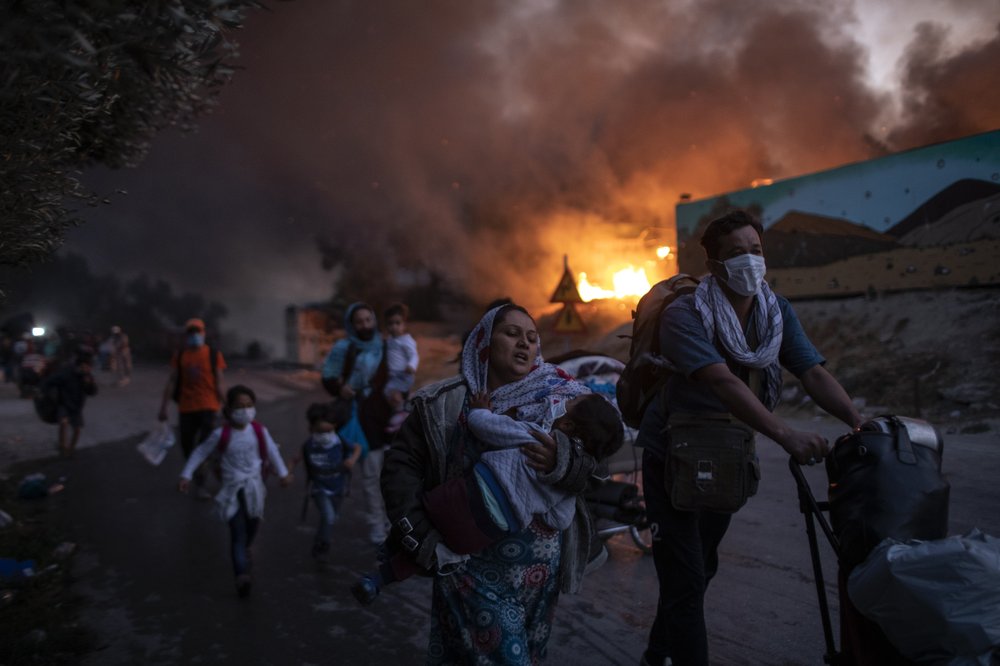 "Locals are scared":
In dramatic scenes early Wednesday, men, women and children fled fires that broke out during the night at multiple points and were fanned by gale-force winds. Firefighters said protesting camp residents hampered their efforts to put out the blaze.
Nita Loukadellis (Λαμπρινή Λουκαδέλλη), sister of the President of the Greek Orthodox Community of Canberra, John Loukadellis, has lived in Antissa, Lesvos, a village 65 kms west of Moria, for the last 10 years and describes her experience as 'scary.'
"There was a fire here in the village but firefighters got it under control. My relatives in Australia were worried," Mrs Loukadellis tells The Greek Herald exclusively.
"Locals are scared and we believe that the number of them [refugees] infected with the virus on the island are many more than what is being announced.
"We hear that they will be transferred to Athens or the authorities will find them temporary shelters on the island. What I know is that locals are suffering and we are not prepared for more riots like last February.
"People in the city of Mytilene are locked up in their homes. The island has been facing a crisis since 2014 and no one is really acting."
Criticism from aid agencies:
Aid agencies have long warned of dire conditions at Moria, where more than 12,500 people live in and around a facility built to house just over 2,750.
The camp, housing those fleeing violence and poverty in the Middle East, Africa and Afghanistan, has become a symbol of what critics say is Europe's failure to humanely handle the migration and refugee situation.
Ihab Abassi, is a Field Coordinator Assistant with Medecins Sans Frontieres and has been living in Mytilene for the last 5 years.
"People are in the streets. They self-evacuated and they had nowhere to go," he tells The Greek Herald. We asked him to describe the situation and he replied "in one word, chaos."
Amnesty International's migration researcher, Adriana Tidona, added "reckless EU policies" were to blame for the overcrowding in Moria.
"As the EU Pact on Migration and Asylum is finalised, this is a timely indictment of the current policy of camps and containment," she said.
Europe responds to the crisis:
Greek Prime Minister, Kyriakos Mitsotakis, said the incident had shown that the situation on Lesvos is untenable and that Greece needs the help of its EU allies in managing the situation.
"It's a question of public health, of humanity, but also national security," he said in a statement broadcast by ERT.
The first blaze left about 3,500 camp residents homeless after the fire destroyed administration buildings and a health facility, but only one section of living quarters.
Greek Migration Minister Mitarachi said those left homeless will be housed temporarily in tents flown to the island and aboard a ferry and two navy ships.
The European Union has also responded, pledging immediate financial support for refugees who have been left stranded.
Dutch Development Cooperation Minister, Sigrid Kaag, pledged a further $1.1 million in emergency aid for Greece to help the country provide accommodation, housing and care for migrants.
"We are in solidarity with the refugees and migrants and with the Greeks," Kaag said.