The EU is to give Greece funding to build five new refugee camps on the Aegean islands.
The EU Home Affairs Commissioner, Ylva Johansson, visited Lesvos and Samos on Monday to announce that the EU would provide 250 million euros of funding for five new structures on the islands of Lesvos, Samos, Chios, Kos and Leros.

A large crowd of demonstrators gathered outside the town hall on the waterfront in Mytilene, the capital of Lesvos, to protest against her visit.
Some wrapped themselves in Greek flags and others held signs calling for European solidarity. One sign read: "No to European Guantánamos. Shame on you, Europe." Another said: "No structures on the island, Europe take responsibility."
READ MORE: Moria 'completely destroyed' as fire tears through migrant camp.
Kostas Moutzouris, the northern Aegean's regional governor, told the Guardian he had cancelled his meeting with Johansson during her visit. "We don't want the money for new camps – we want it for what we suffered all these years but not to build new camps," he said.
At a joint press conference with the Greek Immigration Minister, Notis Mitarachi, Ms Johansson said it was of "utmost importance" that people were not in the "temporary" camp built in the wake of the Moria fire for another winter. An agreement for 155 million euros for the construction of camps on Lesvos and Chios had just been signed, she said.
READ MORE: Greece to build permanent migrant centre on Lesvos to replace Moria.
She said there should be "quick and fair" asylum processes, and that the EU was calling on Turkey to resume accepting migrants from Greece.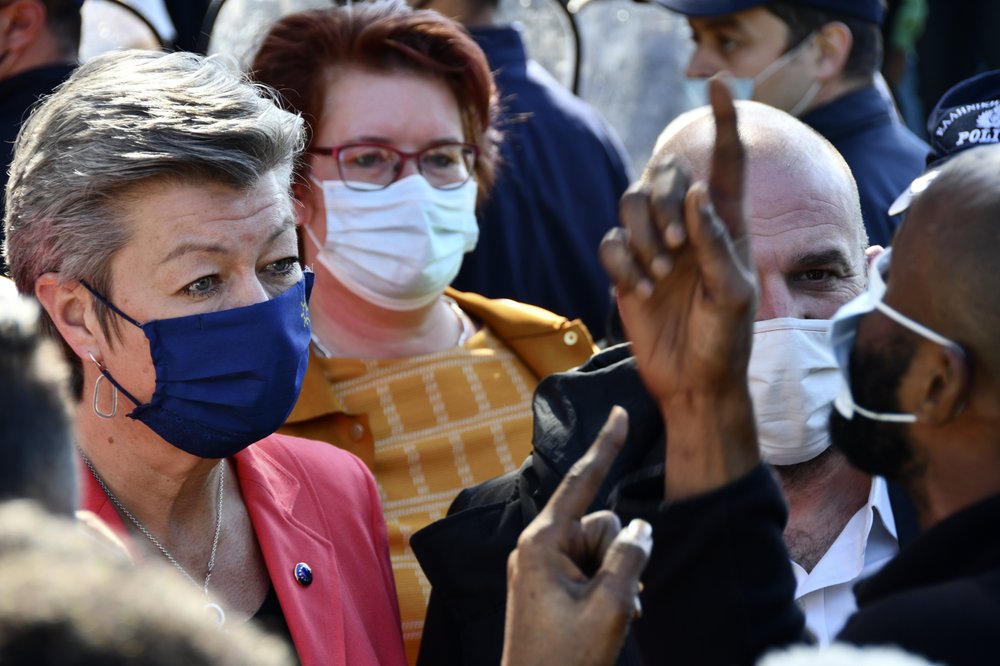 "Even if you are not eligible [to stay in Greece] you are a human being – you have rights and dignity and should be treated accordingly," she said.
Mitarachi said the new centres on Samos, Kos and Leros would be ready within the three months and would offer "dignified" living conditions, but entry and exit would be controlled, with fencing around the camps.
"For those that believe we are creating a new Moria, it will be shown in practice that you are wrong," he said.
READ MORE: Opinion: Moria Camp, Europe's Catch-22.
Johansson urges Greece to investigate reports of asylum-seeker pushbacks:
During her joint press conference with Mitarachi, Ms Johansson also said Greece "can do more" to investigate reports it has pushed asylum-seekers back to Turkey.
The United Nations refugee agency, UNHCR, has said it has received a growing number of reports in recent months suggesting asylum-seekers may have been pushed back to Turkey at sea or immediately after reaching Greek soil, or left adrift at sea.
Greek officials have always rejected the reports.
"I am very concerned about the UNHCR report and there are some specific cases that I really think need to be looked into closer… I think the Greek authorities can do more when it comes to investigating these alleged pushbacks," Ms Johansson said.
Mitarachi responded and said Greece adhered to European and international law.
"We strongly deny that the Greek coast guard has ever been involved in pushbacks," he said, adding that independent investigations, including by the Greek judiciary and by the EU's border agency Frontex, had not found violations.
Greece and other frontline states including Italy, Spain, Cyprus and Malta have called repeatedly for a more coordinated migration policy from the EU and more help from other EU countries in handling migrant arrivals.
READ MORE: 5 nations demand better EU sharing of migration load.