A further 25 Australian Open players have been forced into quarantine on arrival in the country ahead of the season's first tennis major, bringing the total number of competitors now isolating in hotel rooms to 72, after a number of positive coronavirus cases.
A fifth person, who had flown into Melbourne on an Australian Open chartered flight from Doha, tested positive on Sunday night after arriving on Saturday.
Confined in their rooms and unable to train, the players themselves are trying to find ways to keep up their skills and make the most of an adverse situation.
Team Greece players Stefanos and Petros Tsitsipas, Markos Kalovelonis and Michalis Pervolarakis are virtually training together.
Pervolarakis even performs the occasional Greek traditional Cretan dance 'Maleviziotis' to keep the spirits high.
Maria Sakkari, who was also forced to quarantine on Saturday, thanked her fans with a post on Instagram.
"Thank you everyone for your message. We are all experiencing unprecedented circumstances but your love gives me energy and strength. I will turn my room into a gym to be prepared to compete when the quarantine ends," she wrote.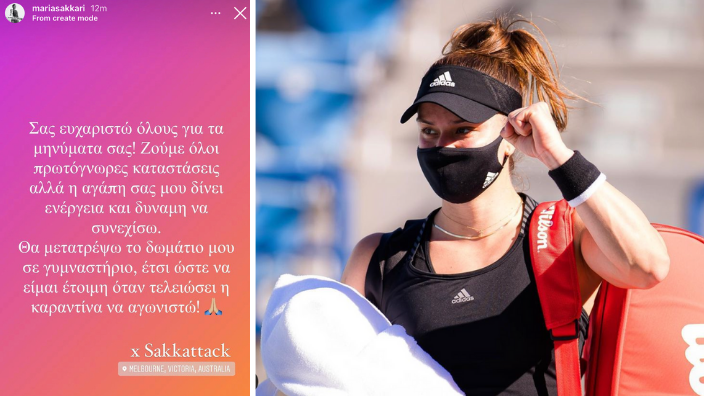 There has been some confusion among players about the quarantine rules, with some claiming they were unaware that the entire planeload of passengers would need to self-isolate for two weeks if someone on board tested positive for COVID-19.
But Victorian authorities and the Australian Open said players were fully aware of the quarantine requirements before they arrived in Australia.
Australian Open boss Craig Tiley has ruled out delaying the tennis grand slam despite increasing pressure from international players furious about being put into hard quarantine.
The Australian Open is due to start on February 8.