By Georgene Dilernia
What's the best way to spice up your meal? To have the perfect side for your mezze boards.
These five delicious Greek dip recipes are super simple to make and very popular with family, friends and guests.
See the recipes below to learn how to make a modest meal look exquisite with a range of tasty side dips!
TARAMOSALATA
Ingredients
100 grams white tarama (fish roe)
300 grams white stale bread (crust removed), soaked in water and squeezed
180ml olive oil (3/4 cup)
Juice 2 lemons
1 medium red onion, grated
½ small garlic clove, finely grated
Method
Soak the bread in water for five minutes, then squeeze most of the water out with your hands.
In a food processor add the bread, roe, onion and garlic and process until you have a smooth paste.
With the machine running, add some of the oil very slowly, then a little lemon juice, then more oil, alternating until all the oil and lemon juice is combined and it is a smooth consistency. Add 80ml of warm water and process again – this will help make the dip light and fluffy.
Serve!
TZATZIKI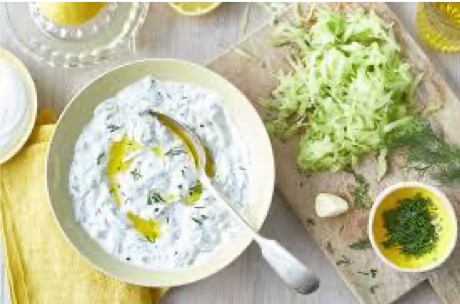 Ingredients
½ cucumber, peeled
2 cups cold plain Greek yogurt
4 cloves garlic, pressed
1/3 cup chopped dill, fresh or frozen
1 & ½ tbsp freshly squeezed lemon juice
½ lemon, squeezed
½ tsp salt or to taste
1/8 tsp black pepper
Method
Place grated cucumber into a clean dish towel and squeeze out all moisture.
In a large bowl add yogurt, cucumber, garlic clove, lemon and dill weed and mix to combine well.
Add salt and pepper to taste.
Cover bowl and place in refrigerator for 30 minutes to allow flavours to combine (even better if left overnight!
Serve!
FAVA
Ingredients
500g yellow split peas
3 red onions, roughly chopped
2 cloves of garlic, chopped
1 litre warm water (3 and 1/3 cups)
Juice of 2 lemons
1/3 of a cup olive oil
Thyme
Salt and pepper to taste
Method
Rinse the split peas with plenty of water.
Heat a large pot over medium-high heat; add 2-3 tbsps. olive oil, the chopped onions, garlic and some fresh thyme and sauté.
As soon as the onions start to caramelise add the peas and blend. Pour in the warm water and the olive oil, turn the heat down to medium and season well with salt and pepper. Simmer with the lid on for about 40-50 minutes, until the split peas are thick and mushy. While the split peas boil, some white foam will probably surface on the water. Remove the foam with a slotted spoon.
When done, pour in the lemon juice and transfer the mixture in food processor. Mix, until the peas become smooth and creamy, like a puree.
Serve the fava with a drizzle of olive oil, a tablespoon of diced onion and some capper or chopped parsley.
MELITZANOSALATA
Ingredients
4 large purple eggplants
1/2 red onion
1 clove garlic, crushed
125 ml olive oil (1/2 cup)
4 tablespoons lemon juice
Sea salt and freshly ground pepper to taste
3 tablespoons fresh parsley, chopped
Method
To prepare this super easy melitzanosalata recipe (Greek eggplant dip), start by baking the eggplants in a preheated oven at 200C. You could either bake them whole or sliced, depending on the time you have available. If you choose to bake them whole, use a fork to make some wholes on the aubergines, place on a tray and bake for about 1 hour. Alternatively for a quicker version of this melitzanosalata recipe, cut the eggplants in slices and place them on a baking tray, lined with parchment paper. Coat with olive oil, sprinkle with fresh thyme, season with salt and pepper and add 1-2 cloves of garlic. Cover with parchment paper and bake in preheated oven for 20 minutes, until tender.
For this melitzanosalata recipe you need to use only the flesh of the eggplants. Peel the eggplants and dice the pulp.
Place the pulp and the other ingredients in a large bowl and vigorously mix with a wooden spoon. (If you prefer your melitzanosalata to have a creamier texture, then add the ingredients in a blender or food processor and pulse, adding the olive oil gradually on a steady stream. Alternatively mash the eggplants using a fork). Let the melitzanosalata (Greek eggplant dip) cool down and put in the fridge to allow the flavours to mingle.
Serve the melitzanosalata in a small bowl garnished with a whole black olive.
TIROKAFTERI
Ingredients
3 long red peppers.
1-2 red chili peppers.
250gFeta cheese.
100g full-fat Greek yogurt.
1 tablespoon extra-virgin olive oil.
1 tablespoon fresh lemon juice.
Method
Place the peppers (and chili) on a tray covered with grease-proof paper. Bake them at 180 degrees Celsius (360 F) for ~ 20 minutes until their skin starts getting black.
Let the peppers cool down and remove the skin. Place the peppers with the rest of the ingredients in a food blender and create a smooth paste.
If it's too hot for you, add a bit more of yogurt and pass it again through the blender.
Serve it as a dip with fresh bread.
Kali Orexi!