Are you craving a healthy, flavour-packed Greek prawn recipe for dinner tonight? The Greek Herald has the answer for you and it can be prepared in 30 minutes or less!
Here's our recipe for Greek prawns with tasty tomato sauce, feta and a splash of lemon juice.
Prawns with Tomato and Feta Recipe:
Serves: Up to 6 people.
Time: 10 minutes to prepare, 20 minutes to cook.
Ingredients:
1 ½ lb large prawns (21/25), fully thawed, peeled and de-veined.
Kosher salt.
Black pepper.
1 ½ tsp dry oregano, divided.
1 ½ tsp dry dill weed, divided.
Pinch red pepper flakes.
6 garlic cloves, minced, divided.
Greek extra virgin olive oil.
1 large red onion, chopped.
1 26-oz/737.088 g canned diced tomato, drain only some of the liquid.
Juice of ½ lemon, more for later if you like.
Chopped fresh mint leaves, a generous handful.
Chopped fresh parsley leaves, a generous handful.
2 to 3-oz/56 g crumbled Greek feta cheese, more if you like.
6 or more pitted Kalamata olives, chopped (optional).
Directions:
1. Pat prawns dry and place in a large bowl. Season with kosher salt, pepper, ½ tsp dry oregano, ½ tsp dry dill weed, pinch red pepper flakes, and about ½ tsp of minced garlic. Drizzle with extra virgin olive oil, and toss to combine. Set aside for now.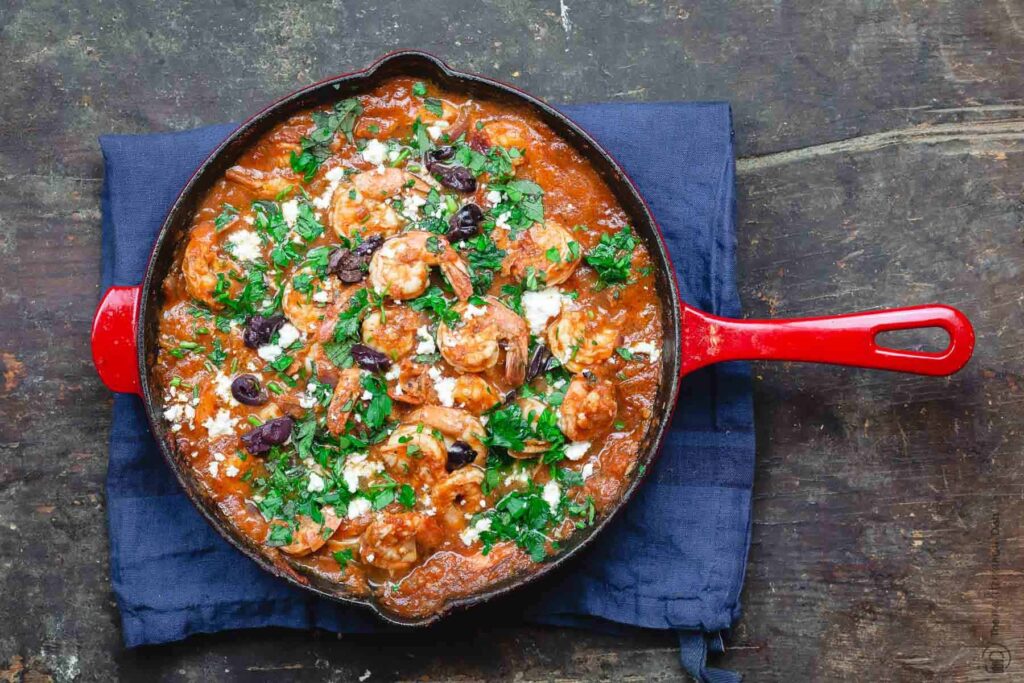 2. In a large heavy skillet, heat about 2 tbsp extra virgin olive oil over medium heat until shimmering but not smoking. Add the chopped onion and remaining minced garlic, cook briefly until fragrant (stir regularly). Add tomatoes and lemon juice, and season with pinch of salt, pepper, and remaining dry oregano and dill. Bring to a boil, then lower heat to medium-low and let simmer for 15 minutes.
3. Now add the marinated prawns. Cook for about 5 to 7 minutes or until pink, do a little stirring if needed (do not over-cook shrimp).
4. Stir in fresh mint and parsley leaves. Finish with sprinkle of feta and black olives. If you like, add a splash more lemon juice or more red pepper flakes to your taste.
5. Serve over plain orzo, your favorite grain, or your favorite crusty bread to sop up the delicious sauce. Enjoy!
Source: themediterraneandish.com