The founder and designer of 'MagnaDi', Margianna Dragoumanou from Nafplio, talks to The Greek Herald about the history of her brand, the collection of silk scarves on the Greek Revolution and her ties with Australia.
The word 'magnadi' in ancient Greek means scarf (μαντήλι) and is interwoven with the myth of the goddess of the waves Leukothea, who appeared to the castaways, wrapped them with her 'magnadi' and guided them to safe land.
Inspired by this myth and because of her desire to learn more about the history and mythology of her country, Margianna started the company 'MagnaDi' six years ago, which deals with the design of scarves printed in high quality silk from Soufli, an area in Greece also known as the 'silk town.'
"Studying and living in England for a few years, I realised that the groups I was associated with, knew aspects of Greek history and mythology that I was unaware of. This saddened me so I decided to make something entirely Greek on the one hand to learn by creating, and on the other hand to honour my country," Margianna tells The Greek Herald.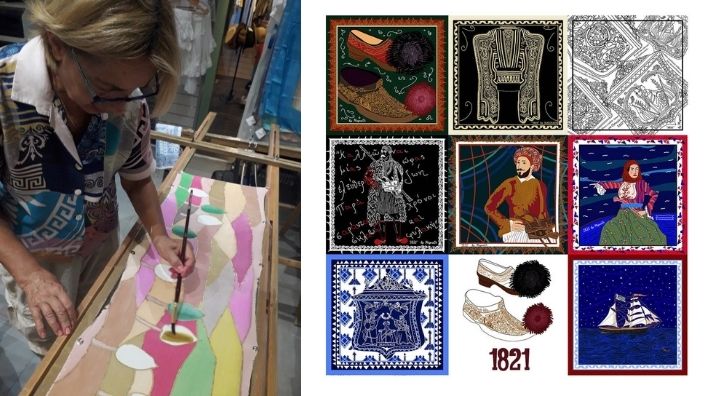 Her studies in economics and marketing were defeated by her love for drawing in Greek colours and patterns and her mother's painting-on-silk skills were also an important factor in her decision to deal with this art form.
"I create the designs and then the digital printing is done in Soufli, in the same factory that silk is made. Hem and stitching are usually done by hand from Pomak women who live in the area," says Margianna.
The collections of 'MagnaDi' are inspired by ancient Greece, history and mythology while the new silk collection entitled '2021' features key revolutionary personalities such as Laskarina Bouboulina, Theodoros Kolokotronis and Yannis Makriyiannis and aims to celebrate the 200th anniversary of the Greek War of Independence.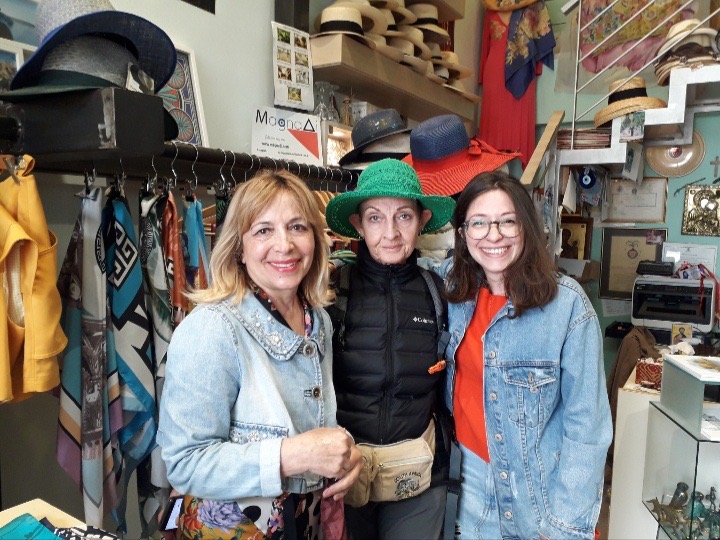 "Women have had scarves for various uses for thousands of years. I hope that one of my designs will stay in someone's closet and seeing it, they will remember something from our history," says the designer, explaining that the majority of her customers are people with Greek heritage living in the US, England and France as well as tourists who buy the scarves as souvenirs.
During its six years of operation, the Greek business has also collaborated with the British Museum and the Natural History Museum of Chicago. Margianna now hopes that her scarves will also reach Australia, where she has family.
"One of my mother's uncles – with the surname Houdalas – emigrated to Melbourne in 1922," she says, speaking enthusiastically about the visit she made to the country in 2015, in order to meet her relatives.
England, Nafplio, Soufli, Australia.
The world is indeed small and the stories told by the motifs on Margianna's scarves must remain unchanged, because they are the ones that reveal the identity of every Greek wherever in the world she or he may be.
READ MORE: 'A phenomenon': Pavlos Demertzis-Bouboulis on his ancestor naval commander Bouboulina